Cuenca has become a popular destination in Ecuador for those visiting the southern part of the country. There is a wide variety of attractions in the city and the area around it, making it a great place for any type of traveler. It didn't take us very long to fall in love with the charm, culture, and beauty the city had to offer. Our entire time there was packed with activities, but the following were perhaps our favorite things to do in Cuenca.
1. Wander around the Pumapungo ruins
The Museo del Banco Central, or Museo Pumapungo, is a large museum located in the historic center that combines both indoor and outdoor exhibits. Start inside where you'll learn about a range of topics, from the history of currency in Ecuador and indigenous cultures to the individuals behind various artistic pieces.
There are many interesting ancient artifacts, models of Amazonian homes, and even shrunken heads. The plaques describing the exhibits were all in Spanish, but if you don't speak the language, the displays themselves are very interesting. You can also hire an English guide beforehand if desired.
Outside the back of the museum is the Pumapungo archaeological complex. This area consists of old Incan ruins that once stood as the city of Tomebamba. Surrounding the ruins are beautiful gardens, showcasing a wide variety of flora, including a display of plants used and consumed by the Incas. There are also some llamas and alpacas running around and a bird enclosure that houses a variety of native species. And the biggest bonus of all? The museum and ruins can be accessed for free.
2. Admire the beautiful New Cathedral and Parque Calderón
From many places in Cuenca, the lovely blue domes of the New Cathedral can be seen towering above the surrounding architecture. This structure, also known as the Cathedral of the Immaculate Conception, took almost a century to complete and is part of Cuenca's UNESCO World Heritage site. You can tour the cathedral for a few bucks to learn about its construction and significance. Take in the beautiful architectural details and climb the hundreds of steps for a stunning view of Parque Calderón and the colonial buildings that surround it.
Parque Calderón sits in the heart of Cuenca outside the New Cathedral. The large palms and shaded benches make it a great place to relax, enjoy an ice cream, and people watch for a while. There are many restaurants and little shops that surround this beautiful park as well.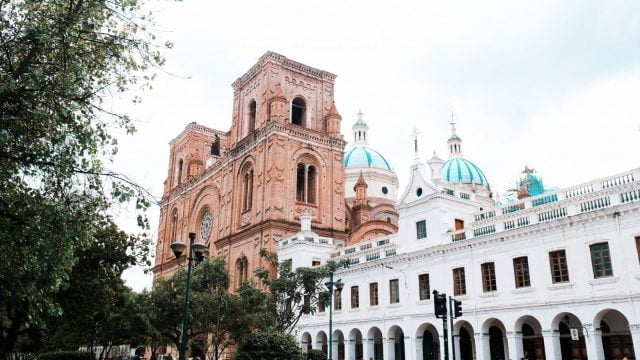 3. Take a hike in Cajas National Park
Spend a day escaping the bustling city into the breathtaking Cajas National Park. The park can be easily reached by local bus or by tour and is free to enter. There are various trails of different difficulties and lengths, making it a great activity for hikers of any level.
These high-altitude mountains are known for the wide array of plants and animals, beautiful lakes and rivers, and peaceful cloud forests. The air is pretty thin and the weather is very unpredictable, so make sure to come prepared.
There are a variety of hot springs in the valley that make for a relaxing stop after a hike in the park. Many tours include this in their itinerary, but you can stop on your own and even stay a night in one of the hotels or lodges around the natural pools.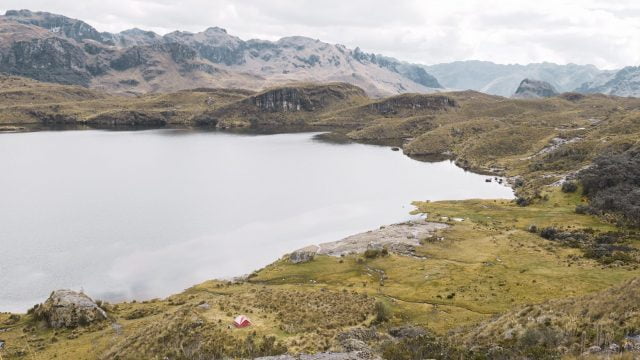 4. Lose yourself in the local markets
Cuenca is full of markets, each offering a different experience and array of goods. Whether you are looking for a bite, souvenirs, or clothes, the local markets are the place to look. One of the most picturesque markets is Cuenca's flower market, which can be found on the streets beside the New Cathedral. The wide variety of flowers look beautiful and smell good too!
There are plenty of local markets that sell tasty foods all day long. We went to Mercado 10 de Agosto where many vendors sell delicious fruits, bread, and meat. Upstairs, there are many restaurant stalls that offer warm meals, smoothies, pastries, and more for a great deal. Fería Libre is another great market to get a glimpse of local life. Fería Libre and Plaza de San Francisco market have some unique souvenirs too. There are also many shops and street vendors lining the streets selling a variety of souvenirs.
5. Satisfy your taste buds with some local treats
One of our favorite things to do in Cuenca was to try the local food. Well, to be honest, that's probably one of our favorite things to do anywhere we travel. Cuenca does offer many tasty treats that you shouldn't miss out on.
If you have a sweet tooth, try some of the delicious chocolate made from the cacao grown in Ecuador. Espumillas are another sweet treat known well in Ecuador. At first glance, you may think that this dessert is ice cream. However, espumillas are made of fruity meringue and don't melt.
If you're feeling bold, try cuy, a roasted guinea pig, or the dishes of roast pig found in many markets. For a variety, we recommend the typical almuerzos, which are the cheap set lunch menus that generally consist of a soup, main dish, and small dessert for only a few dollars. With these dishes, you'll encounter a range of foods, from yucca soup and empanadas to stewed beef and fried chicken.
6. Overlook the city from Mirador de Turi
The Mirador de Turi provides a great view over the sprawling city. It can be reached by bus from the Mall del Rio, by tour, or by taxi. You can also walk there from the city. It will take some time to climb the steep streets and stairs, but is a great way to see some more of Cuenca. The locals are very friendly and helpful and will point you in the right direction if you cannot find the stairs.
You can also go to Turi for sunset or at night for a view of the city lights. Near the mirador there is a beautiful white cathedral, some restaurants, and local vendors.
7. Visit the Amaru Bioparque
The Amaru Bioparque sits on a hillside just outside Cuenca and focuses on educating the public about biodiversity and preserving it. The zoo houses a range of animals, including pumas, monkeys, bears, parrots, and tortoises, most of which have been rescued. The entrance fee for adults is $6, and you get to learn about the animals that live there while getting up close to many of them. If you're lucky, you may even get to see the staff feeding the bears or lions!
To get to Amaru, you can take a bus from town that is heading to the Hospital Del Rio across the highway or catch a taxi to and from the city. The grounds are pretty big, so bring plenty of water and comfortable shoes for walking the dirt trails.
Like this post? Pin it!