Updated April, 2023
Perito Moreno Glacier sits in Los Glaciares National Park in southern Argentina. We saw quite a few glaciers while traveling through South America and absolutely recommend visiting Perito Moreno if you have the opportunity. The massive size of the glacier, blue hue of the ice, and stunning surrounding scenery blew us away! Furthermore, this is an easy trip from the cute town of El Calafate and is a great activity for any traveler.
Getting to Perito Moreno Glacier
The Perito Moreno Glacier visitor's center is about an hour and a half from El Calafate, and there are various ways to get to there. For the most flexibility, we recommend renting a car. There are rental agencies in El Calafate. Once you have your car, take Route 11, a well-maintained road, all the way to the glacier. There is quite a bit of parking, but we recommend arriving early during peak times.
If you don't want to or are unable to drive or rent a car, the next option offering some more flexibility is taking a taxi. Many taxi drivers in town will take you to the glacier and pick you up after you are done exploring. Before you go, make sure you agree on timing and a price.
We opted for bus transport because it was the most budget friendly at the time. Buses companies usually run a morning bus and an afternoon bus. The morning bus generally leaves El Calafate between 8:30 and 9 a.m. and returns 3:30 to 4 p.m. There is also an afternoon bus that leaves around 1 to 2 p.m. and returns between 7 and 8 p.m. Schedules can change, so confirm with the bus company!
We took a small bus into the park with several other visitors. The company gave us plenty of time at the glacier and picked us up per the schedule to transport us back to El Calafate.
Lastly, there are also organized tour options to take you to Perito Moreno Glacier. While this is generally the most expensive option, tours can provide a little more structure and offer glacier trekking excursions of varying lengths. There are quite a few companies in Calafate that have tours to the glacier.
Costs
Before getting into the details, we want to note that the Argentine peso fluctuates drastically, so prices and exchange rates may differ on any given day. It is best to check bus and park prices as close to your trip as possible to prepare. Check the park website for updated prices.
No matter how you decide to visit the glacier, you will have to stop at the park entrance station to pay the national park entrance fee or present your pre-purchased ticket. This fee is not covered in bus tickets or tour prices. If you buy your ticket upon arrival at the park, cash is the only form of payment accepted and it must be in pesos. Now, visitors also have the option to purchase tickets online in advance. The park entrance fee is 5,500 ARS per foreign adult as of early 2023.
Bus tickets cost about $30 USD per person for a round-trip ticket. Tours cost $100+, depending on the length of your trek and what is included in the tour you select. While this was one of the more expensive activities we did in Argentina, we certainly think it was worth it!
Once you are at the glacier, you can opt to take a boat ride near the base of the glacier. These tours cost $18-$36 USD per person, depending on the time of year. For more information on the boat, see the 'Boat Tours' section below.
Perito Moreno Day Trip
We caught a Caltur bus around 9:30 a.m. Since we were there in the early winter, the sun had only just begun to rise. Our bus stopped just outside of town to admire the morning sun over Lago Argentino. We continued on our way, stopping at the entrance station to pay our fees and again at an overlook of Perito Moreno Glacier.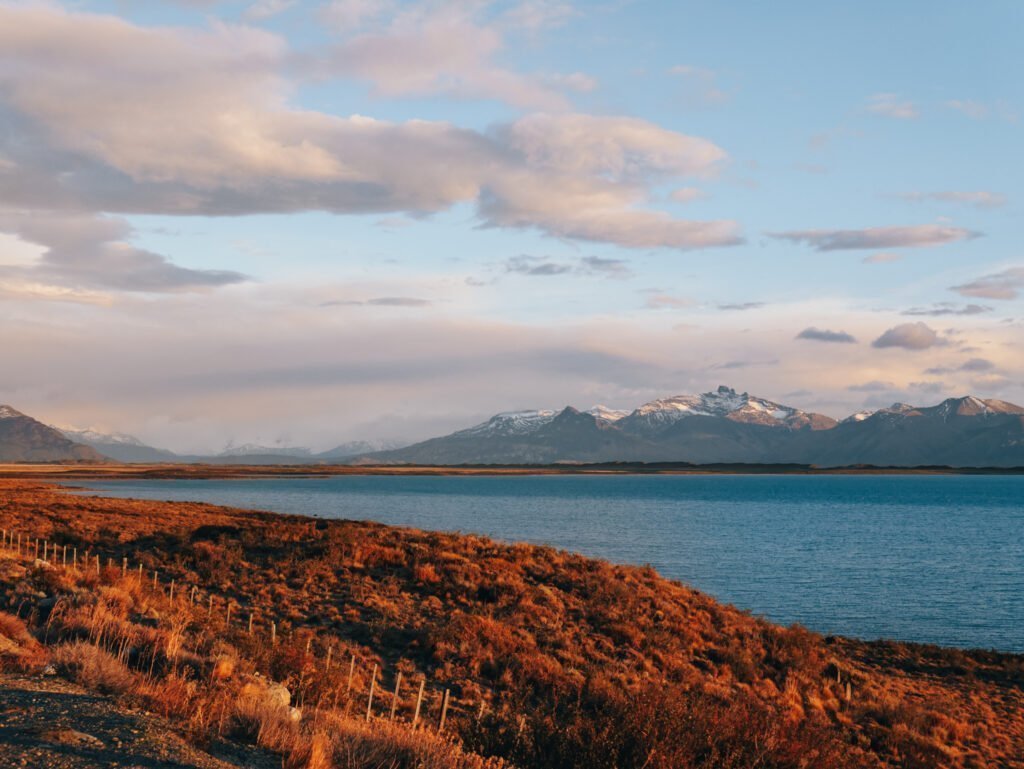 Trail Overview
Hike Type: Easy combo of out-and-back and loop pathways.
Distance: About 3 miles (4.9 kilometers) if you walk all pathways
Duration: 2-3 hours to walk the whole thing. According to the map at the park, you should give yourself 5 hours to complete the whole circuit, but it can definitely be done in less. You have ample time to enjoy the area if you take the bus.
Our Adventure at Perito Moreno Glacier
Upon being dropped off in the parking area, we were free to explore as we pleased. Near the parking area, there is a restaurant, visitor's center, and restrooms. We immediately began to head down the walkways, eager to see the glacier. There are a few paths you can take. You can complete all in one day, but can walk as far or little as you want. We took our time walking the metal and wood walkways, taking in the view of the glacier from all angles. Being there in off season, it was fairly empty.
As we explored, clouds rolled in and out of the valley. When the sun was out, the lake and ice turned a brighter color blue and the deep cracking of the glacier intensified. Perito Moreno Glacier is one of the world's largest reserves of fresh water, measuring at over 18 miles (30 kilometers) long and 3 miles (5 kilometers) wide at points!
We had walked all the pathways and still had quite a bit of time before our return bus, so we found a spot to sit, eat our packed lunch, and admire the view. As we overlooked the glacier, a sizeable chunk cracked off, plummeting into the water below and creating a huge wave.
After a wonderful day taking in the magnificent beauty of the glacier, we took the bus back to El Calafate.
Boat Tours
Boat tours are available to take visitors close to the wall of Perito Moreno Glacier. Many trekking tours include a boat ride, but if you visit on your own, you can also cruise around the lake. You can buy tickets beforehand at the ticket booth near the visitor's center, selecting the time you'd like to depart. The two main companies are Hielo & Aventura and Southern Spirit.
Southern Spirit is a bit more convenient because boats leave from the boardwalks near the glacier. Hielo & Aventura tours leave from Puerto Bajo Las Sombras a few miles back down the road. However, Hielo & Aventura allows you to purchase your tickets online beforehand, which is nice if you go during peak season.
Tours last around one hour and depart hourly or more every day during peak season, but less frequently in the winter. Guides will provide information and you'll get a closer look at the glacier as you cruise along the face of the glacial wall.
What to Bring
Cash: Bring enough cash to pay the park entrance, boat tour cost, etc.
Ticket: Tickets for activities if you purchased them online in advance.
Water: an essential for any day trip.
Snacks or Packed Lunch: The restaurant is pricey, so pack a lunch or some snacks to enjoy in front of the glacier if you don't want to spend at the restaurant.
Layers: The weather can be extremely unpredictable during any time of year, so light layers are a good idea. Heavier jackets, beanies, and gloves will likely be necessary in the winter.
Comfortable Shoes: Heavy duty hiking boots are not necessary on the maintained paths, but wear comfortable shoes that will provide traction on steel grates and wooden walkways.
Gear: If you take a trekking tour, you'll need solid boots, hiking clothes, and potentially other gear. Check with your tour company to ensure that they include crampons or any other necessary items to safely explore the surface of the glacier.
Camera: You'll definitely want to snap some photos!
Like this Post?