Out of Montana's vast northcentral plains jut the Bear Paw Mountains. This mountain range is relatively small, but there are ample opportunities for camping, hiking, fishing, and spotting wildlife. Bear Paw Lake and the Rotary Canyon trails provide all of these activities and the park is a pretty and serene place to enjoy time outdoors.
Getting to Bear Paw Lake & Rotary Canyon
Bear Paw Lake sits within Beaver Creek Park south of Havre. We were coming from Great Falls, so before hitting Havre, we headed east through the town of Box Elder and the Rocky Boy's Reservation until reaching MT-234 (Beaver Creek Road). Here, we headed north until we saw Bear Paw Lake on the right. If you come from Havre, you'll head south on MT-234 until you reach it.
We turned off on the north side of the lake to park at the Rotary Canyon trailhead. The road to the trailhead is well-maintained. Nearby, there are restrooms.
Fees & Regulations
Visitors must obtain a permit to recreate in Beaver Creek Park. The cost is $10 per group per day. They are valid on the date of purchase until noon the following day, so a day permit covers a night of camping.
You can purchase a permit at the self-pay stations at Beaver Creek Reservoir (north of Bear Paw Lake) and the RV dump site (south of Bear Paw Lake). See the Beaver Creek brochure to find other retailers that sell the permits.
Pets are permitted on the trails in Beaver Creek Park. You may launch a watercraft in Bear Paw Lake, but motors are not permitted and we saw signs that said no swimming. You must have additional licenses/permits for fishing.
Hiking Rotary Canyon
There are multiple hiking trails looping through the Rotary Canyon Area. They offer access to Beaver Creek and pretty views of Bear Paw Lake and the surrounding mountains. We were there in the spring when the flowers were in full bloom, also adding to the beauty of the area.
All of the trails and junctions were really well-marked throughout the hike. For a map and overview of the area, click here.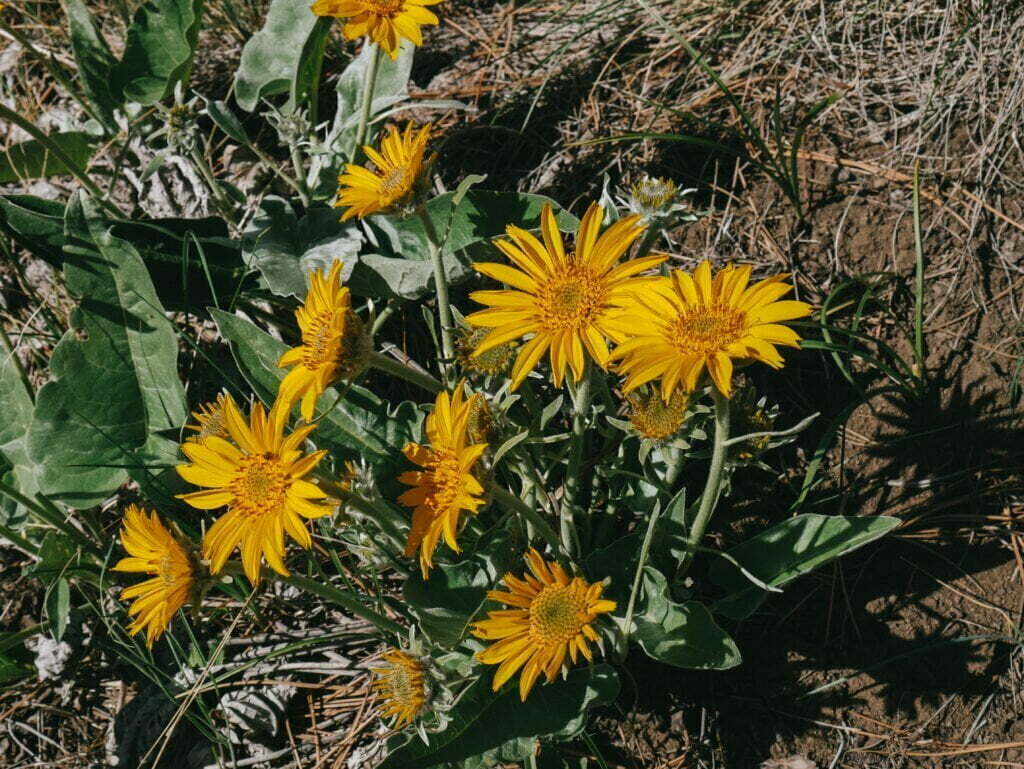 Lower Rotary Canyon Loop
1.08 miles, Easy
The Lower Rotary Canyon Loop heads slightly uphill from the parking area towards the Beaver Creek spillway and winds further back along the creek. The trail also offers a pretty view over Bear Paw Lake. As we stood on the hillside, we were happy for the warm spring sun, but it was so windy!
After not long on the trail, we reached a junction. Here, you can cut away from Beaver Creek to wind across the hillside and back down to the parking lot to complete the Lower Rotary Canyon Loop. Or, you can continue along the creek on the Upper Rotary Canyon Loop. This was the path we took.
Upper Rotary Canyon Loop
2.4 miles (this includes where it overlaps the lower loop), Easy
After continuing a ways through the trees along Beaver Creek, the trail became a bit steeper as we climbed into the hills. Vibrant yellow flowers covered the hillside. The trail is slightly steep and narrow at points, but the steep sections don't last long and aren't too strenuous.
We found ourselves back out in a meadow as the trail cut across the face of the hills. We saw plenty more flowers, cacti, a small aspen grove, some deer, and plenty of birds. The trail eventually lead us back downhill towards the parking area.
Rotary Falls
0.8 miles roundtrip (from where it splits from the Upper Rotary Canyon Loop), Easy
After we continued down Upper Rotary Canyon Loop past the Lower Rotary Canyon turnoff, there was another junction for a trail to Rotary Falls. There was a short section of this trail that descended somewhat steeply back down towards Beaver Creek.
This detour offered some pretty views of the surrounding Bear Paw Mountains, but the falls below were more of a rapid. In our opinion, you're not missing anything if you skip this little section of trail, but it's still pretty if you want the extra bit of mileage.
Camping
There are so many camping opportunities through Beaver Creek Park. Quite a few spots sit along the shores of Bear Paw Lake. As mentioned above, the $10 fee covers a night of camping, and sites on the lake are first-come, first-served.
Campers have access to vault toilets, and most of the sites have picnic tables, but they are primitive without water or hookups. Many of the spots along the lake are large and easily accessible, while others had a bit more of a bumpy access point. Dispersed camping here is not permitted.
Fishing at Bear Paw Lake
Bear Paw Lake is a popular spot to fish, and while we didn't fish that day because we didn't feel like sitting long in the wind, there were several other groups fishing along the shores.
If you want to fish, you need to obtain permits for each individual aged 12+, which include a fishing license, Angler Aquatic Invasive Species Prevention Pass, and a conservation license. The annual cost for an adult Montana resident is $31 USD, but the price varies for children, seniors, non-residents, short-term passes, etc. Find pass details and other fishing info here. We buy our passes at Scheels, but they can also be purchased online or at these other retailers.
What to Bring
Permit or Cash: Bring along your pre-purchased permit or cash to pay for one at the fee stations.
Water
Sturdy Walking Shoes: There are some rocky and steeper sections along the trails.
Mini First Aid Kit: An item we always like to have just in case.
Food: There are some great spots to hang out and eat some snacks or a packed lunch on the shores of Bear Paw Lake or on the benches along the trails.
Camera
Layers: Even some summer mornings and evenings can be chilly. We recommend bringing light layers and/or a wind breaker. Heavier layers and gloves plus a beanie may be needed during snowy parts of the year.
Sun Protection: Some of the trail is not shaded, so bring sunglasses, sunscreen, and/or a hat.
Crampons/Spikes: We have found these to be incredibly helpful in the winter when the trails are snowy and slick.
Other Gear: You may want to bring trekking poles, fishing gear, camping gear, etc. – depending on your preferences and plans for your visit.
Like this Post?