Playa Flamenco is an absolutely stunning slice of paradise on Culebra Island. Clear, turquoise water meets a long stretch of white sand surrounded by palms and rolling hills. Flamenco has been ranked as one of the world's best beaches and, while we're not sure how the rankings are measured between all of the amazing beaches in the world, we'd say making a visit here from Puerto Rico's main island is worth it. Culebra is commonly visited on day trip, but if you're looking for a quiet, laid back few days, you can also stay on the island. Below we'll lay out the details on traveling to Culebra and the beautiful Playa Flamenco.
Getting to and from Culebra Island
There are multiple ways to reach Culebra Island. When choosing, you'll have to weigh the cost, travel time, convenience, etc. We opted for the ferry because it is cheaper than flying and we were staying in Luquillo, which isn't too far from the Ceiba port. We didn't have any issues, but this process doesn't always go smoothly for everybody.
Ferry
Buying Tickets
Daily ferries run between Ceiba and Culebra Island, but the process is a bit complicated, especially with all the recent changes in the ticketing system, switching to the new terminal, etc.
Tickets should be bought online on Puerto Rico Ferry or on the City Experiences App in advance if possible. This process is new-ish with Puerto Rico Ferry taking over the ticketing, and the schedules and ticket release dates aren't really clear. But online tickets are generally released a month in advance and sell out quickly, especially the morning times leaving Ceiba. The afternoon and night ferries to Culebra don't sell out as quickly, but if you end up taking the later options, you may want to spend a night on Culebra Island. We recommend buying roundtrip tickets to secure your ride back. The evening ferry tickets leaving Culebra generally sell out quicker than the morning tickets.
Schedules and frequency vary depending on season, but ferries generally run from Ceiba beginning at 3:30 a.m. until 7:30 p.m. Both cargo and passenger boats run this route. Cargo boats are slower and offer less seating, so keep this in mind when booking. The passenger ferries take around 45 minutes while the cargo ferries take 1.5 hours.
Check schedules and buy tickets online here.
You may be able to purchase tickets at the ferry terminal if they are sold out online. When purchasing in person, it's best to go to the terminal in the days before you want to visit Culebra to see if they have any available. If you want to risk it and show up the day of, we'd recommend arriving very early. We arrived at the terminal an hour before departure with our tickets and there was already a line of those waiting to see if they'd be able to purchase tickets for that morning. Either way, you're not guaranteed a spot. Locals traveling between the islands have priority for tickets and boarding.
Roundtrip tickets cost less than $5 per adult. Note that each ticket only includes one small personal bag per person. Any large luggage, coolers, or extra bags and items will add an additional cost.
The Ceiba Ferry Terminal & Boat Ride
If you drive yourself to the Ceiba terminal, there is a parking area just down the road from the port. It costs $11.25 to park per day payable by cash or card at the entrance booth. There is a free shuttle cycling between the lot and the terminal. Just walk towards the entrance to wait for it to pick you up. On the way back, there was a long line for the shuttle, so we just walked back to the lot.
Once at the terminal, there is a large covered area with many chairs for people to wait for boarding. When we went, there were only some porta potties and vending machines. But the terminal is fairly new and they are continuing to improve the facilities, so permanent restrooms and concession stands are apparently now available.
Locals boarded first, then all the tourists were able to board. We weren't required to show our ID's, but we'd recommend bringing it just in case. We were told that we needed an ID matching the name on the ticket. It was still dark outside and was a windy morning, so we sat indoors on the way there, but the upper outdoor deck was nice on the way back. Note that the upper level isn't covered, so bring sun protection. Additionally, the sea can be a bit rough, so if you get motion sickness easily, take medication before the ride.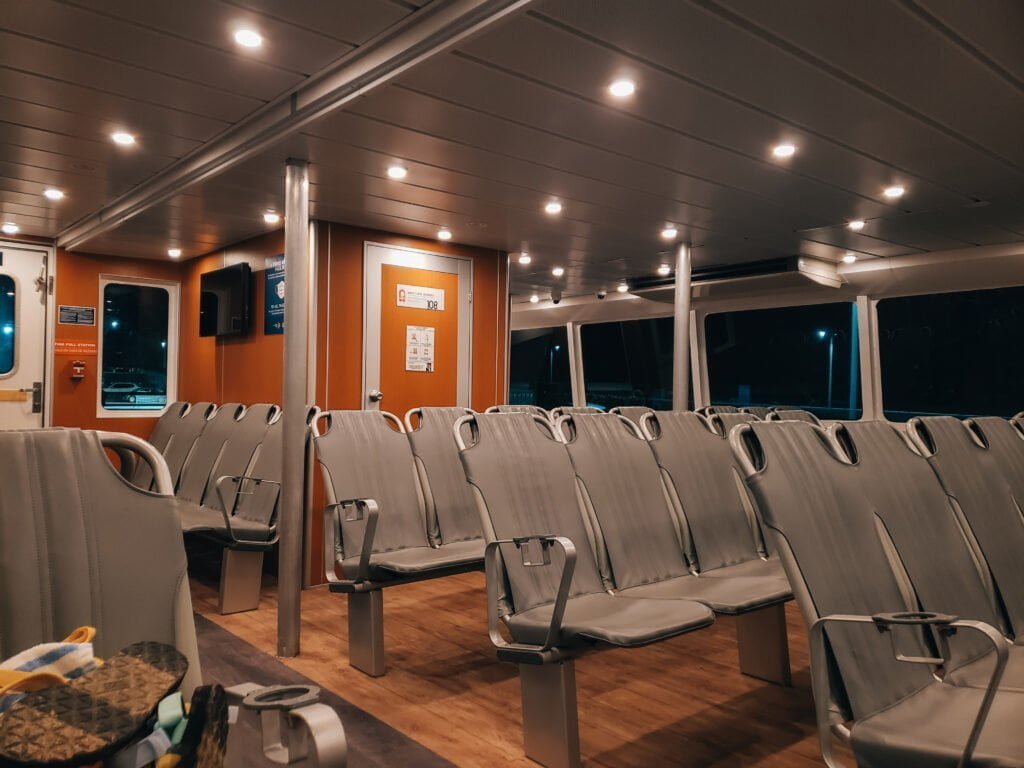 Flights
Though flights are a more expensive option, many choose to fly if they want to avoid the hassle with the ferries or end up not being able to obtain ferry tickets. Flying is more convenient and the trip from San Juan to Culebra usually only takes 30-40 minutes, so it is faster than going by boat.
There are a few small airlines, like Flamenco Air, Taxi Aereo, and Cape Air, that fly to Culebra's Benjamín Rivera Noriega Airport from either Luis Muñoz Marin International Airport (SJU) in San Juan, Fernando Luis Ribas Dominicci Regional Airport (aka Isla Grande Airport) in San Juan, or Ceiba International Airport on the east coast. Tickets generally range from $100 to $200 USD roundtrip.
Flights from SJU are generally more expensive than those from the other two airports. But if you're staying in San Juan, you'll have to consider taking a flight from SJU versus driving to Ceiba and paying to park or paying for a ride there.
Tours
Lastly, visitors can reach Culebra Island by tour. A tour to the island is a popular excursion among travelers visiting eastern Puerto Rico. This is a good option for those wanting to avoid the hassle of the ferry, because although tours are much more expensive than the ferry, costs are comparable to some flights, transport is often organized, and you can get some great value out of a tour by getting to see multiple highlights and learn more about the islands and marine life.
Many of these tours embark on a group or private boat that will take you from the San Juan area, Fajardo, etc., to multiple snorkeling spots and beaches around Culebra, including Playa Flamenco. Other tour options will still require you to take the ferry but will organize ferry tickets for you.
You can find tour options on individual company sites or sites like Get Your Guide and Viator. You may also visit tour offices San Juan or other surrounding towns to book in person. This may require a bit more flexibility if availability is limited, especially in the busier season.
Getting to Playa Flamenco
Shuttle
Once you exit the ferry terminal on Culebra Island, there are generally many shuttle vans waiting along the street to take visitors to Playa Flamenco and other beaches. The first driver we encountered gave us a high price for a private vehicle, so we politely declined and walked along to the next van. These public vans should cost $6 USD per person one way. You can just pay in cash as you board.
After you enjoy some time at the beach, pick up the shuttle again near the main beach entrance and parking area. Give yourself plenty of time to return to the ferry terminal.
Rental
Non-residents of Puerto Rico cannot bring their car from the main island to Culebra on the cargo ferry. But, there are a couple places on Culebra Island where you can rent a car or golf cart to get you around the island. If you're coming from the airport or ferry terminal, a staff member of the company you rent from may be able to meet you there to transport you to the rental office if needed.
We recommend booking in advance, especially if you visit during peak season or on weekends! Parking at Playa Flamenco costs $5 for the day between 6 a.m. and 6 p.m. plus the entrance fee of $2 per person.
Taxi
There are limited taxis on the island and they are more expensive than taking the shuttle. But if you need to reach your accommodation or the airport, you miss the shuttle, you have many bags, etc., there are some cycling around the terminal and main entrance to Playa Flamenco.
Visiting Playa Flamenco
Following are some things to note and activities to do when visiting Playa Flamenco.
Fees
As mentioned above, there is a $2 fee per person to visit Playa Flamenco. When we went, we arrived early, and there was nobody collecting the fee near the beach entrance or where the shuttle dropped us off. If you drive your own vehicle, it is an additional $5 to park. Bring cash for the fees.
According to Discover Puerto Rico, there is a $2 fee charged as of May 2023 when purchasing tickets to visit Culebra, whether you're coming by air or sea. We're unsure if this is the same as the $2 fee charged at Playa Flamenco or an additional island fee. Please let us know if you find out in the comments below!
Amenities
Playa Flamenco isn't super developed, so there aren't a ton of amenities. We think this adds to its charm though as it is quieter without being lined with huge resorts, restaurants, and vendors. However, more amenities have popped up in recent years. Near the main entrance is where you'll find parking, the shuttle area, and taxis. Just nearby, there are some restrooms, changing areas, lockers, and showers.
There are also some kioskos that sell snacks, water, beer and cocktails, and some other food items, including tostones, empanadas, burgers, and burritos. Other stands rent out snorkeling gear, umbrellas and chairs, floaties, and other beach gear.
Since the amenities are somewhat limited and the little shops might not be open outside of peak season, we recommend at least packing some snacks and water to bring with you to the beach.
The Beach
Playa Flamenco is a great place to just kick back and relax. The area near the main entrance can get a bit crowded. Walk to either end of the beach and it will be less busy. The long, horseshoe-shaped stretch of sand backs up to dense vegetation, and some of the palms make for a nice shaded spot to hang out.
The beach sits in a sheltered bay, making for generally calm waters that are lovely for a relaxed swim. The ocean is unpredictable though, so those flat waters you see in many of the Playa Flamenco photos aren't always what you're going to get. The sea was somewhat rough during our entire time in Puerto Rico, though it was not too wavy at Playa Flamenco compared to the beaches in Luquillo during that time. There are some reefs in the bay, but there are also ample sandy spots for a dip without having to worry about the coral or your feet.
Snorkeling
Playa Flamenco is also a popular spot to snorkel. The rougher waves when we visited made the visibility not ideal. But supposedly, the best spots to snorkel here are the reef areas at the east end of the beach (left if you're facing the sea) and over near the tanks where the reef basically comes right up to the shoreline. The middle of the bay closer to shore is more sandy and grassy and you may spot turtles and stingrays!
We brought our own snorkeling gear, but you can rent it at the beach as well.
The Tanks at Playa Flamenco
One of the unique aspects of Playa Flamenco is the painted tanks that sit at the west end of the beach (right if you're facing the sea). Culebra Island was used as a U.S. naval base from the early 1900s until the 1970s and these tanks and other equipment were left on the island.
The two tanks at Playa Flamenco have since rusted and been painted by various visitors and they have become quite the popular photo spot. One sits just in the water and the other is a bit further back in the trees.
What to Bring to Playa Flamenco
Water: You can also buy some at the airports, ferry terminals, and at Playa Flamenco if the stands are open.
Food: Bring some snacks and a packed lunch if desired. Please always pack out your trash.
Tickets: Make sure to bring your plane or ferry tickets.
ID: Whether you take a tour, the ferry, or fly, you may need to present your ID or passport.
Payment Methods: You may be able to make some purchases with card. But definitely bring some cash for the shuttle and some of the other fees mentioned above.
Towels
Swimsuit: We just wore ours the whole day, but there are changing areas.
Sun Protection: Sunscreen, hat, and/or sunglasses.
Bug Spray: Matt and Lia's sister got many bug bites, but the rest of us didn't have issues. The severity of the bugs varies depending on the time of year.
Snorkeling Gear: Bring your fins and mask if you want to snorkel. If you don't own gear or don't want to lug it to Culebra, there are some options for rent.
Camera: If you'd like to snap some photos of this beautiful paradise!
Staying on Culebra Island
If you'd like to take in the peaceful beauty of Culebra Island for more than a day, there are some accommodation options on the island. Places are limited though, so we recommend booking well in advance. There are no huge resorts yet, just cute cottages, small hotels, and vacation rentals.
There supposedly was once the option to camp at Playa Flamenco. One of the kiosks there even sells camping gear. But when we visited, camping was not permitted because resources needed to manage and clean up the area were lacking after the height of the pandemic. But, there is talk that camping will eventually be permitted again and some "glamping" spots may even be available along the beach. How cool would it be to enjoy this beautiful area around sunrise and sunset?!
Like this Post? Pin it!