The cooler months drew us to Sedona frequently. Not only is winter more comfortable for hiking in Arizona, the snow on the red rocks made us fall in love with winter hikes around this beautiful part of the state. One cool winter morning, we headed to Bell Rock after a sunrise hike at Cathedral Rock. Hiking the trail in the winter provided some challenges, but as the winter conditions thinned the crowds, we thought it was well worth it.
Getting to Bell Rock Trailhead
This area of Sedona is packed with trails, many of which offer views of Bell Rock. Some of these include Bell Rock Pathway, Bell Rock Loop, and Courthouse Butte Loop. The closest trailhead to the base of Bell Rock is the Courthouse Vista trailhead. However, if you want to add some mileage to your hike or if the Courthouse Vista Trailhead is full (which it often is in the summer), you can also reach the base of Bell Rock from Bell Rock Vista, Yavapai Point, and Little Horse trailheads. All of these trailheads lie just off of Highway 179.
Fees
A pass is required since this area lies in Red Rock State Park. A daily pass costs $5 USD and a weekly pass costs $15 USD. They can be bought at certain trailheads or online beforehand. Find more info on passes here. If you have an annual National Parks Pass, this will cover the fee and you can display this in your car instead. We started at Courthouse Vista, which had ample parking, pass kiosks and restrooms.
Hike Overview
Hike Type: Technically an easy out-and-back, but you can combine a variety of trails/loops
Distance: About 1.1 miles (1.8 kilometers) if you follow the trail. Our detour down the back side of the rock added only a little bit extra.
Hike Duration: About 1.5-2.5 hours.
What to Bring: Shoes with solid tread, water, sunscreen/sunglasses/hat, camera, water, backpack because you may need both hands for balance while climbing. If you're hiking in the winter, check out our winter hike packing list!
Hiking Up Bell Rock
From the Courthouse Vista trailhead we reached the base of Bell Rock in under 15 minutes. This part of the trail was pretty muddy with icy patches in the winter. When we got closer to the looming bell formation, the trail became slick rock. To ascend the rock, the trail leads up the north face. Sedona Hiking Trails provides pretty detailed instructions on where to go, but we had to improvise a bit with the ice.
As the rock face steepened, we faced some icy spots that required us to carefully scramble up the slope. We weren't exactly following a trail as it wasn't really visible and we were trying to avoid the slick, snow-covered sections. Venturing side to side and using our hands to climb at points, we eventually made it to the base of a sheer face of Bell Rock. This little flat area is where many people stop to enjoy the view over the valley.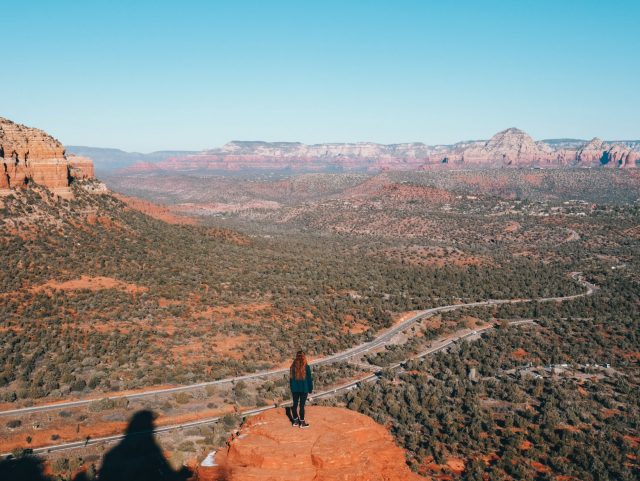 If you are feeling more adventurous, head to the left, carefully climbing up a split in the rock. There are a few great perches overlooking the valley, and if you make your way around the rock towards the east side, you'll also get a great view of Courthouse Butte. We had the whole viewpoint to ourselves with the exception of one hiker who stayed only briefly, waving to his hiking partner way down below. We were glad that much of the snow had melted up here.
After admiring the view for a while, we climbed down more on the east side because we didn't want to hike back down the icy slope. We really weren't wanting to scoot all the way down on our butts! It was slow going in the patches of snow, but we took our time and enjoyed the warm morning sun and brisk Sedona air.
Notable Points on Hiking Bell Rock in the Winter
We particularly enjoyed hiking Bell Rock in the winter for the cooler weather and thinned crowds; however, there are a few things that make the hike more challenging this time of year. When we went, it wasn't too snowy, but there were icy sections from where the snow melted and the runoff froze to the slick rock. More snow may prevent hikers from ascending the rock.
From where we were perched overlooking Courthouse Butte, it looked like there were small, faintly carved footholds in the rock that would allow you to climb a bit higher. With the ice, we decided it wasn't a good idea. We saw a couple people take a pretty hard fall on the trails below us. Trust your intuition and stay within your comfort zone.
The views of these well-known Sedona formations are still stunning from lower and there are plenty of trails that will allow you explore the area around them thoroughly. Melted sections of the trail were muddy, so wear some water-resistant shoes that you don't mind getting dirty.
Like this Post? Pin it!