If you find yourself in Puerto Natales, Chile, you're probably there to visit the nearby Torres del Paine. But if you have the time, there are quite a few great things to see and do outside the world-famous national park. Puerto Natales has some unique culture and sights, and there is plenty to be explored in the stunning landscapes around this little city. Here are eight things to do in Puerto Natales beyond exploring Torres del Paine!
1. Visit the Cueva del Milodón
Just outside of Puerto Natales sits a large cave holding remnants of thousands of years of history. During an excursion to the Cueva del Milodón, you can learn about early human activity in Patagonia, the discovery of the cave by later explorers, and the remains of the Mylodon, or giant sloth, that were found in the cave. You can walk through the deep cave, and snap a pic with the large Mylodon replica. There are also trails to another small cave and overlook in the monument.
The park can be visited by tour or on your own if you have rented a car. A stop at Cueva del Milodón was part of our itinerary when we took a day tour of Torres del Paine. Before you go, check the website for updated hours and entrance fees. None of the trails are long or too strenuous, making for a great half-day activity for a variety of skill levels.
2. Walk the waterfront in Puerto Natales
Puerto Natales sits right on the shore, deep in an inlet that eventually leads to the South Pacific Ocean. Walk along the waterfront on the path adjacent to Avenida Pedro Montt for a beautiful view of the water and snowcapped peaks in the distance.
Along the waterfront, you'll see the Milodón monument, a large sloth statue, and the Muelle Historico, the remains of an old dock. The Monumento de la Mano also sits not far from the Milodón, and is one of several unique sculptures in South America resembling a hand jutting up from the earth. If you continue south on the path, you'll encounter more city sights, including docks, fishing boats, and sculptures like the Monumento al Viento.
3. Enjoy the countryside by horseback
Stunning landscapes extend far beyond the borders of Torres del Paine National Park, and one of the popular ways to experience the views is by horseback. There are various tour companies offering a variety of excursions and tour lengths. Tours can range from a half-day to a multiday camping and riding trip. Many companies have their information online, making it easier to do some research to find a tour suited for you. It may be a good idea to book in advance if you plan to visit during peak season.
Some tours focus on views, crossing streams and climbing mountains, while others may also add an emphasis on ranching, culture of the gauchos, history and more. You may even have the opportunity to try famous Patagonian traditional lamb dishes on certain tours through the countryside.
4. Take a cruise
Hopping aboard a boat is an efficient way to see some of the beauty the area. Early explorers also frequently navigated the area by boat. Like many other tours in Puerto Natales, there are multiple itinerary options lasting from a few hours to a few days. We don't think you could go wrong!
Cruise the Channel of Last Hope, see Serrano Glacier, and float by majestic peaks and waterfalls. Keep an eye out for abundant wildlife along the way! Boat rides may include food and drink, stops for hiking, and more.
5. Enjoy a local meal and brew
After a day of exploring, enjoy a refreshing local beer or other variety at one of the brew houses in town. Some spots, like Brew Gallery and Baguales offer some unique beers and other cocktails. Some of these bars have a good selection of tapas if you're feeling hungry.
This region of Chile also has some tasty cuisine worth trying. Many dishes include fresh seafood, like king crab and tasty filets of fish. Other meat dishes are popular as well, and if you're going to try one, definitely try the famous lamb! If you don't eat meat, no need to worry. There are soups, empanadas, and other tasty local dishes to try in one of Puerto Natales' restaurants.
6. Hike to Mirador Dorotea
If you are looking for a pretty hike near Puerto Natales, Mirador Dorotea is a great option. The trailhead sits only about 10 minutes east of town, you can drive in your own vehicle or take a taxi for several USD. The trail starts on private property, so we recommend taking a taxi there and organizing a return taxi or hitchhiking back to avoid having to park. Before your ascent, pay a small fee to the estancia owner.
The hike is only about 3 miles (4.8 kilometers) round trip and is somewhat steep. As you leave the ranch behind, the trail enters the woods, eventually leading to a sweeping view over Puerto Natales and the surrounding peaks, plains, and lakes.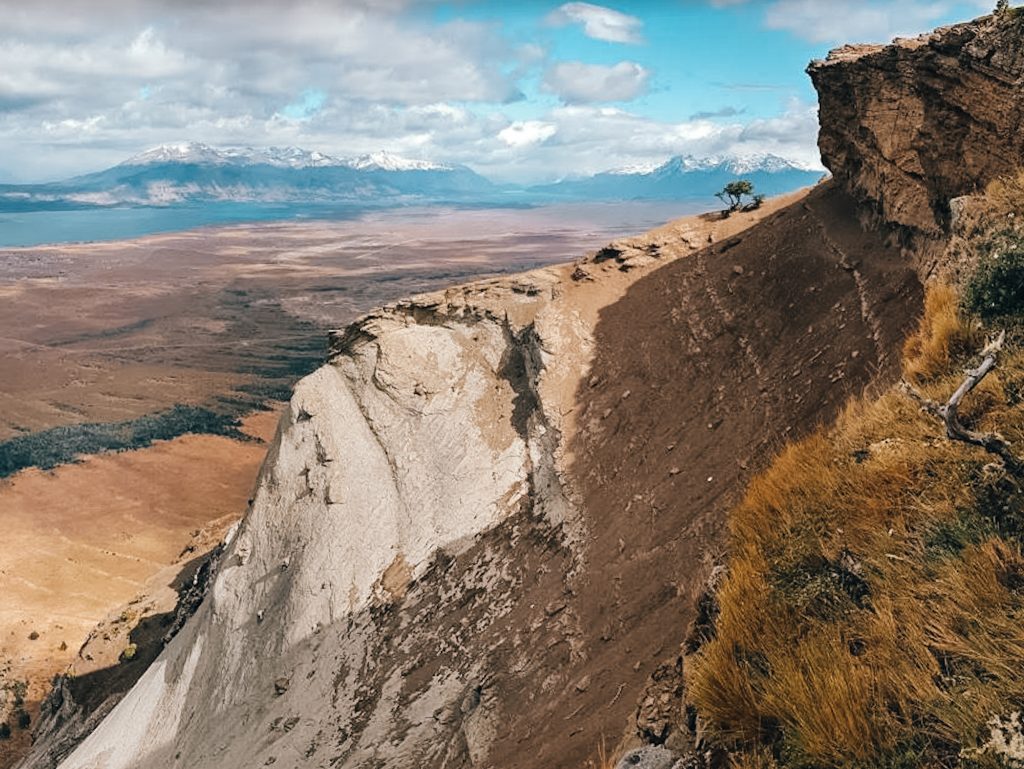 7. Outdoor activities galore
Jaw-dropping landscapes draw hikers and trekkers to Chilean Patagonia from all corners of the world. But there are other ways to get out and enjoy the beauty of the area. Particularly in the summer, there are tour companies that offer fishing trips, kayaking, and climbing excursions. With many channels, lakes, rivers, and rugged peaks, the area is perfect for it! If you are looking for a more laid-back activity, take a swim in one of the lakes (as permitted), such as Laguna Sofia.
We were there in the winter when the weather wasn't as ideal for some of these activities and some companies had paused expeditions for the season. We plan to return someday soon to experience the area during warmer times. If you plan to take a climbing, fishing, or other tour, be sure to reach out to the company beforehand to confirm what equipment is included and that they can accommodate your skill level. Again, during the busier summer months, it may be necessary to book in advance to secure your spot.
8. Visit Museo Histórico
Delve into the history of Chilean Patagonia and visit the Museo Histórico Municipal. Exhibits include documents, photos, antiques, and other artifacts giving a little insight into indigenous tribes, later settlers, and the growth of Puerto Natales. The information presented at the exhibits is displayed in both Spanish and English. This small museum sits in the heart of Puerto Natales and only costs 3000 CLP, making for a great quick activity while in town.
Like this Post? Pin it!