San Juan is not only the capital of Puerto Rico, but a major cultural hub and city packed with fun activities and a lot of history. From the vibrant streets and shops to beaches and museums, there are plenty of things to do in San Juan to fill your time whether you're visiting for a day or spending more of your trip in the city.
We were staying in Luquillo for the majority of our vacation and only spent short time exploring San Juan. But we had an amazing time and hope that we can come back to spend a bit more time there! Until then, here are several of the great activities we fit into our visit.
1. Visit the San Juan Forts
Visiting the San Juan Forts is one of the more popular things to do in San Juan. As you walk around the old town area, it's nearly impossible to miss the massive old forts perched around the historical center and some of the old walls that used to protect the city. When the Spanish landed in Puerto Rico in the early 1500s, they built multiple forts to protect their settlement in the San Juan Bay.
Today, Castillo San Felipe del Morro and Castillo San Cristóbal contain exhibits highlighting the construction of these massive forts, the lives of soldiers and operations in the forts, and some history of the San Juan. Visiting these historic sites is a great way to learn about an important piece of Puerto Rico's history, and the views from the upper walls are pretty great too! For more information on visiting the San Juan Forts, check out our other post.
2. Shop 'til You Drop
San Juan has ample shopping opportunities whether you're looking for some simple knick-knacks and souvenirs or searching for new clothing or luxury items.
Calle de la Fortaleza and Paseo de la Princesa are both famous streets known for the colorful buildings and many shops and dining spots lining them. Along these streets and some of the surrounding ones, you'll find many souvenir shops, jewelry stores, little boutiques, and more.
If you're looking for something more, head to Plaza las Americas – the largest mall in the Caribbean. It has many chain shops, boutiques, department stores, etc. There are some higher-end shops in Old San Juan, such as Coach and various jewelers, but if you're looking for more luxury shops along with other chain retailers, head to the Mall of San Juan.
Lastly, as you wander around Old San Juan, you may come across some markets and artisan stalls set up near the parks, plazas, and popular streets, like Paseo de la Princesa.
3. Visit Iglesia de San José
Iglesia de San José is the second oldest church in the Americas! Construction of the church began in the 1530s, but it took many years to complete, so various architectural styles are evident. Juan Ponce de León, a Spanish explorer and first governor of Puerto Rico, was also buried here before his remains were moved to another cathedral.
The church suffered many damages from hurricanes, attacks, and passing of time. It was recently restored and reopened to the public in 2021. Inside, you can see some of the exposed old stone walls, altar, murals, sculptures, and more. Visitors can enter for free – there is a donation box. The church is generally open for visitation Wednesday through Sunday 11 a.m. – 4 p.m., but may close for mass, weddings, and other events during those hours.
4. Head to the Beach
Being right on the coast, San Juan offers easy access to pretty beaches and Caribbean waters. Escabrón, Condado, Ocean Park, and Isla Verde are a couple of the renowned beaches in the area. These spots offer long stretches of sand, quite a few amenities nearby, and some vendors selling food and drink. There are also other beaches further on the outskirts of the city, such as Playa Piñones and Balneario Punta Salinas, if you're looking to escape the crowds a bit.
Aside from relaxing on the shores and taking a dip, there are also opportunities to rent kayaks, paddle boards, and wind and kite surfing equipment. Rougher seas, like the waters along Condado, generally aren't great for snorkeling; however, some of the calmer coves around the city may offer better visibility on tranquil days. Alternatively, consider taking a tour from San Juan to some areas around the island more suited for snorkeling.
5. Stroll the Coastal Walkways
Aside from enjoying time at the beach, there are multiple walkways around San Juan that offer pretty coastal views. The picturesque Paseo del Morro skirts along the coast from near the San Juan Gate, winding beneath the old city walls to the base of Castillo San Felipe del Morro.
Paseo Puerta de Tierra is another pathway along the northern coast of Old San Juan running between Castillo San Cristóbal and Escambrón Beach. This pathway offers pretty views of the ocean and some ruins sitting on the shoreline below the path.
Bahía Urbana is also a popular place for a stroll. This walkway sits along a port area where many cruise ships dock and looks across the San Juan Bay towards other parts of the city. Along the path, you'll find the I Love PR sign and some other sculptures.
6. Admire the Street Art & Sculptures
Speaking of sculptures, there are quite a few other unique installations and murals around San Juan. The Santurce neighborhood is the most iconic for the many incredible murals brightening the streets. Learn more about the area, artists, and latest murals here.
There are other great pieces of art you'll likely come across when wandering Old San Juan. Some popular sculptures to see include the Columbus statue at Plaza Colón, the statues at the pretty Plaza de Armas, Fuente Raíces, and Plazuela la Rogativa. For some murals/paintings, check out the flag doors on Calle Imperial and Calle San Jose. There are some murals in Old San Juan, but mostly, the buildings are all painted a bright, solid color.
7. Visit Some Museums
Puerto Rico has such a rich culture and long history, and there are various museums you can visit in San Juan to take a deeper dive into various topics.
There are many museum options to choose from. But some of the most popular among visitors include Museo de las Américas highlighting indigenous and African heritage and colonization of the Caribbean and Americas, Museo Casa Blanca containing artifacts in Juan Ponce de León's former house, Museo de San Juan covering history of the city and country, and Museo de Arte de Puerto Rico displaying pieces by Puerto Rican artists. And of course, there are the forts mentioned above, which contain information on the history of the city.
8. Hit the Bars
San Juan has a great bar scene. There are many options, from rooftop bars, pubs, and unique lounges to casinos and clubs where you can party early into the morning. Whether you're in Old San Juan, near the Condado/Ocean Park area, or further inland at La Placita in Santurce, you'll be sure to find a lively nightlife scene.
The options are kind of overwhelming! We would have to spend a very long time in the city to cover them all. But some of the well-known spots include Club Brava, 7eight7, El Batey, La Taberna Lúpulo, and the renowned La Factoría.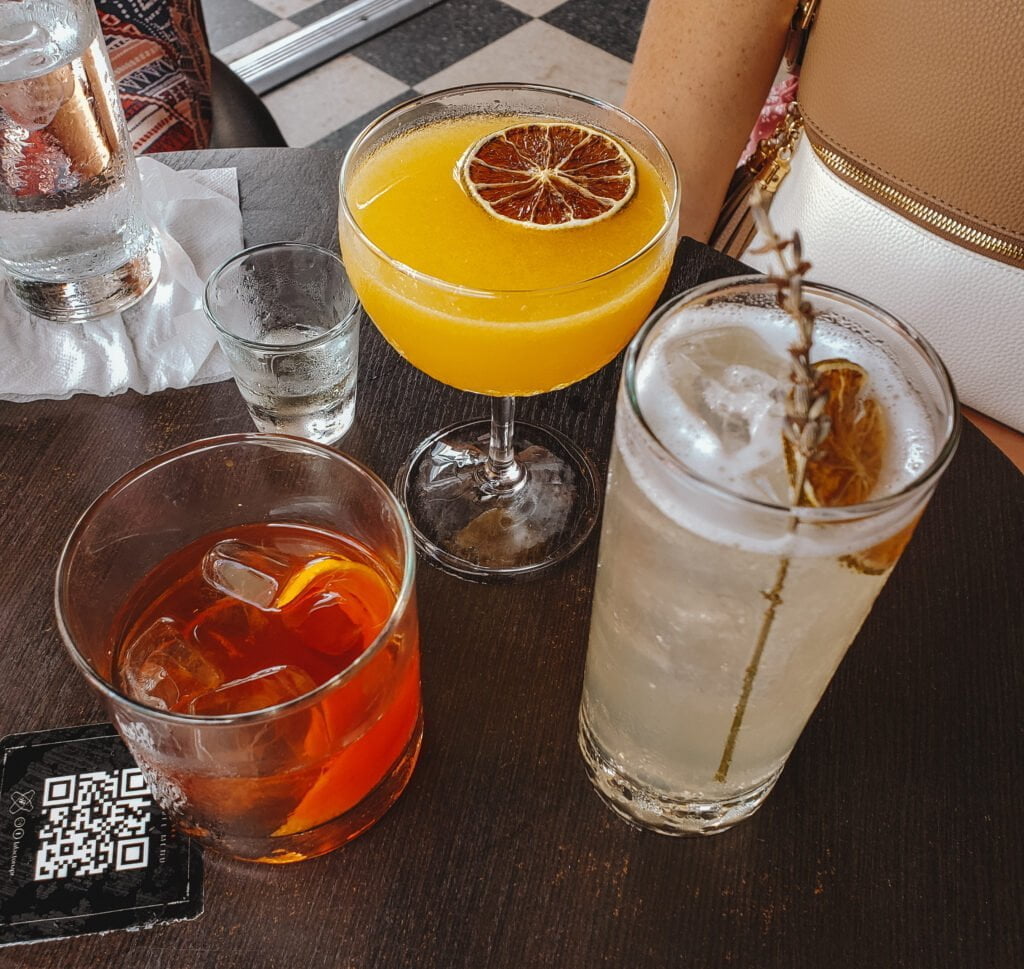 9. Learn All About Rum at Casa Bacardí
Did you know that rum originated in the Caribbean in the 1650s? Visiting Casa Bacardí is a great way to learn about this tasty spirit and the process of making it. You may also have the opportunity to try varieties from this world-famous brand.
Casa Bacardí offers a few different experiences, including tours of the world's largest rum distillery, tastings, and mixology classes. Learn more here.
Like this Post? Pin it!