Machu Picchu isn't the only reason to visit Cusco. Other ruins, the culture, and the beautiful mountains surrounding the city offer incredible experiences, and Rainbow Mountain is one that shouldn't be overlooked. The painted hillsides, herds of alpacas, and massive snowcapped peaks of the Andes offer a truly picturesque landscape that isn't quite like anything we've ever seen. Finding a Rainbow Mountain tour is simple and guided excursions are convenient and a great way to learn about and experience this stunning place.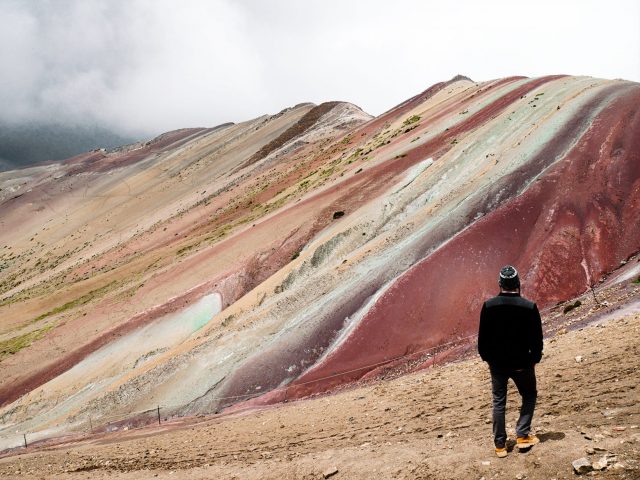 Finding a Rainbow Mountain Tour
If you don't have your own transport to reach Rainbow Mountain on your own, there are many tour options available.
Most tour agencies offer daily trips to Rainbow Mountain, even in the low season. You can find many companies on and around the Plaza de Armas. The options are seemingly endless, so we recommend looking online for a few companies before booking online or heading to those specific offices to inquire afterwards. Many hotels and hostels will also be glad to call to book the tours for you. For more information on tours, see our Cusco City Guide.
Our hostel recommended and booked our tour with KB Tours for S/.70. This included transport, breakfast, lunch, and a great guide, but didn't cover the S/.10 entrance fee to the park. The popularity of this hike has boomed, so it is by no means a quiet place. But going in the low season if possible will thin out the flocks of tourists hiking up the hillside. You can also ask how many people go in a group to try to go with a company that travels with a smaller van as opposed to a big bus.
There are a few Rainbow Mountain tour options offered. There is the common day tour to Rainbow Mountain that we went on, and there is another option to go on a longer day tour that includes the nearby Red Valley. If you want the most flexibility or want to arrive before the many tour groups, a private tour is best.
There are multi-day tours that include Rainbow Mountain and additional sights, such as the Red Valley and Ausangate Glacier. As of 2017, an alternative Rainbow Mountain route was also established, which is a much shorter and easier hike, though we have heard from many that it is not nearly as impressive.
Rainbow Mountain Tour at a Glance
Tour Cost: S/.70 per person + S/.10 park entrance fee
Horse Cost (optional): S/.70-S/.80 round trip
Tour Duration: 14-15 hours
Hike Distance: 7 miles/ 11.3 kilometers round trip
Hike Duration: 1 to 3 hours to hike up and 1 to 2 hours to hike down
Elevation Gain: 1,919 feet/585 meters
What to Bring: Rain jacket, warm jacket, first aid kit, comfortable hiking shoes (they may get wet and muddy), gloves, cap/beanie, plenty of water, hiking poles if desired, sunscreen, cash, sunglasses, snacks, camera.
Our Rainbow Mountain Tour
Our tour van picked us up from our hostel just after 4:00 a.m. The van full of sleepy tourists cruised away from Cusco. After about two hours, we arrived at a small town for breakfast, filling up on pancakes, fruit and granola, and coca tea in preparation for the hike ahead. We set out on the road for another hour, more awake after the meal.
The scenery along the road was stunning. We stared out the window as our guide gave us facts about the minerals that give Rainbow Mountain its color. As the van wound up the hillside, we noticed the large fleet of other tour vehicles making their way up the same route. We knew it was a popular place, but we still aren't partial to crowded destinations and didn't expect quite this many people.
Upon stopping, we were eager to get going to beat the crowds. Our guide sprinkled a few drops of agua florida in our hands, a scented concoction that supposedly helps open the airways and prevent altitude sickness. We then headed to the checkpoint as a group, where we presented our tickets provided by our guide. Before you pass this point, there is an option to rent a horse for S/.70 to S/.80 round trip to help you up the mountain if needed. Just let your guide know beforehand.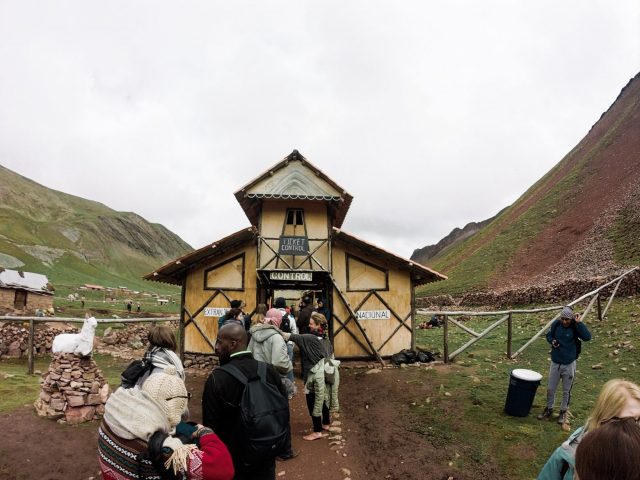 After presenting our tickets, we were free to hike at our own pace. Our guide gave the group three hours to make it to the top. Matt and I set out at a brisk pace with intentions of beating the crowds and the clouds looming in the distance. The guide walks with the last in the group to provide encouragement and keep note of time. If you are struggling to meet the deadline, you are advised to rent a horse or must turn around.
For the first two kilometers (1.25 miles), it was fairly flat, but the hike soon became pretty steep. We did our best to keep up the pace for the kilometer (just over a half mile) of steep incline, but we found it a bit harder to breathe at 5,035 meters (over 16,500 feet)! The next almost 2.5 kilometers (mile and a half) of the trail was still at an incline, but not as steep. Some water breaks and photo stops were definitely necessary to catch our breaths.
Alas, we made it up the last hill to the top. It took us an hour from the checkpoint, so we were happy to have ample time to admire the surroundings. Despite being tired, we rushed up to the mirador to get our photos before the crowds made their way up. This point is less than half a kilometer above the base of Rainbow Mountain. It provides a stunning look at the mountain, colorful valley nearby, and the looming Ausangate peak.
The skies were cloudy at first, but the weather gods blessed us with some sunshine. The colored earth turned an array of even more vibrant shades in the light. More hikers arrived at the peak, admiring its beauty while resting weary legs. We made our way back down from the mirador and enjoyed a couple warm mugs of coca tea sold by a friendly man who set up a small shop at the base of the peak.
Clouds and fog rapidly filled the valley, bringing snow. We thought this would be a good time to head down. The blizzard became heavier and the wind drove the snow between the peaks. We fastened our hoods and made our way down the muddy trail. As we descended, the snow turned to sleet, then to rain.
We made it back to the parking lot, soaked and a bit cold. There are many small souvenir and snack stalls at the base, so we bought some more coca tea to warm up while we waited for the group to make their way back down. When the whole group was back together, the van cruised down the mountain, returning to the same place we ate breakfast.
Here, we all enjoyed a large lunch of a combination of local foods, soup, and lasagna. Most of us dozed on the 2.5-hour drive back to Cusco after the meal. The traffic made the drive a bit longer, but the van dropped us off near the main plaza around 6:30 p.m.
Rainbow Mountain Tips
Taking a Rainbow Mountain tour should definitely be on your list of things to do in Cusco. But, the hike is not to be taken lightly. Though not long in distance, there are steep sections and the air is incredibly thin at this high altitude. Before opting to do this hike, take a couple days to acclimate in Cusco. Before and during the hike, drink plenty of water. Even if you are not planning on taking a horse, bring extra cash to buy a ride just in case.
The weather in the Andes is so unpredictable and changes fast, so be sure to bring adequate clothing and layers for any type of weather. It may snow in the summer, and it can be warm even in the winter, so be prepared for anything!
The surge in tourists visiting this area have placed a lot pressure on the environment. Please respect it by sticking to the trails and not littering. This will help keep the beauty of this unique place more intact for future visitors and allow the flora and fauna to continue to thrive here.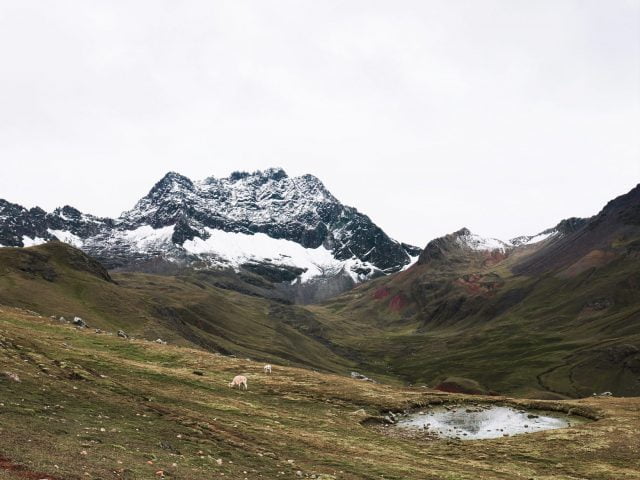 Like this Post? Pin it!