Cusco has long been one of the the most popular cities to visit in Peru. Being the heart of the Incan empire, a hub during colonial times, and a center for rich culture today, the city has a lot to offer to visitors. We've experienced many spots in Peru, and we can't deny that Cusco should be high on the list of places to visit here. The city is big and there is so much to do, and with this Cusco city guide, we hope to help you prepare to explore this beautiful destination.
Getting There and Away
The most common way to reach Cusco is by plane. There are many international flights that fly directly into Alejandro Velasco Astete International Airport in Cusco, but many others stop in Lima first. If booking a flight to Cusco on a local Peruvian airline, be aware of the extra charge they often add for foreigners at checkout.
We arrived to Cusco by bus. Because of the popularity of this destination, there are many bus options to choose from. We came from La Paz, Bolivia, but there are also buses directly from Lima, Arequipa, Puno, Nazca, and more. If you have more time, want to see more of the country, and want to save some cash, a bus is the way to go.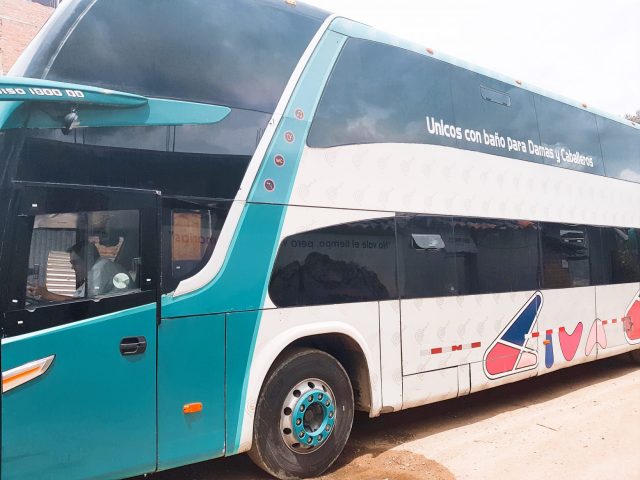 Bus tickets can be booked easily online, but you can also book them directly at bus stations. Seats may fill up though, so if you are on a tight schedule and can't wait for the next bus, it is best to book them ahead of time. Make sure to go with reputable companies, such as Cruz Del Sur, Peru Hop, or Civa, to avoid issues.
If you booked an all-inclusive tour, they will likely organize your transportation around Peru, often with the exception of flights.
Getting Around
The easiest way to get around Cusco is by walking. This will allow you to see more of the city, and many of the sites are within walking distance of each other.
However, if you'd rather catch a ride, another option is a taxi. Be aware that some drivers may try to overcharge because taxis aren't often metered, so confirm a price beforehand. Taxis within the historic city center should be around S/.5, and a ride to the airport should be around S/.15. Coming from the airport into the city, they will charge up to S/.25.
Uber and EZ Taxi (a similar service to Uber) operate here as well. We often found Uber to be the best option over taxis for longer rides because it was cheaper and you know exactly what you will be paying.
To go outside the city to the Sacred Valley and surrounding areas, buses or combis are cheap and run frequently. Many of these leave from calles Puputi and Pavitos. Renting a car is a feasible option that some opt for to make it to the Sacred Valley and mountains around Cusco, but we wouldn't recommend this if you aren't accustomed to the hectic driving on the narrow, steep, and crowded cobblestone streets here. This is also the most expensive option.
When to Go
There really isn't a bad time to visit Cusco, and the decision on when to go depends on what you are looking for. In terms of weather, May through October is the dry season. Temperatures are cooler, days are sunnier, and there is less rain. However, this is the more popular time to travel, so prices are generally higher and there are more tourists.
November through April is the rainy season. The weather is warmer and the rain more frequent, but there are less tourists, with the exception of Christmas, New Years, and Easter. We went in March and had plenty of sunshine with less crowds. There definitely was some rain, but it generally cleared up pretty quickly and everything was so green and beautiful.
If we had to recommend a time to go, it would be in the months that border the busy season (April, May, October, or November). Popular spots are less crowded and the weather is generally mild.  It's also best to avoid large holidays because prices skyrocket, it's harder to book things, and destinations are more crowded.
Where to Stay
There is no shortage of accommodation in Cusco. However, it is important to book early to get the ideal option for you, especially if you plan to go in the high season. It's best to stay in Cusco's historical district to be closer to the sights, transportation, restaurants, tour companies, and more.
Budget:
Mid-Range:
Casa Matara Boutique – Double rooms and suites with private bathrooms and kitchenettes
Muru Homely Hotel – Double to king rooms with private bathrooms and included breakfast
Tierra Viva Cusco Centro – Single to king rooms with private bathrooms and included breakfast
There are many Airbnbs here that are a great option for either a private room or full apartment. We did this for a portion of our stay and it worked out perfectly.
High-End:
Where to Eat
Cusco offers endless food options, from budget street stalls to high-end eateries. Just walking around the city, you will be bombarded with restaurant staff who want to show you their menu. Stopping to take a look, even if you don't want to eat there in the moment, can be a good way to get ideas and see what places offer.
Cafés
Many hotels and hostels offer breakfast, but if this isn't the case, no need to worry. There are many cafes and panaderías that offer simple breakfasts from croissants and coffee to full American breakfasts. Some good options for breakfast and lunch are JC's Café or The Meeting Place. But for quick bites, panaderías are your best bet.
If you need Wi-Fi or a place to hang out for a while, cafes are generally the best option. We spent a day working at Siete & Siete Cafetería. This place has great Wi-Fi, sandwiches, coffee, desserts, and a beautiful view over Cusco. They also offer dinner that looked pretty tasty. There is a Starbucks and various other places that offer Wi-Fi and wouldn't mind you hanging out for a while if you need to.
Lunch & Dinner
For lunches, we found the best option for budget travelers is to find places that offer a daily lunch menu. This generally includes an appetizer, drink, a couple choices for a main course, and dessert for S/.8 to S/.25 (around $3-$7USD). Even if you aren't a budget traveler, this can be a great way to try local foods and get the most for your money. Many of these places can be found around the main square. There are a couple that we really enjoyed down Pasaje Hurtado Alvarez off Calle Quera.
There are so many local dishes that should be on your list to try. For alpaca, we recommend Pachapapa, which also offers pizzas, cuy, and various meat and pasta dishes, or Uchu Peruvian Steakhouse. Uchu was definitely the best meal we had in Cusco. It is a little on the pricey side by Peruvian standards, but one dish with lamb, beef, and alpaca steaks served on a sizzling rock with various sauces, a salad, and mashed potatoes fed the both of us for around S/.69!
Other places to try local eats, such as anticuchos, lomo saltado, ceviche, and more, include La Feria, the Ceviche Seafood Kitchen, and Chicha. Though each of these places offer a great dining experience and incredible food, smaller restaurants that may not be in the guide book or even on TripAdvisor will save you money and still offer delicious local options.
Pizza and burger joints are pretty popular in Cusco, though they are generally more expensive than some of the local eats. Nonna Trattoria and La Bodega are great pizza options if you are craving some tasty pizza and a beer. La Divina Patricia offers a great dinner deal for a personal pizza, garlic bread, and a drink for several soles. For a burger, head to Fuego or Papacho's.
Over the course of our South American travels, we haven't found many tacos or Mexican food. When we found a little taco shop on the corner of Plaza Limacpampa Chico on Zetas street, we didn't have the highest hopes. But, these tacos satisfied our craving and are worth mentioning. For several soles, we got a soft tortilla stuffed with chicken, chorizo, beef, and cheese. It came with veggies and salsa on the side, and they loaded on the guacamole for no extra cost. This small shop also has tasty salteñas (a sort of empanada) in the mornings and early afternoons.
Another place worth mentioning is the churro stand that sits at the entry to a bakery on the south end of Plaza San Francisco just before the large arch. All day, this bakery serves up warm, doughy churros filled with manjar blanco (caramel). They aren't your traditional churros, but they sure are heavenly. This cheap and tasty treat had us coming back daily.
If You Want to Try Cuy…
When in Cusco, you'll surely see the cute guinea pigs we westerners know as pets served up on a plate. It's a delicacy here, and there are many places to try it. Many places require that you call in an hour ahead of time to have it cooked. If you want to try fresher, more authentic cuy for a lower price and without having to call in ahead of time, head to Lamay in the Sacred Valley. Here, there are endless cuy stands that have the feast ready to serve. We stopped at Doña Gladis' to try one between four of us just to say we tried it.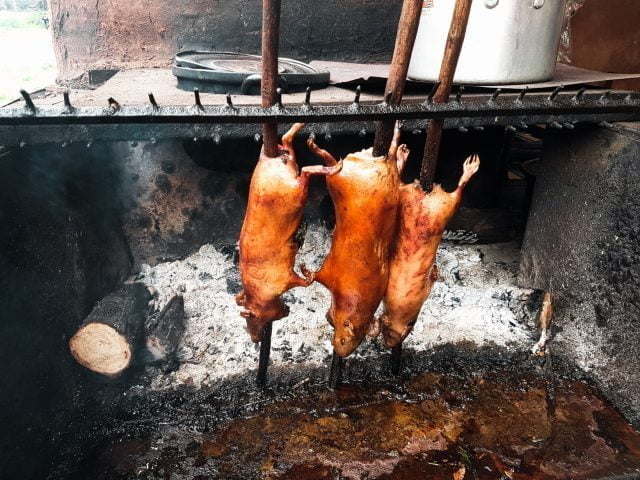 General Tips
We've eaten at local markets across South America, but many people told us to avoid eating at San Pedro Market. We've heard of many getting sick due to the meat sitting out all day and cutlery not being cleaned well. We have also known others who have eaten here and been fine, so it really is a gamble.
Another rule is to avoid eating alpaca at cheap local places. Some locals warned us of an issue with a disease similar to mad cow affecting the alpacas raised at places that supply cheap meat to these smaller eateries. It may be more expensive at restaurants like Pachapapa, but you pay for guaranteed quality.
Restaurants on and around the main plaza generally cost more than if you walk a bit further from the center. Many hotels and hostels hand out cards that give you a discount on paying with both card and cash, so ask your accommodation if they offer any. The discounts offered with these deals are better if you pay in cash.
Tours
Do you need a tour?
Whether you opt for a multi-day all-inclusive tour is really dependent on your preferred style of travel. Seeing much of Cusco is perfectly doable without a tour. It is even possible to get to Machu Picchu without a tour if you plan on just taking the train. Doing things on your own is way cheaper, offers more flexibility, and gives you a more authentic experience. For more info on seeing Cusco without a tour, take a look at 13 fantastic things to do in the city, many of which you can do on your own. Whether you take a tour or not, many of the activities in town will require the Boleto Turistico, the tourist ticket that will allow entrance into various ruins and museums.
For many activities, such as Rainbow Mountain, the treks to Machu Picchu, and Humantay Lake, a tour may be necessary whether you don't have your own transport or a guide is required to enter certain areas. To see ruins around the city, like Pisac, Tambomachay, and Sacsayhuaman, a tour is not necessary, but if you want to learn more about the history of each of these sites, you can easily find a guide once in Cusco. For these shorter day trips, finding a tour after you arrive will generally be cheaper than booking one online ahead of time.
If you are more comfortable having everything organized for you, there are plenty of tours that can be found online that can organize your whole trip. These plan everything from accommodation and sightseeing to Machu Picchu and dining. They often also include other activities, such as a trip to the Amazon or Lake Titicaca.
Finding a Tour
If you don't book online ahead of time, you can find many tour operators on and around the main plaza. The amount of people pushing brochures at you and rapidly telling you about the tours they offer can be a bit overwhelming. So, we recommend doing some research online beforehand and visiting the places you find that are reputable.
For full organized tours that cover the duration of your time in Peru, it is best to book ahead of time, and a lot of research to choose the best option is necessary.
Payment
Most tour companies here will take cash or card and you will pay before the tour. To book many tours, you will need your passport or passport information. If you book online, you will generally pay upon booking and may have to input your passport information. It is important to clarify on what is included for all tours before paying. If you have a group, you may be able to get a discounted price. It never hurts to ask.
Money
Unlike some cities in Peru, most places in Cusco will take credit card. It is important to note that many restaurants, hotels, and tour companies will add a surcharge of up to 10% for the use of a card. In these cases, it may be better to pay in cash because this cost can add up quickly.
When coming to Cusco, bring a fair amount of cash if you plan to stay for a while. There are plenty of ATMs here, but many of them only allow one withdrawal per month with a low maximum withdrawal and a high service charge. Some only allow a S/.300 maximum withdrawal, and it isn't uncommon for them to run out of cash.
If you come here with foreign currency, there are plenty of money exchange shops. Most are located on Avenida el Sol in front of the municipality building or around the main plaza. They generally have a large sign advertising their exchange rate for various currencies. Look around for the best one, and make sure to check the current exchange rate because it can change frequently.
…
Note: This post contains affiliate links that help us keep the blog running. When used, we may earn a small commission at no additional cost to you. We appreciate all the support!
Like this Post? Pin it!