When most people think of the Incas, Machu Picchu comes to mind. But, the Incans had a vast empire that stretched from southern Peru all the way into Bolivia and Ecuador. The people of this time left many ruins, artifacts, and mysteries behind.
Being the capital of the powerful empire, Cusco is surrounded by intriguing remnants of the large civilization that once was. Though you may come to the area primarily to stand amongst the old walls of Machu Picchu, there are many other ruins in the area that have their own story to tell. The Cusco ruins of Tambomachay, Puca Pucara, Q'enqo, and Sacsayhuaman sit just outside the city, making a perfect day trip.
Getting to the Cusco Ruins
All of the Cusco ruins lie on the outskirts of the city, so walking to all four is possible. People do it, but you would need a fair amount of time to walk and see them all. From the Plaza de Armas to the farthest ruin, Tambomachay, it is about 6 kilometers (3.5 miles) walking all uphill. Walk up the Atoc'sekuchi staircase, then follow the road and paths to the ruins. You can either start at Sacsayhuaman and work your way up, or you can walk to Tambomachay and hit the other ruins as you come down.
We recommend taking either a bus or taxi up to Tambomachay. You can catch a bus from Calle Puputi for only a few soles per person. This is really cheap and takes only about 20 minutes. The bus company we took was Senor Del Huerta, and you can just ask them to drop you at Tambomachay. You can also take a combi that is headed to Pisac and get off early at the ruins. A taxi is another option, but a more expensive one, costing around S/.20-30.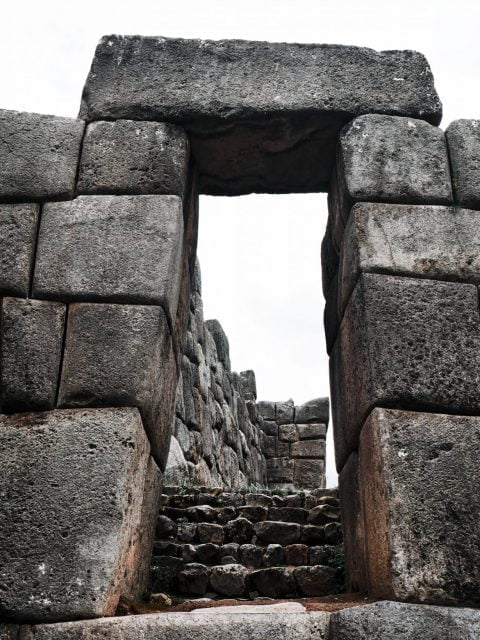 If starting from Tambomachay, you can walk two minutes down the road to Puca Pucara. Then, after visiting these ruins, you can either catch a passing bus going to Cusco to hop off at Q'enqo or walk 4 kilometers (2.5 miles) to reach it. Sacsayhuaman lies down the street from Q'enqo and takes 15-20 minutes to walk to. After Sacsayhuaman, you can walk back down to Cusco, catch a bus, or take a taxi back for about S/.15.
There are also many tour agencies that offer tours of all four Cusco ruins or select ones. They will cover your transport, and many have English-speaking guides. This is definitely more expensive, but if you want to know more about the history of each place, a tour is a great option. At Sacsayhuaman, there were guides at the entrance available for hire if desired. The other ruins are smaller and less popular, and we did not see any guides here.
Entering the Cusco Ruins
The ruins are open from 7:00 a.m. until between 5:30 p.m. and 6:30 p.m., depending on the ruin. For all four of these ruins, you will need to present your Boleto Turistico, or Cusco Tourist Ticket. You cannot enter without it, and they will punch your ticket at the entrance of each ruin.
You can purchase the partial ticket at the ruins. We've also heard that you can purchase the full ticket at Sacsayhuaman, but we've heard mixed things on trying to buy it there. Just to be safe, we recommend purchasing your complete Boleto Turistico in the city. For more information on the Cusco Tourist Ticket, take a look at our post here.
Tambomachay
The Tambomachay ruins consist of an impressive stone structure that features water fountains. The exact purpose of the place during Incan times is unknown, but it was most likely a sacred site. The fountains may have served as baths for the Incan elite or for ceremonial rituals involving water. Incan nobles may have used the water to wash the impurities and evil from their bodies, and offerings in honor of water may have been made here. The ruins sit in a beautiful green setting with the river running by them, using a natural spring to feed the aqueducts.
Puca Pucara
Puca Pucara, meaning 'red fortress,' is visible from the site of Tambomachay, as it sits on the crest of a nearby hill. These ruins lie along an important Incan road and were likely a control point and military fortress. Its occupants would monitor those coming and leaving Cusco and were in charge of watching for dangerous intruders. Based on the architecture, it appears that Puca Pucara was built in a rush, implying a need for the fortress under pressure of intruders.
Q'enqo
Q'enqo features very unique architecture in comparison to the other ruins in the area. Instead of stones stacked in a jigsaw-like manner, these ruins have been carved into large rocks. Specialists believe it to be a center for religious ceremonies as it features a sort of amphitheater and altar. The ruins consist of many large rocks with faint carvings and narrow walkways that lead through caves and crevices. Q'enqo Chico, a large walled structure, sits just down the hill from this ceremonial site.
Sacsayhuaman
These ruins are by far the largest of the four, featuring towering zigzagging walls and other impressive structures. The massive stones at Sacsayhuaman are some of the best examples of flawless Incan architecture. The invading Spaniards must have thought so too because they took many stones from here to build some of the cathedrals and other buildings in Cusco. This fortress, temple, and Incan city offers stunning views over the city.
Bonus: From Sacsayhuaman, walk over to the Christo Blanco that overlooks Cusco for some more beautiful views of the city. At night you can see this large statue lit up on the hillside.
Like this Post? Pin it!