Our short time on the shores of Lake Titicaca was packed full of activities as there was no shortage of things to do in Copacabana. Though it is undeniable that Isla Del Sol is the main attraction in the area, there are additional fun things to do that can make your stay in Copacabana a memorable one. Don't miss out on these six great options!
1. Explore Isla Del Sol
We'll start with the most popular of all things to do in Copacabana. Okay, it's not in Copacabana, but it is the most common attraction that has people stopping at this lakeside town. Isla Del Sol sits a short boat ride away from Copacabana. The island offers amazing Lake Titicaca views, traditional Bolivian charm, and a little insight into the lives of the Inca.
There are many companies that offer rides to Isla Del Sol daily, so we recommend booking the day you want to go to avoid scams and ensure that the weather is cooperating. If you have the time, you can stay a night or two there to fully experience the serenity of the island. For more info on visiting Isla Del Sol, click here!
2. Hike up Cerro Calvario for Sunset
From Cerro Calvario, you can see the sun drop below the lake's horizon in the west, making it an awesome spot to watch sunset. Of course, this hike is beautiful at any time of day, but we recommend going for sunset.
The hike up from Copacabana to the top of Cerro Calvario is steep, but fairly short. It took us around 30 minutes to reach the top. Chances are you won't have this spot to yourself, but there are plenty of rocks and spots to hang out on as you take in the views.
3. Visit Basilica De Nuestra Señora De Copacabana
This stunning cathedral sits uphill from the beach near Plaza 2 De Febrero. The beautiful white architecture is a huge contrast from the rest of Copacabana. You can enter for free to see the intricate interior and the large statue of the Virgen De La Candelaria. The plaza just outside the grounds is pretty as well, and there are a few benches to relax on.
Though the area can be quite peaceful, it can also be very busy. People gather here on holidays and for mass. Also, many come here in the mornings to have their cars blessed for travel. You'll see them splashed with holy water and adorned with flowers.
4. Hit the Beach
Each afternoon we spent in Copacabana, we noticed how busy the 'beach' was. Even if you simply want your picture taken with a cute alpaca, the beach is the place to do it.
Though we mostly saw local children swimming in the frigid water, there were plenty of other people leaving the shores of Lake Titicaca with paddle boats, jet skis, kayaks, and inflatable contraptions. Just head down to the beach and shop around a bit before renting anything.
There are also many beachfront restaurants serving happy hour with a view of the lake. These joints can initiate some pretty rowdy partying near the beach. There are also concrete barriers and tree stumps along the shoreline where people often gather to hang out and meet others from around the world.
5. Treat Yourself to Trout
The trout in Copacabana was truly delicious. Down by the beach, there is a long line of tents, all serving fresh trout caught from the lake. The price was pretty great too, considering we were getting a full plate of fresh fish and sides.
Each spot generally offers a few different types of trout, and we were very happy with the flavors each time. The chef at the tent we ate at fully deboned the fish, which we found to be rare in South America.
6. Hike to La Horca Del Inca
On the hill opposite to Cerro Calvario sits La Horca Del Inca. A short hike up the hill on the south side of town will bring you to some old ruins where pre-Incan cultures studied the movement of the sun and moon. The ruins are not as impressive as those on Isla Del Sol, but they are unique and the views of Copacabana are beautiful. It costs 10 Bolivianos that must be paid at the beginning of the trail – though sometimes we heard that nobody is there to collect it. This activity was short and simple, making for a great half-day activity.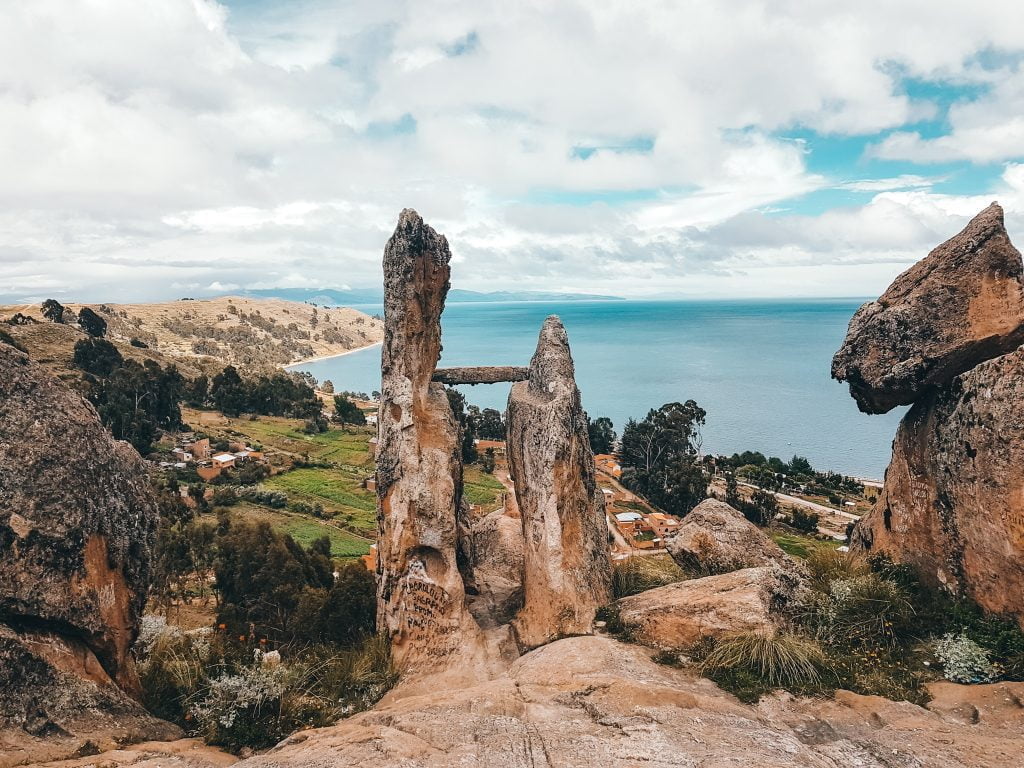 If you do other fun things in Copacabana, let us know!
Like this Post? Pin it!