Of the many border towns we passed through in South America, Copacabana, Bolivia definitely stood out in a positive way. With the stunning Lake Titicaca views, tasty food, lively character, and colorful Bolivian charm, we have to say we really enjoyed our short time here.
We ventured through Copacabana twice while traveling between Bolivia and Peru. Though most visitors stop here for only a day or two to see the sights out on Lake Titicaca, the town itself is worth considering spending some time in around the other more popular activities in the area. This Copacabana city guide will give you some of the ins and outs of this lakeside city.
Getting To and From Copacabana, Bolivia
Copacabana is most commonly visited when coming from either La Paz or Peru. There are day tours that can be taken from La Paz to Copacabana, but we recommend spending at least a night on the shores of Lake Titicaca if you have the time. Buses go daily between La Paz and Copacabana. You can book a ticket the day of in La Paz or look on TicketsBolivia.com to book in advance. When heading to La Paz from Copacabana, you can catch a bus around Plaza Sucre.
There are also frequent buses coming from Peru, departing from Arequipa, Cusco, Puno, and other cities. These are better to book in advance since a border crossing is required. Check out our other posts on getting a Bolivian visa and crossing the border into Bolivia.
For those not comfortable with their Spanish or taking local buses or for those who want help and assurance while crossing the border, consider Bolivia Hop. They offer rides between Peru and La Paz, often stopping at Copacabana along the way.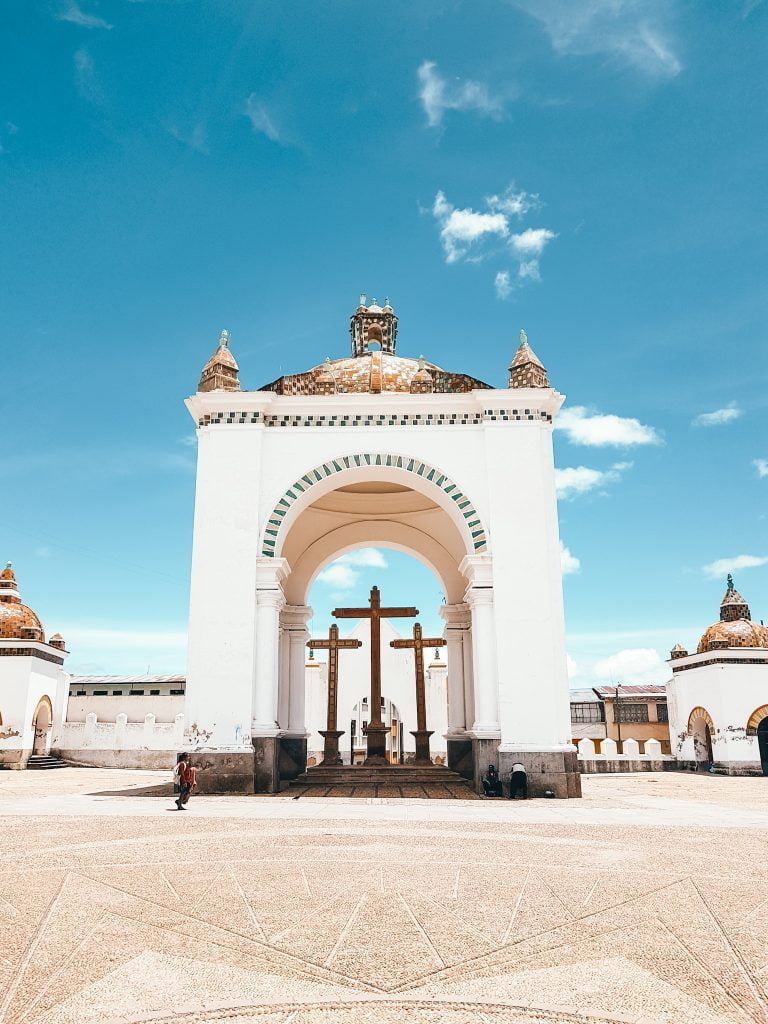 Getting Around Copacabana
Copacabana, Bolivia is easy to walk because it is not very large. Many of the restaurants, hotels, and tour companies are located near the beach and along Calle 6 de Agosto. Even if you are staying on the outskirts of town, it is not far to walk to the main strip.
However, Copacabana sits at over 3,800 meters (12,600 feet) in elevation, so walking the slightly steep streets can feel tiring to those not used to being at high altitude. If you're not up for a walk, there are some taxis here and there that can take you around town.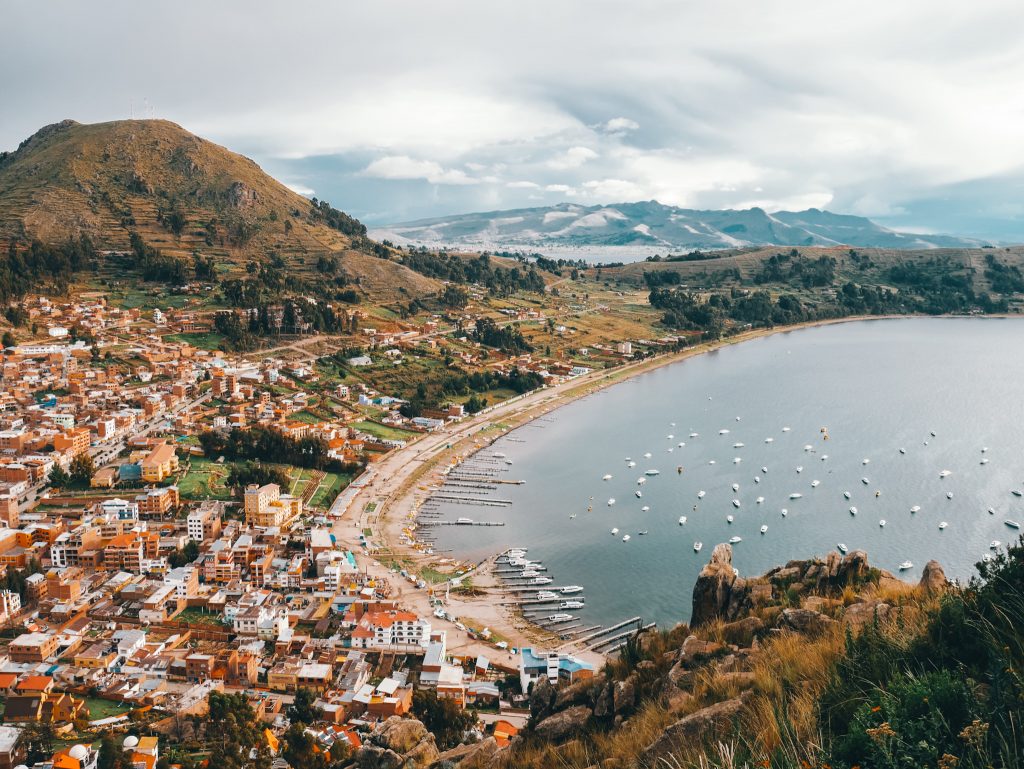 Where to Stay in Copacabana
Copacabana has a range of accommodation options. During busier times of year, book in advance because options can sell out quickly, especially those down closer to the lake. Following are some good options to consider in the city.
Budget Option:
Hostal Sonia – Double or twin rooms with private bathrooms and included breakfast
Sol y Lago – Bungalow or single and double rooms with private bathrooms and included breakfast
Mid-Range Option:
Hotel Onkel Inn – Suites with breakfast option available
Hotel La Cupula – Suites and double rooms with private bathrooms, some rooms with equipped kitchens, and included breakfast
High-End Option:
If you want to spend a night on Isla Del Sol, check out our post on visiting the island!
Where to Eat in Copacabana
Copacabana may be small, but there are quite a few good food options, including traditional Bolivian foods and international fare. There is a large concentration of restaurants along Calle 6 de Agosto and its close surrounding streets. Check out Pan America for pizza, El Condor & The Eagle Café for a delicious breakfast, Trattoria Sapori D'Italia for Italian, Baguette About It for sandwiches, and La Cupula for a variety of South American and other international cuisine.
There are also plenty of cheaper local options. Our personal favorite was trout caught fresh from Lake Titicaca. Head down to the beach for dinner and dine at one of the many tents that serve up tasty trout with many sauce and seasoning options.
Like in many parts of Bolivia and Peru, there are hole-in-the-wall spots that serve a menu del día for lunches. You'll get a heaping meal that includes a soup or other appetizer, choice of one of a couple main dishes, and a drink or dessert for an unbeatable price. Vendors also set up their own food stalls around the market near Plaza 2 De Febrero. You can grab a quick bite at these or stop inside the market for veggies and bread if you have the option to cook at your hostel.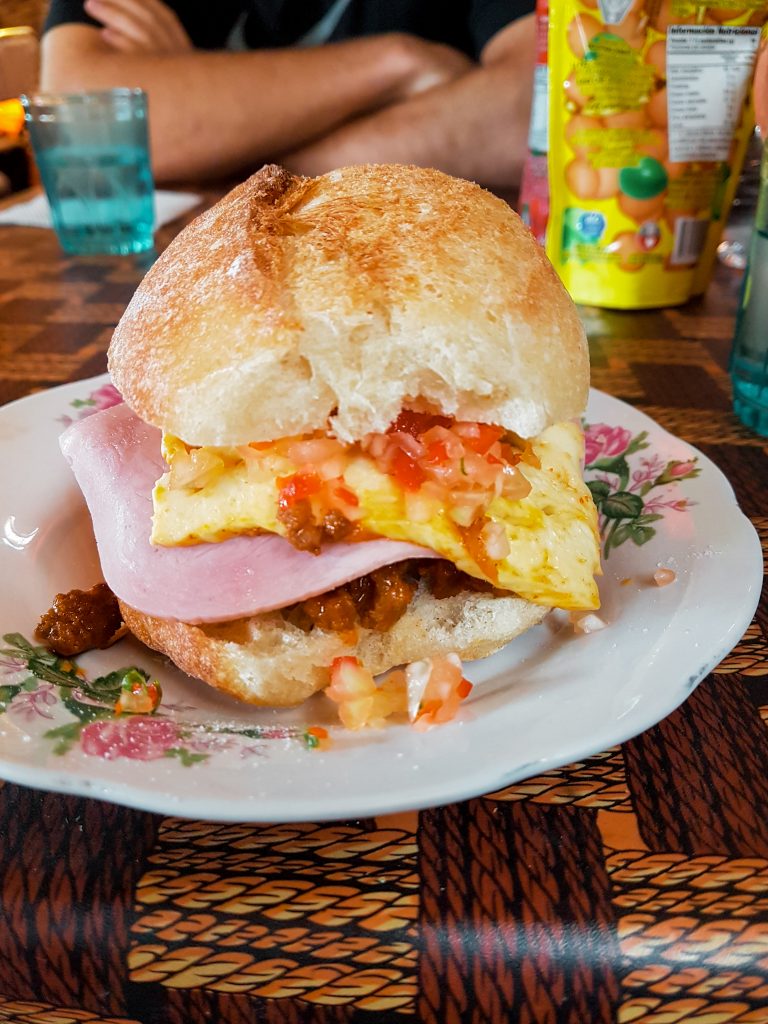 You'll also see some vendors with mobile carts that sell ice cream, empanadas, salteñas, popped corn, and other goodies. Our favorite empanada stand was on Calle 6 de Agosto outside a restaurant called Mauraz. They offer a few different types of really tasty empanadas.
Tours
Visitors come to this area of the country to experience the beautiful Lake Titicaca and the various Incan ruins that can be found in Bolivia's altiplano. There are many tour companies that can help you have a great time doing so. Many operators can be found near the center of town.
If you are planning on going on a guided tour, we recommend doing some research online to ensure you book with a reputable company. Many little tour operators don't have their info or booking capabilities online, so visit a couple offices upon arrival before booking if you don't book beforehand. This will ensure that you are charged fairly and can give you a good feel for the companies and what they offer.
For a simple boat ride to Isla Del Sol, all of the companies in Copacabana seemed pretty much the same. They all offer similar services and charge about the same amount for a ticket. We walked down the street early one morning and booked a ticket for a trip to Isla Del Sol that same day.
Money
In Copacabana, there are a couple ATMs. If there are issues with the ATMs not working or running out of cash (not uncommon), you can go inside a bank to withdraw money. Always bring some cash with you because some hostels, restaurants, and tour companies in Copacabana do not accept card.
If you only have foreign currency or want to change Bolivianos into Soles before crossing into Peru, there are a few money exchanges that can perform this transaction. They are often labeled casas de cambio. When looking to exchange currencies, always know the exchange rate beforehand to ensure that you aren't getting ripped off. Some hotels may offer this service too. You won't ever get the exact rate, but try to get a rate as close as possible. We got a decent ratio at a place on Plaza Sucre.
Like this Post? Pin it!