Having to cross the border between two South American countries can seem like a bit of a stressful undertaking. But crossing the Bolivian border from Peru is surprisingly easy to do. The most important things to keep in mind when crossing the border are the visa requirements for your country, transportation, and making sure that all of your paperwork is in order.
Making Your Way to the Bolivian Border
There are two main routes that take you across the Peru-Bolivia border. You can either cross in Yunguyo, which takes you through the Lake Titicaca region, or you can go through the lesser-known town of Desaguadero. The Yunguyo route is popular among tourists, as it allows you to make a stop to see Isla del Sol and the town of Copacabana.
Both of these routes are commonly accessed through Puno, Peru. There are plenty of buses that will take you on the same routes that depart from Cusco, Arequipa, and other nearby cities. Many of them end up passing through Puno anyway.
We made our way from Lima, catching a bus to Arequipa, then another one into Puno. After spending the night there, we were ready to begin our journey across the border. We'd heard nightmare stories about the problems we could encounter at the border, so we decided to play it safe and got our tickets from Bolivia Hop. We read that they had border crossing assistance, which made us feel a bit better. More on our thoughts on this in the Bolivia Hop section further below.
We stayed at a hostel in Puno, and at 8 a.m., the Bolivia Hop guide came to there to pick us up. After picking up a few more passengers, we got dropped off at the bus and loaded in. We then began the 2.5-hour journey to the border.
Requirements to Cross Into Bolivia
After just a few minutes on the road, the guide started asking everyone if they had their visas. For many countries, all that is required to enter the country is a valid passport and a TAM card. However, for other countries, including the United States, the requirements are much stricter. If you are unsure of your country's entry requirements, be sure to check the your government travel info or use the Bolivia Hop visa search to see the latest requirements.
If you are a U.S. citizen, you are required to have a visa to enter into the country. You can either apply for a visa ahead of time at a Bolivian embassy or apply at the border. Either way, the requirements are the same. We applied at the embassy in Lima, Peru. Here's more info on visa requirements and our experience obtaining one there.
Exchanging Money (or Not)
We arrived in the town of Yunguyo, got off the bus, and grabbed all of our bags. We had to switch buses to drive in Bolivia because we needed a lighter bus that could cross the water. More on that later though.
When you get off in town, the guides will tell you to exchange your money at the exchange house on the right side of the road. We don't advise doing this here! They offered an awful exchange rate when we inquired about exchanging our Peruvian soles.
There are plenty of places to exchange in Copacabana and in La Paz. Be sure to check the exchange rate before you cross the border. Don't expect to get the exact rate, but make sure you aren't getting ripped off either.
Getting Stamped Out of Peru
After being instructed to exchange money, you'll head to the left side of the road to the Peruvian migration building. Here, you'll need your passport and the TAM card you filled out and got stamped when you entered the country. If you flew into Peru, your TAM card may be online, so don't worry about having a physical copy. Wait in line along the side of the building and they'll let people in in groups. We got to the desks in just a few minutes. They collected our TAM card, gave us our exit stamp, and we were on our way.
After this, you'll have to fill out your new TAM card to enter Bolivia. It is easy to fill out, just make sure you have the address of the place you're staying handy. Bolivia Hop's guide double checked our cards to make sure they were filled out correctly. Keep this paper throughout your time in Bolivia!
Crossing the Bolivian Border
After your TAM card is filled out, you'll walk up the hill towards the big arch spanning the road. Upon crossing the Bolivian border, walk down the hill a bit to the Bolivian migration building on the left. There's a blue plastic cover over the entrance that's better at trapping in heat than it is at blocking sun.
Hop in line and wait for your stamp. We only had to wait for around 20 minutes or so. When we got up to the desk, we handed over our TAM card and passport. Without saying a word, the official stamped our passports and TAM cards and handed them back. Quick and easy. We received 30 days, which is what most tourists get when they enter the country. If you plan on staying for longer than 30 days, you'll need to extend your visa once in the country.
While waiting in line or while you are waiting for your fellow travelers to get stamped, there are bathrooms, snacks, water, and money exchangers on the side. We didn't ask about the exchange rate here, but we assumed it was similar to the poor offers on the other side of the border.
After everyone had their stamps, we made the short 10-minute drive to the town of Copacabana. Bolivia Hop stops for a few hours here, allowing you to take the four-hour tour of Isla del Sol. We were heading back here later to spend more time, so we just hung around town for the afternoon. We exchanged our money and found some cheap, delicious empanadas too.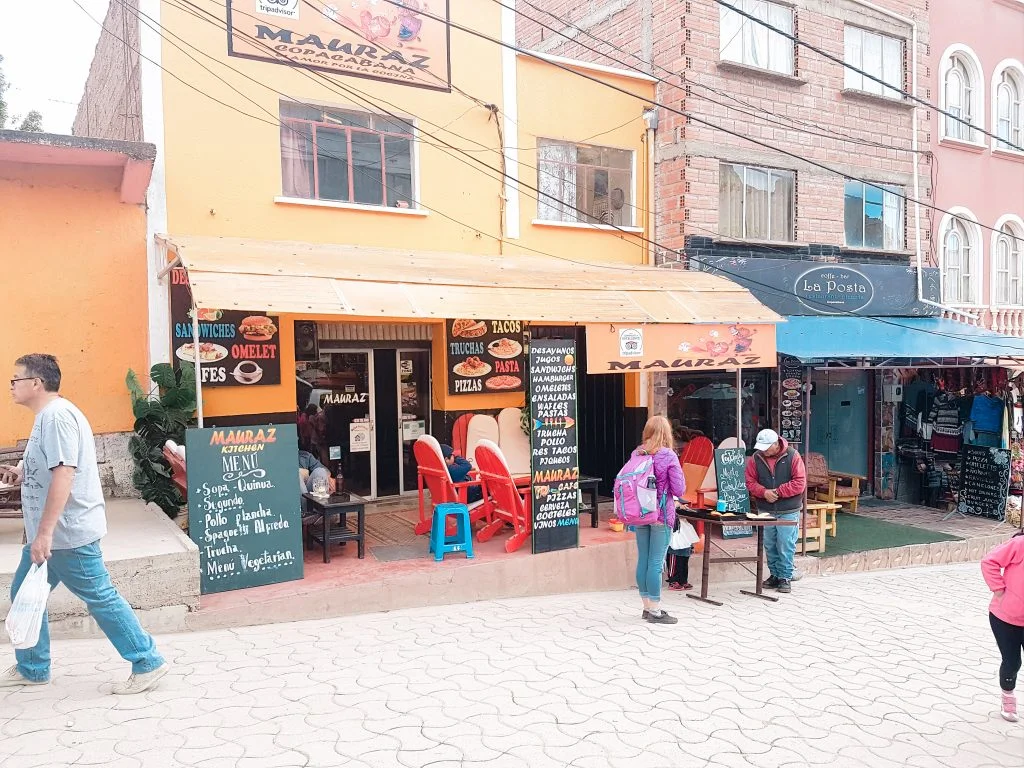 Crossing Lake Titicaca on a Boat
After leaving Copacabana, we started off towards La Paz. We drove for about an hour and a half before we reached the water crossing. We all got off the bus and got in line for the boats. It cost only a couple bolivianos for a ticket, but Bolivia Hop covered the cost. The boat is slow, but it only took between five and 10 minutes to cross the water.
The wildest thing about the crossing is getting the bus over the channel. There are many rickety barges that the buses drive onto to get across. They just have a small motor, so the going is slow. We had about 15 minutes on the other side to wait for the bus. There are plenty of food stalls, convenience stores, and small restaurants to stop at while you wait if desired.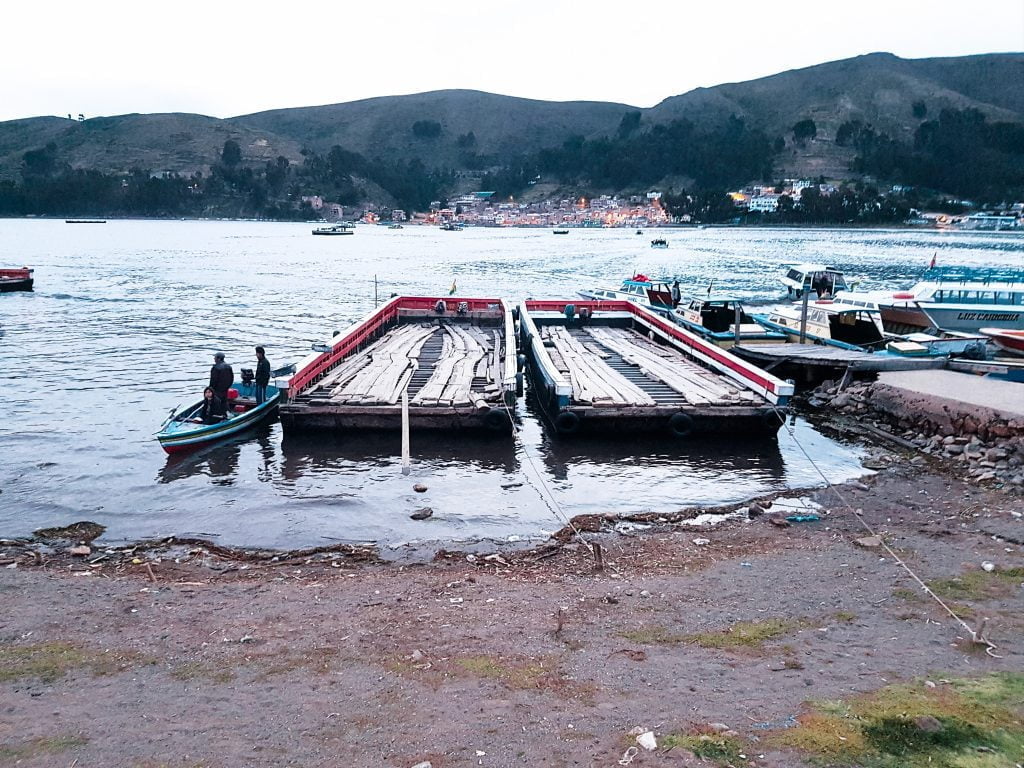 After getting back on the bus, we drove for another two and half hours or so before reaching La Paz. We got in fairly late, around 10:30 p.m., but Bolivia Hop dropped us off right outside our hostel.
Thoughts on Booking with Bolivia Hop
Overall, the ride with Bolivia Hop was really smooth and convenient. It was great that they picked us up and dropped us off at our hostel. The bus was definitely one of the more touristy things we've done in South America, as we tended to stick more to the public buses. The bus tickets with Bolivia Hop cost quite a bit more than purchasing a ticket with a local bus company.
Honestly, because of how easy and straightforward the whole process was, we aren't sure if using this company was really necessary for us. We know enough Spanish that we could have gotten by without a guide, but we could see how having an English-speaking guide would be helpful if you don't speak much Spanish. It would also be useful if we planned to apply for our visas at the border.
This company is a bit pricier, but if you are uncomfortable with your Spanish or want some extra assurance when crossing the Bolivian border, Bolivia Hop is a great option.
Final Thoughts on Crossing the Bolivian Border into Peru
When we set out on our trip into Bolivia, we expected a lot more hassle at the border. Luckily, we were wrong. We passed through this same border crossing twice without any issues. It was definitely helpful to have our visas beforehand, but we've read about tons of people that have gotten them at the border no problem.
Again, the biggest things to keep in mind to ensure a smooth journey are to know your visa requirements and not to lose your TAM card, as this can cause major issues. We witnessed this firsthand from a group of travelers who threw away their Peruvian TAM cards and were not permitted to get their exit stamps from Peru.
…
Like this Post? Pin it!