La Paz is a popular place for visitors as it serves as a hub for many when traveling in Bolivia. During our three months in Bolivia, we found ourselves in La Paz often, and we came to love this unique city. The place is huge and there is a lot to see and do. We don't pretend to be experts on any destination, but we hope the information provided in this La Paz city guide helps you enjoy it as we did.
Getting There and Away
La Paz is the most popular hub for international flights entering and leaving Bolivia. Flights to and from El Alto International Airport are frequent, and the airport serves many airlines. It lies on the outskirts of the city, but there are plenty of buses and taxis coming and going. Be aware that many airport taxi drivers will try to upcharge you, so it is best to organize one with a legitimate company, take public transport, or call an Uber or Easy Taxi. This airport provides local flights to various Bolivian cities too, such as Santa Cruz.
La Paz can also be reached easily by bus. The city is a hotspot, so there are various bus stations with buses that go to and from small Bolivian cities, rural areas around La Paz, popular destinations like Salar De Uyuni, and other countries. The route between Peru and La Paz is a simple one, and many people take this path before or after visiting Cusco, Arequipa, or Puno. Since there are many stations and bus companies in La Paz, always check your tickets and route to make sure you know where you need to catch your bus or where your bus will be dropping you off upon arrival in La Paz.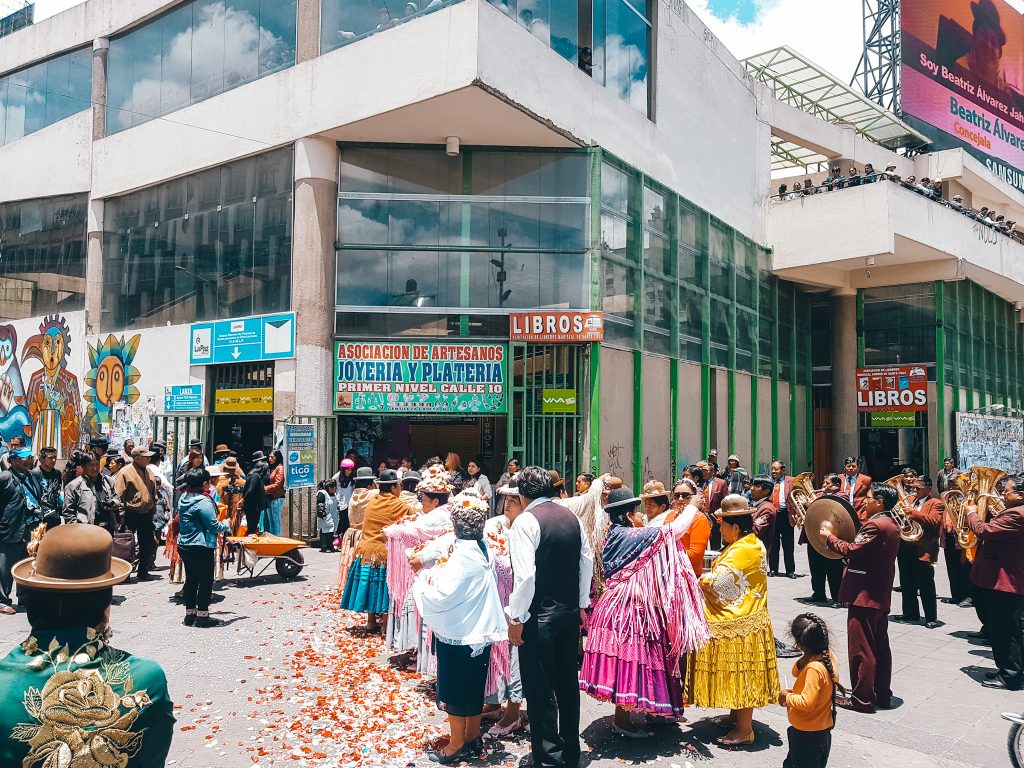 An important thing to note while traveling in Bolivia is that political unrest isn't uncommon, and strikes can delay travel within the country and to and from it. Parties also often fill the streets. The only thing you can do in these situations is be patient until the action has died down.
Getting Around La Paz
La Paz may be huge, but there are many ways to get around the city. We walked a lot within reason from our hostel, but to get to farther places, we utilized the various options. Taxis are abundant in La Paz, and you can easily flag one down from the side of the road. Before you take a ride, confirm your destination and the cost. Though not as common, Uber and Easy Taxis are a great option because they are reliable and you will know the cost beforehand.
La Paz also has an extensive system of buses that cruise around the city. These are cheaper than taxis, but it is more difficult to determine which buses are going where and how often. Many will be labeled with the neighborhoods or main streets they stop at. You can just hop on and pay as you board.
Other than walking, our favorite way to get around was by taking the teleférico. This gondola system is fairly new and is efficient. It's also expanding as new lines have been added in recent years. There are various lines that lead to El Alto, the city center, and Zona Sur. Riding the gondola is cheap and gives you an awesome view of the city from above. For more info on the lines, click here.
Altitude
Altitude is an important topic we thought was worth mentioning in this La Paz city guide. La Paz sits at over 3,600 meters (11,900 feet) above sea level. El Alto sits even higher. If you are coming from low elevation, don't take this lightly!
Altitude effects everybody differently. We came from the coasts of Peru straight to La Paz, and though we never felt sick, we definitely felt short of breath while walking up the steep streets in the city. Some people become very sick, experiencing headaches, puking, exhaustion, and more.
Throughout your stay, drink plenty of water. The local remedy is coca tea, so that is worth a try too! Acclimate and take it easy for a few days before doing any extreme activities.
Where to Stay
La Paz is an extremely popular destination for backpackers and budget travelers, so there are many hostels that cater to this crowd. However, La Paz also has its fair share of high-end accommodation, providing options for a range of budgets and needs. The numerous places offer great variety in location, what's included, party scenes, and more.
Budget Option:
Mid-Range Option:
High-End Option:
Where to Eat
Out of anywhere we visited in Bolivia, La Paz had one of the more varied food scenes. You can find anything from traditional Bolivian cuisine to Chinese and Italian restaurants.
Cafés
Cafés are generally bustling spots for both locals and tourists who are drawn to the good coffee and Wi-Fi. Many also offer tasty meals, quick bites, and alcoholic beverages. Some great cafés to check out include Café Del Mundo, Hb Bronze Coffee Bar, and Antigua Miami. We came across a couple spots, like Anticafé Chukuta, that offer a unique option where you pay for an hour or more and can drink unlimited coffee during that time.
Local Eats
Though there are many international cuisine options and fancy restaurants, opting for small local eateries and markets will save you the money and allow you to taste local cuisine. There are many unnamed eateries that offer the menu del día for lunch. This includes a soup, main dish, and dessert or drink for an astonishingly cheap price. They are everywhere, and you can spot them often by a sign advertising the menu del día.
There are also street vendors that line the streets. In these stalls we found anything from fresh orange bread and unique fruits to chorizo sandwiches and salteñas. Wherever you eat, use your best judgement to avoid old food, contaminated water, and other variables that may make you sick.
A Variety of Eateries
If you get tired of the local Bolivian plates or are craving another cuisine, there are plenty of spots to satisfy your hunger. However, we found many of the international eateries and "touristy" restaurants to a lot more pricy. Some ingredients, like cheese, are harder to come by in Bolivia, making pizza and other dishes more expensive than eating local.
If you are looking to go all out on a meal, try Gustu, an internationally-recognized restaurant that serves a variety of Latin American dishes. It is best to make reservations in advance! Other well-visited spots include Popular Cocina Boliviana for Bolivian and South American dishes, Fenomeno for North American eats, Berlusca for Italian, and Higher Ground for a variety that includes vegan options.
Bars and Clubs
If you are looking to hit the town and grab some drinks, you're in a great place for it. The nightlife scene in La Paz was thriving during our time in the city. Many backpacker hostels party nightly, serving bar food and drinks within the hostel. If you are looking to experience the nightlife outside your hostel, there are numerous options.
Loki hostel is a well-known party spot that also welcomes those who aren't staying there but want to join in on the fun. Mongo's is another great bar where you can dance and party with locals and foreigners until the early hours of the morning. For a live music, check out Boca y Sapos. In addition to hitting these popular spots that are well-known among those visiting La Paz, don't be afraid to check out the more subtle discotecas and other local bars.
While out on the town, always keep your wits about you. We never felt unsafe in La Paz, but if leaving a bar late at night, it is best not to wander the streets alone. Try to avoid carrying large amounts of cash or flashy belongings.
Groceries
La Paz has quite a few supermarkets that sell anything from kitchenware, alcohol, food items, toilet paper, toothpaste, bottled water, and other essentials. We commonly went to Supermercado Ketal, and it always had what we needed. Some of these items can also be found for a cheaper price in the smaller tiendas and markets around town.
Tours
There are many activities in La Paz that do not require going on a tour. For example, exploring Valle de la Luna or attending Cholitas Wrestling can be done on your own. However, if you aren't comfortable with your Spanish-speaking ability or taking public transport, want to learn more about the site, or just want the convenience of a tour, there are various companies that offer tours for these activities.
Other activities, like biking Death Road or hiking within Cordillera Real are better done with a guide for safety reasons or because they require equipment. There are many operators that sell day tours within La Paz and tours for Uyuni, Rurrenbaque, and beyond. We recommend doing your research online ahead of time, then visiting a few offices (if you have the chance) to discuss costs, itineraries, and more to determine the best fit for you.
Money
Many hotels, hostels, tour companies, and local shops we encountered did not accept card. We rarely used ours our entire time in the city because cash payment was required. The only place we used card was at the larger supermarkets. So, it is always a good idea to carry cash on you. At smaller shops and restaurants, try to pay in smaller change, otherwise it may take a while for staff to find change to break a large bill.
There are many ATMs scattered around La Paz. We even found one that charged us no fee to withdraw (this depends on your card). If you want to exchange money, you can go into the bank or find the casas de cambio in the streets. Know the exchange rate to make sure you aren't getting ripped off.
Disclaimer: This post contains affiliate links that help us keep the blog running. When used, we may earn a small commission at no additional cost to you. We appreciate the support!
Like this Post? Pin it!