It didn't take much for us to fall in love with Cuenca. The bustling markets, unique architecture, friendly people, and stunning surrounding mountains made us never want to leave. There is so much that Cuenca has to offer, so if you venture to Ecuador's incredible inland areas, you should definitely make a stop there. Cuenca, Ecuador is huge, and there are many things to do, so here's a comprehensive guide of things to know before you go.
Getting There and Away
Many places in Ecuador are very accessible by the country's extensive bus system. There are many bus companies that run routes to Cuenca from smaller neighboring cities, Quito, and Guayaquil. You can often book buses online or at a station beforehand, but we showed up to the Guayaquil terminal the day we were heading to Cuenca and just caught the next local bus. If you are coming from a smaller city, it is best to stop at the local bus station, ask a knowledgeable local, or contact a bus company beforehand to check schedules and options.
If you're concerned about time or would feel more secure with private transport, there are also many companies that offer shuttle/van services. These generally must be organized beforehand. The more people you have in a group, the cheaper these services will be per person.
Cuenca also has a small, modern airport. Most flights in and out of Mariscal Lamar International Airport are domestic, but if you are flying from an international destination, you can get to Cuenca by connection most commonly through Quito.
Getting Around Cuenca, Ecuador
Within Cuenca, there is also an extensive bus system. The city is large, so many tourists and locals take city buses from place to place. There are various bus stations in Cuenca that have numerous bus companies with an array of routes. Many of the offices have signs that indicate where the buses from that company go. While you're out and about, you can flag down buses in the streets and ask if they go where you're headed. You can also take a taxi from place to place, but it will be more expensive.
We found the best way to get around is to walk. We never felt unsafe in Cuenca, and there are so many cool things to see while walking around the city. Many of the great attractions in the city are also in walking distance to tasty restaurants and hostels, so it's pretty easy to spend whole days walking around.
Of course, if you are planning to go outside the city, it is more difficult to walk. But, you can take buses that are heading to other cities and hop off at various destinations, such as the hot springs or Cajas National Park. Tours are also widely available that include transportation to great spots in the city and outside of it.
When to Go
With its mild climate and little variance in temperature, Cuenca, Ecuador is a great place to visit year round. The wet season generally runs from March through June when there is significantly more rain. However, if you go in the rainy season, don't worry! Temperatures are still nice and the rain usually starts in the afternoon.
The driest part of the year is supposedly July through December, but we still experienced a fair amount of rain when we were there in November. Like in the wet season, the rain generally started mid-afternoon.
Daytime temperatures are fairly warm, but Cuenca is often cloudy and the rain can come unexpectedly, so it is best to always have a light jacket or rain jacket on hand. Night time temperatures are cooler year round, so come prepared with some layers.
Where to Stay
Cuenca offers everything from cheap hostels to upscale accommodation. Many of the options lay close to the plaza at the center of town, but there are also Airbnbs and hostels outside the center that are quieter and often a bit cheaper. We stayed a bit outside the city center, but still could walk to the main plaza and various restaurants easily.
Note: All prices are listed in the local currency of USD per night. These prices also exclude the 12% tax that is often added at most properties in Ecuador.
Budget Option:
Mid-Range Option:
High-End Option:
Hotel Oro Verde: $102 for a double room and private bathroom with breakfast included
Mansion Alcazar: $225 for a double room and private bathroom with breakfast included
Where to Eat
Whether you're looking for high-end eateries or a quick, cheap bite, there are no shortage of options in Cuenca. Many streets you walk down have numerous options, so we recommend simply searching for a place as you go. Many restaurants have a menu posted outside or wouldn't mind showing you one upon request.
If you don't eat breakfast at your accommodation, there are plenty of cafes that will serve up a warm cup of coffee and numerous breakfast foods. Try San Sebas Café or Sunrise Café for a tasty variety. Our absolute favorite café was Tutto Freddo. This popular spot offers great coffee, ice cream, sandwiches, salads, cakes, and more.
The cheapest option we found was to go to your local market or bakery. At these markets, you can pick up various fruits and breads if desired. Some of them even have food courts of sorts. We had perhaps the most unique "breakfast" we ate our entire time in South America at the local market in Cuenca. It definitely wasn't quite the breakfast food we were accustomed to! See it pictured below.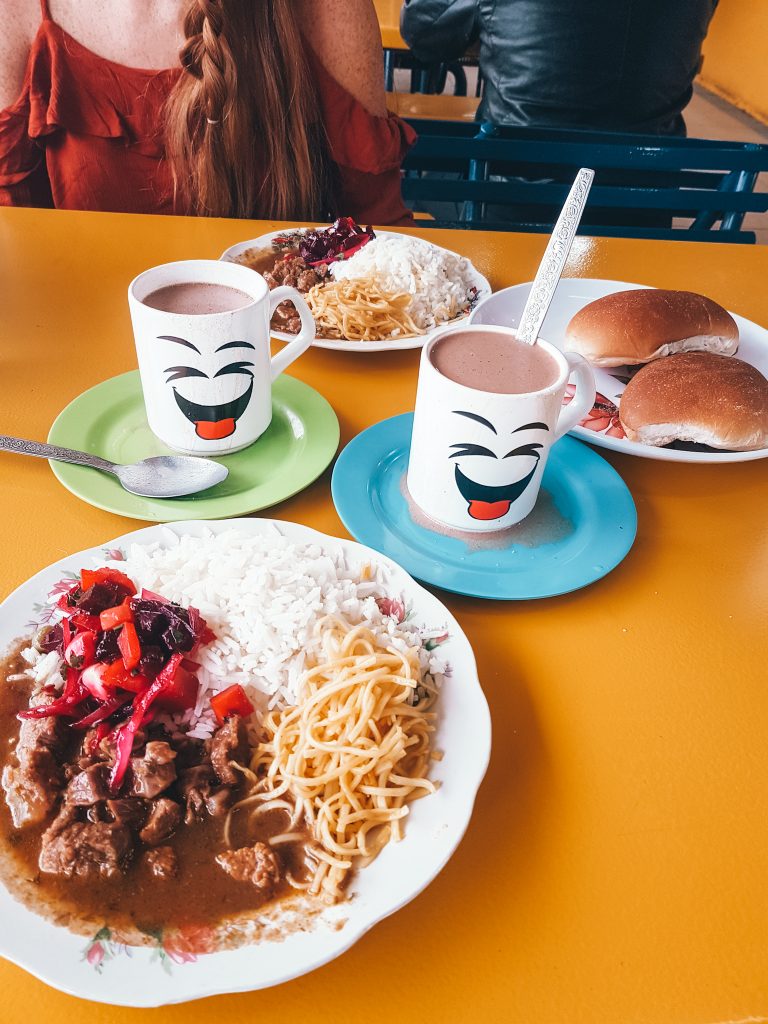 For lunch, we definitely recommend the daily menu that many local places offer. For a great price, you can get a bowl of soup, a choice of one of the few main courses of the day, and a drink and/or desert. This way, we got to try some tasty local foods, and it was always such an awesome value. A couple places where we had great menu del días, or almuerzos, were El Tunel and Canaima, but there are so many more, including those at markets.
For dinner, or if you aren't feeling the traditional almuerzos, there are many other options that serve anything from simple empanadas to international cuisine. For fine dining, try El Mercado, Tiestos, or Restaurante El Jardin. These offer great Ecuadorian options and some seafood, steak, and international dishes. There are also many pizza joints, pubs, and casual eateries, including Tutto Matto Pizzeria, A Pedir de Boca, and Sofy Glocal Cuisine. In addition to the many restaurants, we often stopped at one of the many empanada stands, Venezuelan joints, and burger stands that are cheap and quick. Some of these include Golosinas Colonial, Sabores Venezolanos, and many unnamed street stalls and local spots.
Ecuador has some pretty tasty food, so we recommend trying local bites when you get the chance. Don't miss out on Morocho, an Ecuadorian beverage made from milk and rice, or espumillas, a sweet meringue desert. Cuenca also has many places to try cuy (roasted guinea pig). Note that many places require you to call or visit beforehand to request cuy due to the long cooking time.
Groceries
If you need a grocery store, there are a few supermarkets, such as Supermaxi, that will sell bottled water, various foods, general toiletries, and household goods. However, you can also find great food options and random items, such as sunscreen, toilet paper, shampoo, and more for a much cheaper price at small tiendas and local markets.
Tours
With Cuenca's cheap and easy public transportation, we didn't take a tour our entire time in the city. There are many things to do in Cuenca that can be done on your own without a hassle. However, if you would feel more comfortable with a tour for transportation or language purposes, there is a wide variety of tour companies in Cuenca that offer great excursions to many hot spots, including Museo Pumapungo and Cajas National Park.
Before booking tours, it is a good idea to research various companies and seek out reviews and recommendations to ensure that you go with a safe and legitimate company. This will help you avoid scams and sketchy situations that could put a damper on your trip.
Payment
Some tour companies will accept both card and cash, while others will only accept cash. If you have a group, it never hurts to ask about a group discount.
Money
There are multiple ATMs in Cuenca, many of which are located near Parque Calderón. Many people recommend that you use ATMs located inside banks for safety reasons; however we had no issues withdrawing during the day. You can also go withdraw cash from a teller inside various banks. Tellers often allow you to withdraw more than the ATMs.
Many smaller shops, markets, and local restaurants in Cuenca only accept cash, so it is a good idea to always have some on hand. Try to carry smaller bills and coins to these places because many may not be able to break bigger bills.