Being one of the southernmost cities in the world, Ushuaia is commonly just a brief stop for those embarking to Antarctica. But El Fin del Mundo – or End of the World – has a lot to offer if you have time to stay a bit longer. From great seafood to an abundance of outdoor activities, we were thrilled to be able to spend a few days exploring this beautiful area of Argentina.
Ushuaia has grown considerably more recently around the tourism industry, but it has a long history beginning with early indigenous settlements thousands of years ago. There are many interesting things to see in and around the Ushuaia, and we hope this city guide helps a little in planning your trip!
Getting to and from Ushuaia
Ushuaia is most commonly reached via flight. Unless you are already in a nearby city, a bus ride can be very time consuming and more expensive than the bus trips we were used to. We found last minute flights to Ushuaia from Buenos Aires and it was actually cheaper than taking the long bus ride across the country. It was the only time we chose to fly over travelling by bus during our year in South America and it was worth it! Malvinas Argentinas International Airport is a small airport that hosts airlines flying between El Calafate, Buenos Aires, Bariloche (seasonally), Santiago, and more.
There are also buses that run between Ushuaia and Punta Arenas, Rio Grande, and other nearby cities in Chile and Argentina. We were there during the late fall when the area wasn't busy, so we booked our tickets online after we had arrived in Ushuaia. We used the company Bus Sur to go from Ushuaia to Punta Arenas.
The bus station was just a parking lot and we were there early in the morning while it was still pitch black outside, so it was nice to have our tickets beforehand. If you are there during the busy summer season and don't have much flexibility, we recommend booking your tickets to and from Ushuaia in advance because they can sell out.
When you arrive at the airport or bus stop in Ushuaia, there are usually taxis nearby to take you to your accommodation. Upon departure, your accommodation can generally schedule a ride or call a taxi to get you to the airport or bus station.
Getting Around Ushuaia
Though our Airbnb wasn't in the heart of Ushuaia, we still found it pretty easy to get around by walking. Ushuaia sits directly on the coast, making it a beautiful place to walk as you explore. Taxis are usually readily available if you encounter bad weather, have a bunch to carry, or just don't feel like walking. Taxis are also frequently used to take visitors to some of the areas surrounding Ushuaia that are a little far to walk to, like Tierra del Fuego National Park.
If you have a lot of things you want to do around Ushuaia, many people opt for renting a car. This provides the ultimate flexibility, though it is a little pricier. There are a few rental agencies in Ushuaia, but consider reserving your vehicle in advance if there during the busy season.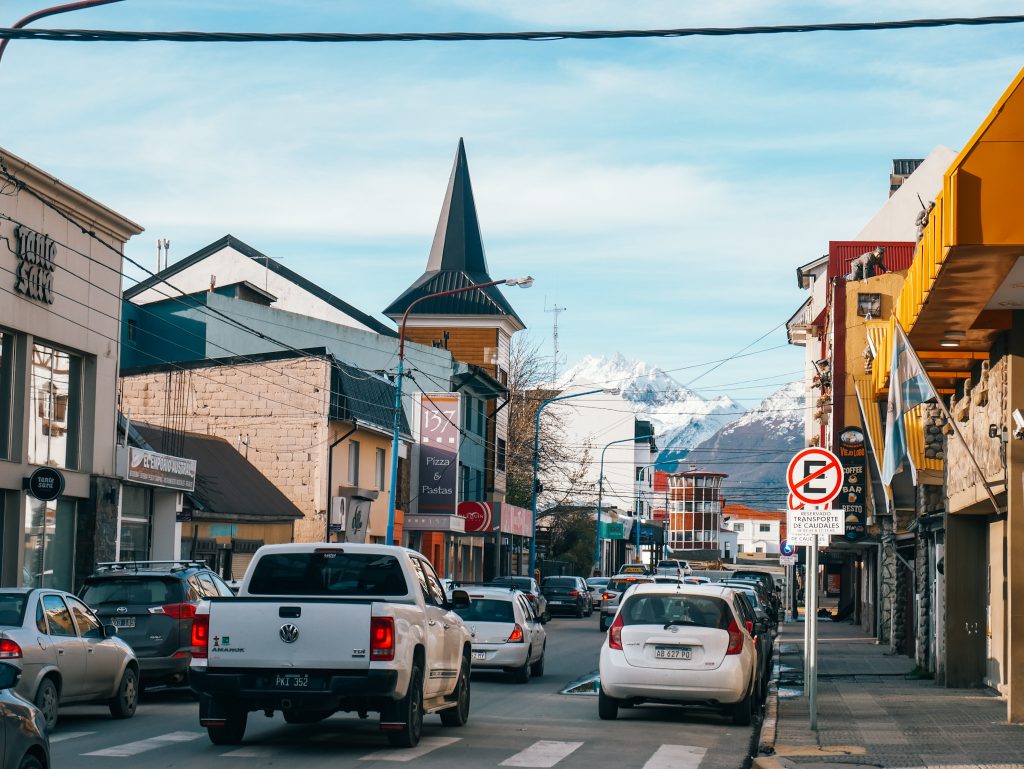 Beyond walking, renting a car, or taking a taxi, taking a tour is also an option if you want to see more of the area around Ushuaia. Tours are a great option for activities like cruising the Beagle Channel or ski touring.
Where to Stay in Ushuaia
Ushuaia has a good range of accommodation – from hostels to luxury lodging. Following are a few good options.
Budget:
Mid-Range:
High-End:
As we've mentioned in other posts, we truly loved staying in Airbnbs over hotels and hostels in Chile and Argentina. They were generally cheaper for a private room and the people we stayed with were always so friendly and helpful. There are a fair amount of Airbnb options in Ushuaia ranging from tent camping to full private cabins.
Where to Grab a Bite in Ushuaia
Ushuaia has a great blend of traditional Patagonian cuisine and European dishes brought by settlers. Being directly on the coast, there is also some great fresh seafood! Most restaurants have some sort of seafood dish on the menu. Kaupe and Reinamora are wonderful fine dining seafood joints. If you are looking for something more casual, go to La Cantina de Freddy for King Crab, a variety of other seafood dishes, milanesas, pastas, pizzas, and more.
Taberna del Viejo Lobo has some tasty desserts and bar eats, including calamari, burgers, fries, stews, and more. If the bar scene is for you, you can also hang out at the southernmost Irish Pub in the world! The Dublin Pub also offers a variety of desserts, burgers, sandwiches, beer, and a fun atmosphere.
Restaurant at Tierra de Leyendas and Restaurante Hostal del Bosque are good options for a blend of seafood, European dishes, and classic Argentinian meat dishes. They also offer fruits and pastries for breakfasts. For a quick bite, check out Doña Lupita for pizza and empanadas or Lomitos Martinica for a salad or sandwich. Lomitos Martinica is a good option if you want to take out a sandwich to pack on a hike.
Groceries
There are a few tiendas and grocery stores, like La Anónima, in Ushuaia where you can pick up some easy packaged foods or goods to cook yourself at your hostel or Airbnb. They also have basic toiletry items if needed.
Tours
Ushuaia is a tourist hub for many activities in southern Argentina, so there are many tour types and companies. Some tour companies sit right on the coast along Avenida Prefectura Naval Argentina and others sit a little further inland in the heart of town. Information on some tours can be found online, but you can also walk around town and talk to some of the companies to see what they offer and what's included. Many of the companies post signs outside that display their tour options.
Again, if you are planning to go in the summer, it may be a good idea to book beforehand to secure a spot on a tour. We did not go on a cruise tour to Antarctica, but this is definitely something you want to book in advance to guarantee a spot on the ship. If you are more flexible or on a budget, we have heard of people booking very last minute in Ushuaia. Many companies offer discounts last minute if they have spots to fill.
The tourist information center can be a great resource for information on activities and tours.
Money
If you are coming from Chile or elsewhere, you can exchange currencies at the airport and at banks. There are also some exchange houses in town, though we noticed that the exchange rates were not ideal. Since the value of the Argentine peso fluctuates so much, be sure to check the current rate before you exchange.
There are several ATMs in Ushuaia. But note that, as we had seen in Buenos Aires, Salta, and Resistencia, there was most always a line and the machines can sometimes run out of bills. Most places we went in Ushuaia accepted card, but it's always a good idea to have some cash on hand just in case.
Like this Post? Pin it!