Montañita has become a superb hub for backpackers and other travelers who are looking for a lively place to spend time on the coast. People flock to this Ecuadorian town for its bustling party scene, but there is more to it that you should take the time to experience if you find yourself there. So, here are five fun things to do in Montañita.
1. Get your surf on
Other than the parties, Montañita is known for its surfing. The optimal time for it is between December and April, though smaller waves ideal for beginners are found in May through November. Travelers bring their boards from around the world to cruise the near-perfect swells that hit the area.
Many hostels offer lessons and boards for rent, and there are a variety of shops that offer both as well. The cost for a full-day rental ranges from USD$8-$25, with lessons costing a bit more.
2. Visit the most beautiful beach on the Ecuadorian coast
Playa Los Frailes is known to be one of the most beautiful beaches in Ecuador, and we agree that it is stunning. Pristine white sands, turquoise waters, and picturesque cliffs make this a beautiful place to catch some rays. It's a bit harder to reach, so it generally isn't crowded like the beaches in town.
You can get to this beach by public bus, rental car, or tour. We recommend going on your own by bus and hiking to the beach. It was absolutely stunning and made for a fun day trip!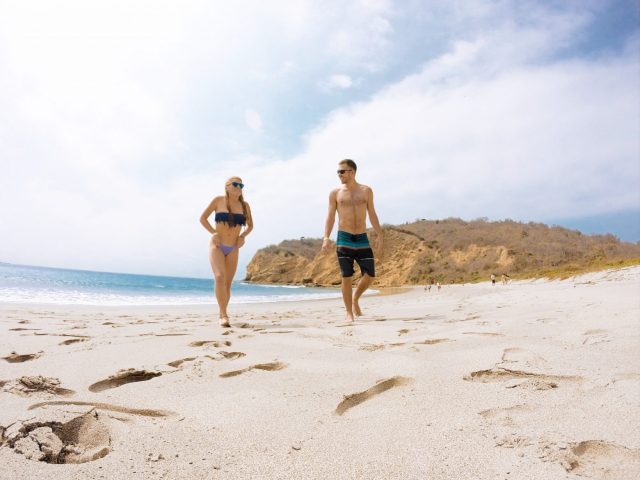 3. Shop
Montañita has many little souvenir shops, beachwear stalls, and street vendors. Woven bracelets, magnets, t-shirts, knick-knacks, pottery, and more await. If you need a break from the sun, this offers a good way to spend an afternoon.
Most of the shops are located on the streets between the beach and Ruta del Spondylus. In some of the stalls, don't be afraid to bargain a bit.
4. Cruise out to Isla de la Plata
Isla de la Plata is known as the Poor Man's Galapagos for good reason. If you don't have the budget to make it to the real thing, cheap tours will take you to this island to see some of the wildlife that occupies the Galapagos. During the hike on the island and short snorkeling excursion, you may see dolphins, manta rays, turtles, and zillions of birds.
Tours can be found from both Montañita and Puerto López leaving daily. We took a full day tour that included a guide, transport, and lunch.
5. Hit the bars for a night out
Montañita is known for its party scene, and you won't be disappointed. We were there in low season, and the partying at night was still wild. Start the night at Cocktail Alley before hitting the bars or clubs. Here, the bartenders at the small stalls will whip up a cheap drink made with fresh fruit, which is incredibly refreshing in the heat. They even kept adding more liquor to our drinks for free.
There are many clubs here too. Note that many have a cover charge. Plenty of hostels and bars also offer good drink deals, and they provide a great time.
Like this Post? Pin It!