Some of the world's most incredible wildlife thrive on the coasts and isles of Ecuador and in the surrounding waters. Of course, the main attraction is the Galapagos Islands, but there is still plenty to do and see here if you don't have the budget or time to visit this hot spot. Isla de la Plata, also known as the Poor Man's Galapagos, is by no means as incredible as the Galapagos Islands. But, a visit here will allow you to see some of the unique wildlife that inhabit the area. There are many Isla de la Plata tour options that can provide a great experience in a simple day trip.
About Isla de la Plata
Isla de la Plata, meaning island of silver, sits an hour by boat off the coast of Ecuador. It is part of Machalilla National Park, which also covers part of Ecuador's southern mainland coast. This island is uninhabited by humans, but is home to many species of birds, sea lions, lizards, and various unique plants. In the azure waters around the island, there are numerous fish species, manta rays, whales during some parts of the year, turtles, and more.
In particular, the island is known for its large population of blue-footed boobies, red-footed boobies, frigates, and albatrosses. Our guide claimed the island got its name from the bird poop that covers many of the rocks, giving the island a silvery appearance, especially in the moonlight. If you are interested in bird watching, this is the place for you!
Finding an Isla de la Plata Tour
Tours to Isla de la Plata generally leave from both Montañita and Puerto López every day. Most tour operators in both cities are located in the heart of town. You can walk from one operator to another and ask about prices, what each tour includes, timing, and other details. You can also look online and even book beforehand. However, many will require a bank transfer, which isn't always feasible and is sometimes sketchy.
Look at reviews online if you have any doubts about the company you are considering. This is also a good way to price check to make sure you aren't getting ripped off. Most generally offer the same itinerary and are in a close price range.
We went with Naturis from Puerto López, and on the day of departure, tourists from another company combined with our group. Many operators work together to fill spots, especially in the low season. Our tour included a guide, transport to and from the hostel, lunch and a snack, and snorkeling gear. The most recent price listed for the tour is for $45 USD per person.
Hiking on Isla de la Plata
After a quick breakfast at a local eatery, we cruised to the port in a golf cart that picked us up at our hostel. We boarded the boat and set out on the hour ride to Isla de la Plata. Sadly, we just missed whale season, which runs from June through early October, so we didn't spot any. The morning was a bit overcast and the sea choppy. A couple of our group members got seasick. So, if you get queasy easily, it is best to eat a mild, light breakfast and consider taking a motion sickness pill before the ride.
The boat slowed as we neared the island, and we encountered turtles swarming a boat as some local fishermen gutted a large fish. We watched the turtles for a few minutes as we munched on some banana bread provided by the guides. The driver docked the boat at Bahía Drake, and we set foot on land.
The sun peeked out from behind the clouds as we followed the trail through the lush vegetation. It became hot as we made our ascent up many stairs. This is the hardest part of the hike. Eventually, the trail forked and we stopped to wait for the whole group to arrive. Here, we were given the choice to take one of two trails.
Trail #1: This trail heads straight to the backside of the island, where you can see different types of booby birds nesting and fishing along the cliffs above the sea. This trail is more flat and about 1.6 kilometers (1 mile) long.
Trail #2: This trail ascends a bit more along the crest of the island, but still isn't high in difficulty. On this route, you get a great overview of the island and have the chance to see many frigates and boobies along the trail. The distance of this trail is 2.5 kilometers (1.5 miles).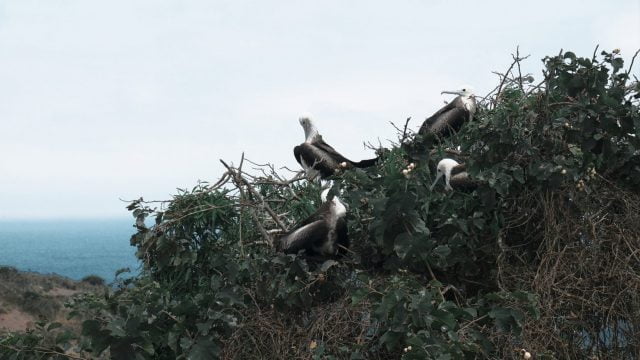 Out of our group of around ten, we were the only ones that chose trail #2. It actually turned out great because it was sort of a private tour and we were able to learn a lot from our guide about the island.
We practiced our Spanish as he practiced his English and it made for a fun hike. He taught us about the birds and many plants inhabiting the island. The array of flora found on Isla de la Plata has many uses, from mosquito repellant and hair gel to sweetener and shower luffas.
Blue-footed boobies were everywhere. We almost had to watch our step because they even made their nests on the trails. Odd, fluffy baby boobies sat on the ground as their mamas waddled nearby. Male boobies flew overhead and swooped to the ground to relieve their partners of their duties. I think we took a million pictures of these awkward-looking birds.
The Snorkeling Excursion
Towards the end of our hike, the sun was beating down on our already-burnt shoulders. By the time we returned to Bahía Drake, we were ready to hop in the water. The group all boarded the boat, and the guides provided sandwiches, beverages, and refreshing pineapple and watermelon for lunch. The boat cruised along the shores of the island, and we prepared to snorkel. Anybody who wanted to participate was provided with a mask and tube.
We took the plunge and the water was pretty chilly. We have snorkeled in various places and have to admit that this was less than spectacular. Visibility was low and vibrant varieties of coral were lacking. There were a few unique schools of fish, but that was about it. Still, we enjoyed some time in the water before hopping out to sun on the bow of the boat.

After drying off a bit, we all headed back to Puerto López. Our tour arrived in town around 4:30 p.m. We thoroughly enjoyed our Isla de la Plata tour and were glad we got a little taste of the Galapagos on our excursion.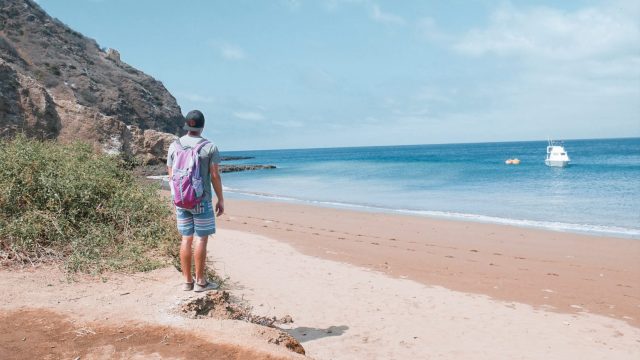 Isla de la Plata Tour Overview
Tour Cost: $45 per person for a group tour
Tour Duration: 7.5 hours (9:00 a.m. to 4:30 p.m.)
Hike Distance: 1.6-2.5 kilometers/ 1-1.5 miles
Hike Duration: 2 hours
What to Bring: Sunscreen, sunglasses, swimsuit (best to wear it), camera, water, comfortable walking shoes, light jacket/windbreaker.
Like this Post? Pin it!