The Sacred Valley outside of Cusco holds many modern and ancient treasures that make it quite the interesting place to spend time while visiting this area of Peru. The town of Maras and the old Incan agricultural terraces of Moray have more recently become popular spots on many vacationers' lists of places to see. There are numerous ways to visit Maras and Moray, including a simple day tour or fun ATV tour. But, if you want to have more flexibility and save some cash, it is perfectly doable to visit both spots on your own.
Getting To and From Maras and Moray
It is really easy and cheap to get to the town of Maras. From Cusco, take a combi from calle Pavitos heading to Urubamba or Ollantaytambo and hop off at Maras. Clarify with the driver that the bus is passing by way of Chinchero. It costs around S/. 7 to S/.10 to get there. Right off the main road passing Maras, there are generally several taxis waiting. Talk with the drivers and tell them you want to visit both Moray and the Salineras de Maras. You should brush up on your Spanish a bit for this.
Agree on a price and how much time you will spend at each site before hopping in a cab. It should cost around S/.15 to S/.20 per person. We recommend not paying until the end. From here, the driver will head to Moray, then Maras before dropping you back in the same place you started. There, you can wait on the side of the main road for a combi or bus heading back to Cusco.
If you are up for it and have the time, you can also walk from Maras to both sites or take a taxi to just one of the sites and walk some of the distances between. From Maras to Moray, it's about 5.5 kilometers (3.5 miles) and will take about an hour and a quarter to walk. The hiking time from Moray to the salt mines is about two hours and covers 3.5 kilometers (just over two miles). The total walk from Maras to both sites and back is 18 kilometers (11 miles) and takes around four hours (not including the time you spend at each spot).
The Terraces of Moray
Moray was the first stop on our mini excursion. You will need to have the Boleto Turistico to enter this site. We had a half hour to explore, which was plenty of time to walk the trail around the ruins and take photos.
The ruins of Moray are an intriguing Incan site that give modern day humans a little insight into Incan society. Specialists believe that these terraces were built as a space to experiment with various crops. The terraces are impeccably built, featuring an incredible drainage system and seemingly perfect circular terraces that have withstood time.
One of the most interesting things about these terraces is the range in temperature from the highest terrace to the lowest. This allowed a variety of crops to grow in the different micro climates. This feature and the discovery of various types of soil on different terraces have led specialists to believe that the area was built for agricultural experimentation.
Salineras de Maras
Our next stop to the salt mines was about 25 minutes down the road. The drive through the countryside was beautiful with the Andes peaks as a backdrop. We also got to see the salt mines from above, giving us an idea of just how big they are.
The entrance to this site is not included in the Boleto Turistico, but it only costs S/.10 per person. Our taxi guide parked and we had around 45 minutes to explore the various souvenir shops and salt plots.
The estimated 3,000 salt plots were believed to be developed in pre-Incan times (early 1400s!) and have also been used by the Incans and modern-day peoples. The natural spring water and large halite deposits have resulted in a large supply of salt over the centuries. Today, many families in the area own the plots and harvest the salt for sale and personal use.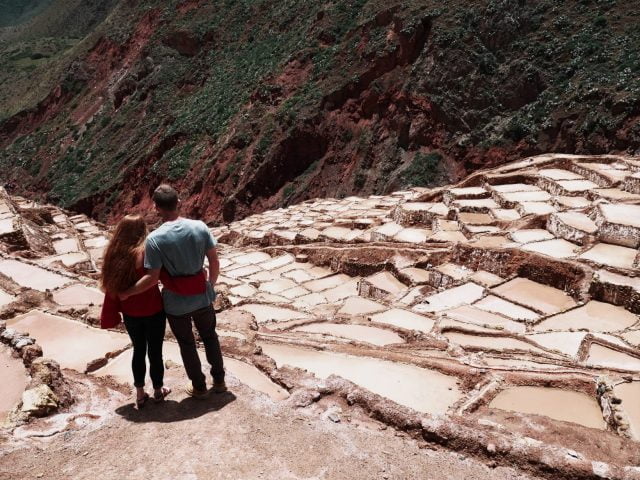 Final Thoughts on Maras and Moray
If you opt for the taxi option, this trip should only take about half of a day. Make sure to bring your Boleto Turistico and cash to pay for taxis, buses, souvenirs, and the salt mine entrance. Paying with credit card was not an option at these locations.
Maras and Moray should absolutely be on your list of places to visit when in Cusco, whether you go with a tour or on your own. A trip to both sites offers a wonderful way to see a bit of Cusco's countryside in the Sacred Valley.
…
Check out our post on other fascinating things to do in Cusco!
Like this Post? Pin it!