Bariloche is surrounded by incredible landscape, and we really fell in love with the city and stunning lakes and mountains of northern Patagonia. A visit to Cerro Campanario is a great half-day activity that offers an awesome panoramic view. Visitors can take the chairlift or make the hike up, making this a great activity for a wide range of travelers. Here are the details on visiting Cerro Campanario.
Getting to Cerro Campanario
Private Transport
Cerro Campanario sits northwest of Bariloche right off Avenida Exequiel Bustillo. If driving there from Bariloche, it will take about 20 to 30 minutes and the parking area is on the left side. This is a popular spot and parking is limited, so we recommend arriving early if driving your own car.
You can also opt for taxi or tour. There are a few tours in the Bariloche area that include Cerro Campanario as a stop. For something simpler, catch a taxi in town. Just make sure you communicate with your driver that you'd like them to wait for you to take you back to the city afterwards.
Public Bus
The most common and budget-friendly way to reach Cerro Campanario is by public bus. Bus 10, 20, and others heading north to Llao Llao or Colonia Suiza will take you there. Just tell the driver where you're headed. Buses usually come every 20-30 minutes. When you're done at Cerro Campanario, head back out to the street to catch the bus going back to Bariloche.
Note that if you choose to ride the bus, you will need a SUBE card preloaded with money. Various kioskos will sell and load the card for you. Due to the drastic fluctuation in the Argentine peso in the recent years, we recommend checking with your accommodation, kiosk staff, or other locals to let you know how much you should load to your card for this trip. Once you load the money on your card, you cannot take it back.
If you happen to underestimate the amount, don't worry! We saw multiple friendly people scan their own card for others. Be sure to have some small pesos in case.
When we visited Argentina, both the card and the trip cost only several USD. We purchased our SUBE card in Buenos Aires, so make sure you keep yours if you plan to travel to other spots that use this transport system in Argentina! We loaded one card for the both of us.
Taking the Chairlift up Cerro Campanario
The chairlift that takes visitors up Cerro Campanario sits just near the parking area. It costs 2500 ARS (around $11 USD as of early 2023) per adult and 1250 ARS for children between 5 and 12 years old for a round trip ticket. Tickets can be purchased with cash or card at the bottom and only cash at the top (if you decide to hike up and ride down).
The lift runs 9 a.m. until 6 p.m. Rides up the hill stop at 5:30 p.m. Visitors can take the chair year round, but prices, hours, and lift operations may change, so check the website for updates. The chairlift lasts about 7 minutes and you'll have a pretty view as you ride.
Hiking up Cerro Campanario
There is also a hiking trail that leads up Cerro Campanario. This is a good option if you'd rather save the money or if you want to visit outside lift hours (for sunset or early before the crowds). It is free to hike up and, while the trail is a bit steep, it only takes about 30-40 minutes to reach the top.
We chose to hike up the trail that begins just near the parking area. The dirt path winds through the trees the majority of the time, so you don't really get a great view until you reach the top. As you wind up the hill, you'll see signs indicating the many types of plants that grow in the area.
Overall, the trail wasn't as incredible as the hikes we recently had done at Llao Llao, but it was a quick hike and worth the view at the top.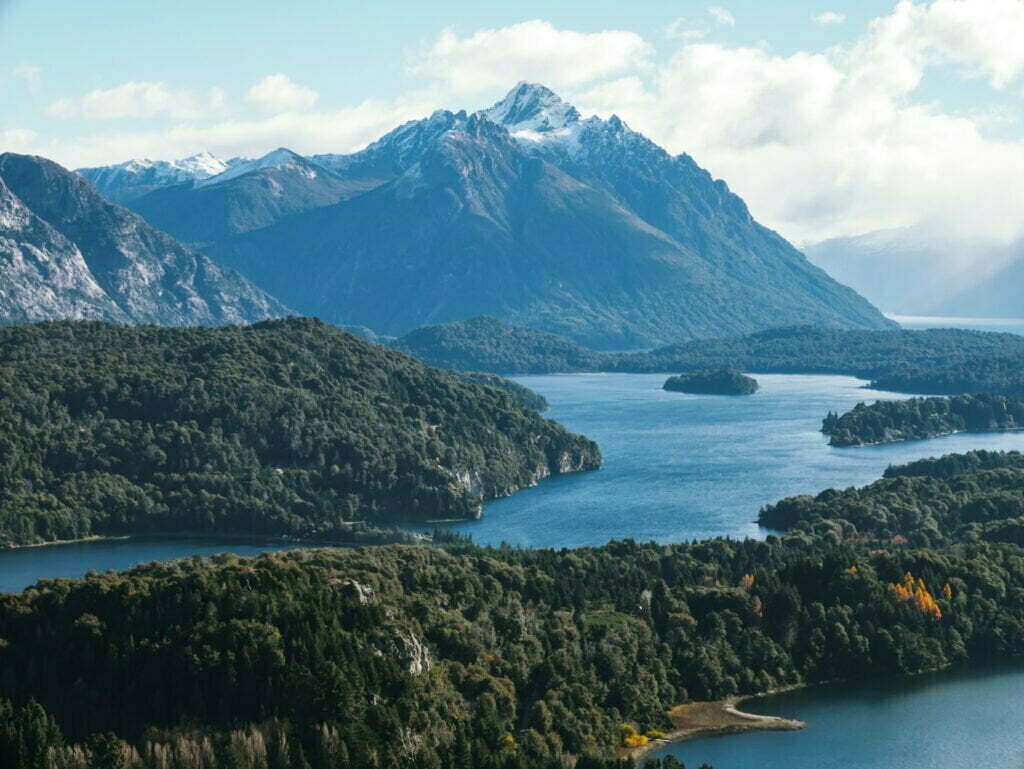 Atop Cerro Campanario
Upon reaching the top of Cerro Campanario via the lift or trail, you'll see the café. This little spot serves cakes, pastries, coffee, tea, beer, sandwiches, and more. We didn't eat at the café since we had just eaten at Colonia Suiza, but we heard it's pretty pricey.
On top of Cerro Campanario, there is a great viewing platform. This area can get crowded, but there is quite a bit of space to take in the views and snap some photos. From this peak, you get a stunning view of the surrounding mountains and the many lakes way down below. It was very windy when we visited, so we enjoyed the view for a little and then made the hike back down.
What to Bring
Payment Method: If you want to ride the chairlift or buy something at the café, bring a card and/or cash.
SUBE Card: Needed if you take the bus.
Water: An essential for any adventure. The café also sells water.
Sturdy Shoes: The trail is short, dirt, and there are some roots and rocks. While we don't think hiking boots are required, we recommend wearing sturdy shoes you don't mind getting a little dirty if you hike. In the winter, the trail may be snowy and icy.
Sun Protection: The lift and viewing area are very exposed, so a hat, sunglasses, and/or sunscreen are good to pack, especially if you intend to spend a while at the top.
Jacket: Even in the summer, it can be a little chilly and very windy, so bring a light jacket/windbreaker.
Camera: This is a beautiful view to capture.
Backpack: If you have a few belongings, keeping them contained in a backpack will ensure that you don't lose anything off the lift.
Like this Post? Pin it!