Huaraz isn't the most popular destination in Peru. In fact, many people haven't heard of the small city several hours north of Lima. But, that doesn't mean it shouldn't be on your list. Huaraz, Peru provides access to some of the most incredible views of the Andes, beautiful treks, rich culture, tasty food, and more. If you love hiking, climbing, camping, fishing, and other outdoor activities, you will definitely want to make a stop here.
Getting There and Away
The best way to reach Huaraz, Peru is by bus or car from Lima. We recommend taking an overnight bus that arrives in Huaraz in the early morning. This provides the whole day to explore the city and some of the surrounding mountains and saves a night on a hotel. Cruz Del Sur is a popular and reputable company that we took to Huaraz, but others include Civa, Movil, and Oltursa.
Leaving Huaraz is also best by bus. Some of the larger companies generally do the route back to Lima and Trujillo. But, if you have another destination in mind, your best bet will be to ask smaller, local companies. Many bus companies have their own offices and stations around town where you can ask for routes and prices and book tickets. You can also do it online beforehand with the more established bus companies mentioned above.
When to Go
Huaraz, Peru lies at 3,052 meters (about 10,000 feet) up in the Andes. The altitude is no joke, so when you do go, make sure you give yourself a day or two to acclimate. The temperature here can fluctuate greatly during the year and even over the course of a day. In the warmer months, temperatures reach an average of 15°C (almost 57°F) and can drop several degrees below freezing in the cooler months. The warmest months are generally January through March, and the coolest days fall in July through September.
Perhaps the best time to visit Huaraz is during the dry season, which falls between May and September. Though this time of year is colder, rain is less likely, providing better trail conditions and clear skies for optimal views. We visited Huaraz in December, and though it did rain daily, we still experienced plenty of sunshine and beautiful views. It even snowed on us when we visited Pastoruri Glacier! The more rainy times of year provide the opportunity to explore with less tourists.
Where to Stay
Huaraz, Peru mainly hosts backpackers and outdoorsmen, and there are plenty of affordable options for accommodation. The city is pretty small, so most things are within walking distance. If you want to be right near the nightlife, restaurants, and tour companies, it is best to stay on and around Av. Mariscal Toribio de Luzuriaga. This is the main street running through town past the Plaza de Armas.
Budget Option:
Mid-Range Option:
Casa I Love – Private suite just in a cute little house just outside of town
Alojamiento Soledad – double room with private bathroom and breakfast included
High-End Option:
Where to Eat
For being a smaller city, there is definitely no shortage of places to eat in Huaraz, Peru. For breakfast, there are pastelerias and local places that offer continental breakfasts. The California Café is a popular tourist breakfast spot that offers great coffee and American-style meals.
If you plan on doing tours and treks around Huaraz, most days, you will leave before restaurants open. If this is the case, tours often stop on the way to grab breakfast, but you can also pick up some quick eats the day before. We grabbed some bananas from street vendors and some bread from the Panadería Salazar on the main street south of the Plaza de Armas.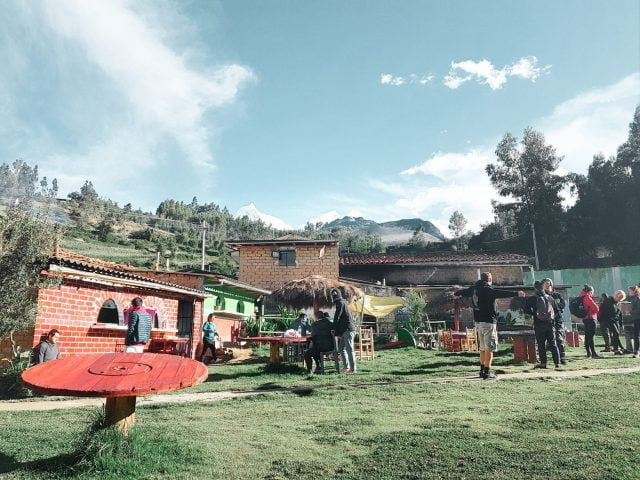 Tours typically stop for lunch or ask you to bring your own, so we didn't eat in town often. But there are a variety of options for both lunch and dinner. A great place to grab local bites, like tallarín saltado and aji de gallina, is Restaurante Elis on Jirón Julián de Morales street. Another great local option is the reasonably-priced set menu offered at Rinconcito Mineiro.
Parque Periodista is a small courtyard that has a bar and restaurant known for its craft beer, a pizza place, local food options, and more. For a relaxed atmosphere, good drinks, tasty food, and great WiFi, head to Café Andino. It is a little more on the pricy end, but the atmosphere is great.
Tours in Huaraz, Peru
Do you need a tour?
Some of the stunning areas around Huaraz, such as Laguna Wilcacocha and Laguna Churup, can be easily reached on your own. If you choose to venture into Huascarán on your own, it is best to have some good hiking experience under your belt.
Some worthwhile locations are harder to reach with public transport and may be difficult to drive if you rent a smaller car. These excursions, including Laguna 69, Pastoruri Glacier, and the Santa Cruz Trek, are more easily reached with a guide. If you aren't familiar with the area, are prone to altitude sickness, or simply want convenience, a tour is a great option.
Finding a Tour
There are plenty of tour operators in Huaraz, many of which you can visit and book a tour last minute. Various tour companies lie along the main street that runs by the Plaza de Armas. Most offer generally the same itineraries and locations and even work together to fill spots. Be sure to ask for prices and what is included to make sure you aren't getting ripped off. We went with Lalo Tours to Laguna 69 and Pastoruri Glacier.
Payment
Payment in cash upon booking the tour was required by most companies when we were looking to reserve in person. Tours generally include a guide and transportation. Some companies include lunch on hikes, while others make stops for breakfast and lunch at local spots, which is not always included in the tour price. Many companies also do not cover the S/.30 entry into the national park, so bring extra cash for this as well.
Money
As with many places in Peru, many smaller restaurants, hostels, and supermarkets do not accept cards as a form of payment. When paying cash, it is best to have small change and bills smaller than S/.100 to pay. There are a few hostels, hotels, tour companies, and popular restaurants and cafes that take card. If you pay with card, you may be asked to show a passport, so take it with you for these cases.
There are several banks and ATMs in Huaraz, most of which are located around the Plaza de Armas, but beware of the high fees. In Huaraz, there are no money changers in the street as there are in some other Peruvian cities, so you can change dollars into soles at the banks. Make sure you get bills that are in good shape, otherwise they may be rejected when you try to pay for things afterwards.
Note: This post contains affiliate links that help us keep the blog running. When used, we may earn a small commission at no additional cost to you. We appreciate all the support!