Coroico is a popular getaway spot for those living in La Paz. And although it is often overlooked by foreigners who mostly only end up here for a short time at the end of the Death Road tour, we definitely recommend staying for a couple days to experience this little town if you have the time. Trading the densely packed buildings and busy streets of La Paz for the lush green jungle and pools with a view was definitely worth it. Whether you are looking to get out and explore the jungle or kick back and relax by the pool, Coroico is a convenient place to stop.
Getting There and Away
The easiest way to get to Coroico is by bus or combi from La Paz. Catch a ride from Terminal Minasa near Villa Fatima. When you walk into the station, people will be asking you where you are headed. Ask around to find a driver to Coroico.
Buses leave to Coroico daily, but there really is no set schedule since they generally leave when they are full. The cost is between 20 and 30 Bolivianos. Buses are the slightly cheaper option, but they are slower on the road and will take longer to fill.
Perhaps the most common way among travelers to get to Coroico is by embarking on the Death Road tour. If you want to experience the thrill of biking down one of the world's most dangerous roads, this tour is for you! You can also take the multi-day trek or do a road cycling tour from La Paz. Many tours arrive in Coroico and don't spend much time there before heading back to La Paz by van. You can let your guide/tour company know that you want to stay in Coroico as opposed to heading directly back to La Paz.
To get back to La Paz or move on to Rurrenbaque at the end of your stay in Coroico, take a bus from the Coroico Terminal de Buses. This terminal lies just above a large soccer field down the hill from the main plaza. Again, just walk around and ask drivers if they are headed to La Paz and hop in. We recommend not heading out of Coroico at night because there may not be any buses leaving at later hours.
Getting Around
Coroico is fairly small, so it is easy to walk anywhere in the town. If you don't want to walk, there are various taxis that will drive you for a small fee. For excursions, such as seeing the tres cascadas or visiting La Senda Verde, you can either book a tour to take you there or catch a ride from the main plaza in Coroico. If you don't want to walk back, make sure you ask your driver to wait for you at your destination. Agree on a price before you depart with any tour or local taxi/combi driver.
When to Visit Coroico
As with most places we've traveled, we don't believe that there is a wrong time to travel to Coroico. Dry season in Bolivia generally runs from May through October, and the wettest months in Coroico are March and April. We were in the area at the end January, and we certainly experienced a fair amount of rain. This posed an issue for us when we wanted to go to Rurrenbaque because many roads were closed due to flooding. However, the rain cooled down the jungle, made the vegetation even lusher, and kept crowds away.
Year-round, this area is pretty humid and can experience heavy rains. The nights in Coroico can also be chilly, so it can be helpful to have a light jacket and rain jacket on hand.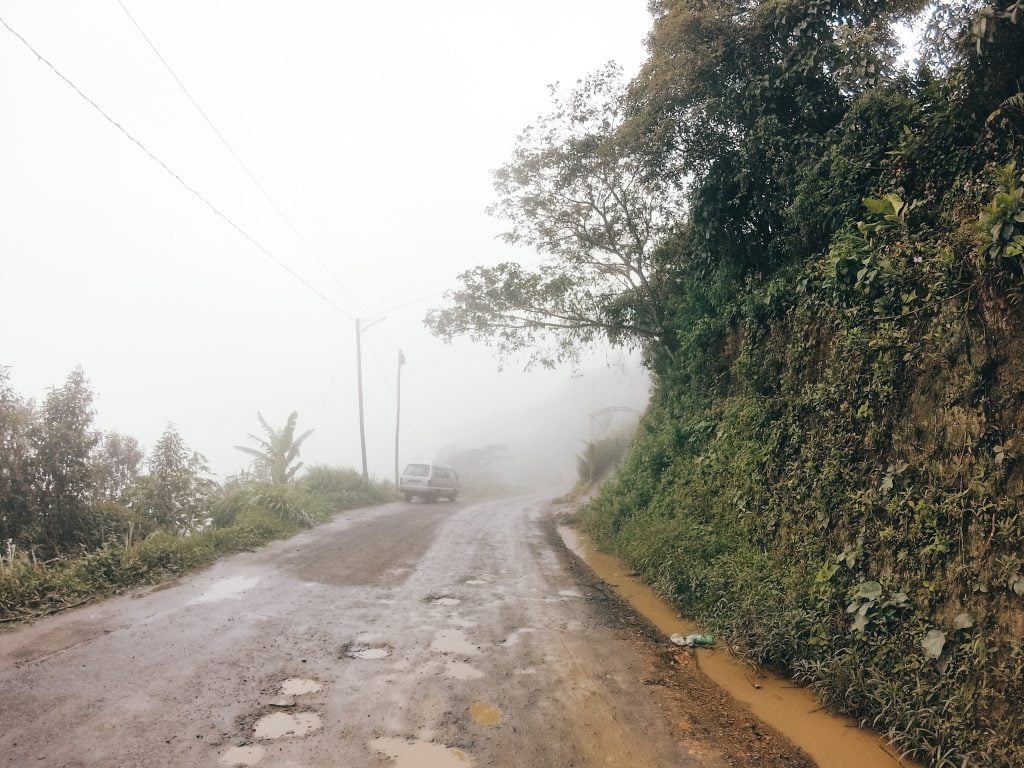 Where to Stay
Coroico has a variety of hostels and small jungle resorts that make for a perfect place to lounge by the pool. Because the town is so small, location isn't much of an issue. But hotel options are pretty limited, so definitely check out Airbnb if you want more options outside of Booking.com and other hotel sites.
Budget Option:
Hostal Villa Rosas: double or twin rooms with a private bathroom and breakfast included
La Jungla: double room with a private bathroom and breakfast included
Mid-Range Option:
High-End Option:
Contact Hotel Jazmines and other resorts for inclusive package and room fees
Where to Eat
Most eateries lie around the main plaza in the center of town. Some of the most popular spots to grab a meal include Carla's Garden Pub for European dishes, Pizzeria Toto, Villa Bonita for vegetarian dishes, and Café Almendra.
If you're looking for cheaper and more typical Bolivian cuisine, keep an eye out for local joints serving menu del día for lunch. For a great price, you'll get an appetizer or soup, a main dish option, and a drink or dessert. Many of these spots don't have names, so you'll have to keep your eyes open for a posted menu as you walk around town. For other fast and cheap dishes, hit up the local stalls serving chicharrón north of the main plaza. Big burger near Hostal Atalias is also a fast and tasty option for salchipapas and a burger.
During the day, there are multiple stalls around the main plaza serving smoothies, fresh juice, breads, iced coffee, and empanadas for a very cheap price. These are great options for breakfast or snacks during the day. We heard that Café Almendra is also a great place for breakfast if your hostel doesn't include it or you want a little change.
Groceries
There are various small mercados around Coroico, such as Mercado Coroico, where you can buy water, snacks, and other goods. There are no large stores here, so it is a good idea to bring bug spray, sunscreen, and other essentials before visiting here.
Tours
Do You Need a Tour?
One of the reasons we came to Coroico was because we could do many activities without a tour, which would save us money. There are many hikes, such as Cerro Uchumachi, that can be done directly from town. Even if you are trying to reach a farther place and need transportation, you can take taxis or public transportation from town.
Finding a Tour
If you would feel more comfortable embarking on a tour, there are some agencies around the main plaza that can take you to some of the surrounding areas. Be sure to do your research to make sure the companies are reputable and aren't ripping you off when giving a price. Look at online reviews and ask around before booking.
Money
Many markets, restaurants, and shops in Coroico do not take credit card, so it is a good idea to bring some cash when you come. If you don't have the opportunity to take out cash in La Paz or don't want to carry much cash, there are a few ATMs all within a block of the main plaza. You can also go into the banks to withdraw. There may be limited opportunity to exchange currencies here, so we recommend taking out Bolivianos or exchanging money in La Paz.
Like this Post? Pin it!