Luquillo sits on the northeastern side of Puerto Rico's main island and is known for its relaxed vibe and beautiful beaches. We based ourselves here during our trip, taking day trips to other spots, but also spending plenty of time relaxing on the beaches in the area. Here's a simple guide to some of the best Luquillo beaches.
1. Luquillo Beach & Balneario Monserrate
About the Beach
Luquillo Beach is the most popular in the area because of the many amenities, ease of access, and its size. A section of it, Balneario Monserrate, is government run and has also qualified as a Blue Flag beach, meaning it must consistently meet certain criteria related to water quality, cleanliness, and more. This beach has soft, gold sand and is lined by palms and other trees, which offer some shade along the shores.
Obviously, ocean conditions change frequently and are unpredictable, but Luquillo Beach generally has calm, clear water. A reef sits a ways off the shore, so the wave break is further out and the area between the reef and the shore is quite tranquil. This makes it a popular place to swim, kayak, and paddle board. The sea was a bit rough during our entire trip to Puerto Rico, but Luquillo Beach was always the calmest. While this not the most amazing spot for snorkeling right from the shore, you can still spot turtles, rays, and some fish.
There is often a roped swimming area near the center of the beach, though swimming outside of it is perfectly fine – just keep a look out for jet skis. There are also often lifeguards on duty.
Luquillo Beach can get fairly crowded, especially on weekends. Most people choose to set up closer to the kiosk area where there are more vendors, rentals, music, jet skis zipping about, etc. The kiosks are a great spot to grab food and shop souvenirs.
We went down to the kiosks often, but tended to hang out more at the far eastern end of the beach since we walked here every day from Playa Azul and we preferred to be where it was a little more peaceful and less busy.
Hours
Visitors can access Luquillo Beach and Balneario Monserrate any time of day, but the restrooms, lifeguards, main parking lot, and some other facilities are only available from 9 a.m. until 5 p.m. Wednesday through Sunday in the low season months of September through April and daily from 9 a.m. until 5:30 p.m. in the summer months of May through August. These facilities are generally closed on public holidays.
Parking
Luquillo Beach stretches between the small cities of Luquillo and Fortuna. While the beach sits a bit outside of Luquillo's center, it is still easy to reach on foot or by car. There is a large parking lot just by the beach that costs $4 per day. This is only open per the hours above.
If you visit outside of operating hours or don't want to pay to park, there is parking around the kiosks. These fill up quickly, so arrive early or just be prepared to make a few rounds to wait for a spot to open up. Alternatively, park near Playa Fortuna or further into Luquillo along the streets near Playa Azul (more on those beaches below) and either walk the coastline around the point to Luquillo Beach or walk the frontage road (193) towards the kiosks.
Amenities
Restrooms: Yes – $1 per day
Dining: Luquillo Beach borders the famous kiosks that offer a wide array of dining options. Some are smaller stalls where you can order your food and drink and sit out at a nearby table or take it to the beach, while others offer seating to dine in. The variety available is wide – from fun cocktails and arepas to lobster meals and burgers.
Rentals: There are plenty of rental options at Luquillo Beach whether you are looking just for umbrellas and chairs or want to rent jet skis, kayaks, flyboards, or other gear.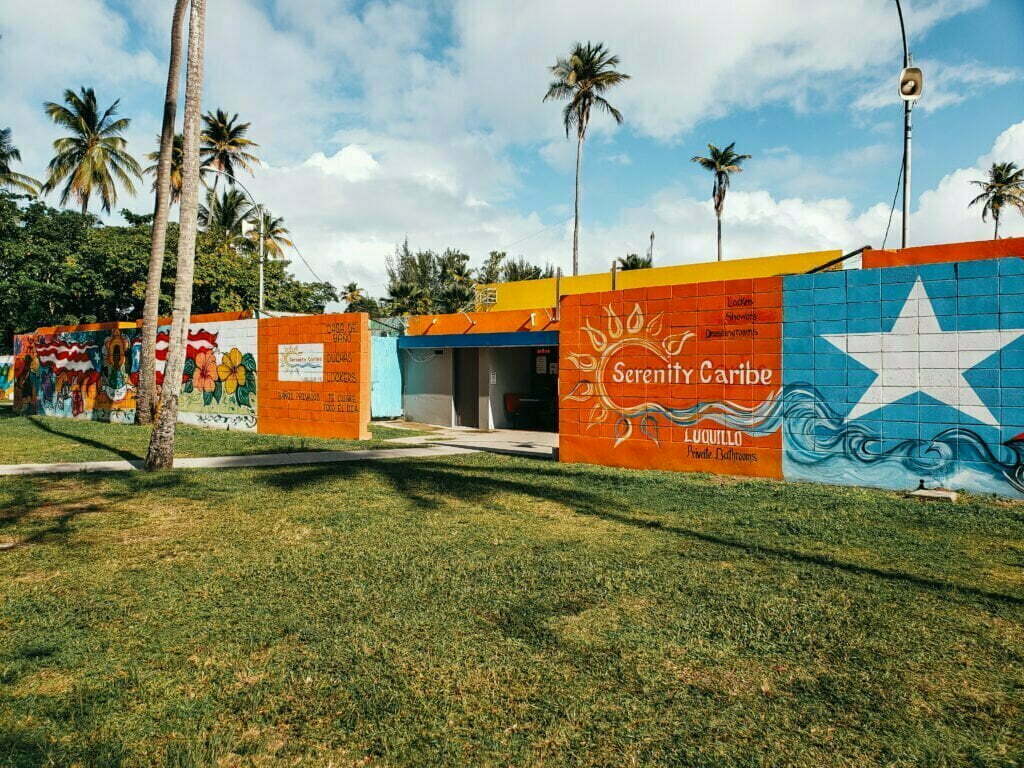 2. Playa Fortuna
About the Beach
Playa Fortuna sits just west of Luquillo Beach, only separated by a rocky section and some deteriorating pier-like structures. This beach is less touristy and more of a local beach than its neighbor. The sandy area is a bit narrower than Luquillo Beach, the water sometimes rising up to the palms that line the shore. There are some grassy areas around the palms and in the park near the beach where visitors like to set up.
Being along the same stretch of coast as Luquillo Beach and Balneario Monserrate, the sand and water conditions are essentially the same.
Hours
Playa Azul is accessible any time.
Parking
There are some dirt pull offs near Playa Fortuna off Former PR-193 and spots near Parque Damaso Rosa. The Luquillo Beach kiosks mentioned above are also right nearby with parking spaces around them.
Amenities
Restrooms: None
Dining: There are a couple restaurants just inland from Playa Fortuna and some little stalls are often set up around the beach and park selling pastelillos and other basic snacks and drinks. The kiosks are very close by as well.
Rentals:
We didn't see many gear rental options at Playa Fortuna, but Luquillo Beach is right next to it with plenty of options mentioned in the section above.
3. Playa Azul
About the Beach
We stayed right by Playa Azul. Though it is closer to the center of Luquillo, we found this beach to always be less busy than Luquillo Beach. There were less tourists and more local families hanging out, people walking their dogs, etc. The area around the beach consists more of apartments and homes and the area is quite peaceful.
Like many of the beaches in the region, Playa Azul is a gold sand beach lined with palms. The waves are a bit larger than the previously mentioned beaches and we saw more surfers here. The water was rough when we visited and red flags were put up for the duration of our stay, so we didn't do much swimming at this beach. We've seen people mention that they snorkeled here and we could see some reef areas from the shore, but this would be better done when the water is calm.
As mentioned above, we walked from our apartment by Playa Azul along the coast to Luquillo Beach almost daily. As you walk between the beaches around the point, you'll come across many little secluded spots among the palms. These are wonderful areas to hang out for a while away from the crowds on a sunny strip of sand or under the shade of the palms. The water in this area was fairly calm, but quite shallow.
Hours
Playa Azul is accessible any time.
Parking
There are free parallel parking spots along Calle Luquillo Beach Boulevard that winds around Playa Azul. If you can't find a spot along that road, there may be some spaces in the side streets leading away from the beach. Most of these streets are lined with homes and apartments, so just make sure you aren't blocking driveways or parking in reserved spaces.
Amenities
Restrooms: None
Dining: There are no food stalls or other amenities at Playa Azul. So, if you plan to hang out here for a while, it's best to pack water, other drinks, and snacks. Occasionally, there are some vendors walking along the beach selling ice cream and drinks.
The area around the beach is mostly a neighborhood, so restaurant options nearby are limited. Walk just a little ways east towards Playa La Pared, and you'll find more dining establishments.
Rentals: There are no options to rent umbrellas, beach gear, etc. at Playa Azul
4. Playa La Pared
About the Beach
Playa Pared sits just east around the point from Playa Azul. The inland area around it is a bustling place with many restaurants and businesses nearby. Despite this, Playa Pared isn't a very popular beach among tourists. We think that may be because it isn't quite as nice of a beach to hang out on for the day as the previously mentioned options (only our opinion of course). It is also known to have strong rip currents. However, it is a popular spot to walk along the coast because there's a nice pathway winding along the beach. There were many people out for a jog, walking their dogs, or sitting with friends on the wall over the beach with some drinks and music.
The beach itself is mostly sandy, with some rocky sections. The busy road and pathway are just above it, so there are less palms lining it. There are some grassy areas to relax under some palms towards the west end of the beach. Some sections of the beach are quite narrow. They may disappear completely as the tide rises and the water comes all the way up to the wall or boulders lining the beach. Playa La Pared is another spot that offers more waves and is a popular spot among surfers.
The west end of the beach connecting Playa La Pared and Playa Azul is called La Punta. When the tide was low, this was a large sandy area where quite a few people posted up with their chairs. On calm days, this is apparently a decent spot to snorkel as there are some reef sections not far from the shore. However, we can't attest to the snorkeling quality since it was very wavy when we visited.
Hours
Playa La Pared is accessible any time.
Parking
There is a dirt lot at the east end of Playa La Pared. When we were there, it was free, but some lots in the area have begun to charge $3 for the day. Alternatively, you may find free parallel spots along the streets heading inland from the beach.
Amenities
Restrooms: None
Dining: According to our VRBO host, much of this area was damaged during Hurricane Maria in 2017 and took a long time to recover. But restaurants, food trucks, and shops have begun to pop up or reopen more recently. Just inland within walking distance from the beach, there are a variety of dining options, from cafés and bakeries to pizza places, bars, and seafood restaurants.
There are also quite a few food trucks in the area, serving up quick and delicious Puerto Rican eats, seafood, and more. Many of the food trucks can generally be found in the lots near the beachfront.
Vendors selling ice cream, water, and other simple goods occasionally walk along Playa La Pared.
Rentals:
There are limited options for renting umbrellas and chairs at Playa La Pared. We did not see such rentals at all on some days.
There are some surf shops near the beach where you can rent boards and take a surf lesson.
5. Playa San Miguel & Playa La Selva
About the Beach
Just further east of Playa La Pared is Playa San Miguel and Playa La Selva. This all seemed like one long beach to us, but the area seems to be listed under two separate names. Both sit in an ecological reserve, and as you walk away from Luquillo, signs of civilization disappear. The gold sand extends far down the coast and is lined with dense vegetation. If you're looking to escape the crowds, this long stretch of beach is a great option.
The waves and currents can be quite rough at Playa La Selva and Playa San Miguel. The area is another popular surf spot. Since it is further out of town, we didn't see any flags put up indicating the water conditions as there were at the beaches in town. So, use your best judgement when choosing whether or not to take a dip.
Hours
Playa La Selva and Playa San Miguel are accessible any time, though we saw multiple sources mentioning that it's best to avoid these secluded beaches at night and by yourself.
Parking
You can either reach these beaches by walking from the east end of Luquillo or by driving into the ecological reserve. If you park in Luquillo, see the areas mentioned under the Playa La Pared section. You can walk to these beaches from Playa La Pared. Note that there is a rocky section and a river that flows into the ocean between the edge of Luquillo and Playa San Miguel. If river levels are high, this can make crossing to the beach from the edge of town more difficult.
If you drive into Corredor Ecológico del Noresete to reach the beach, there is a small dirt lot just by the beach to park at. The road into the reserve is very bumpy and is not advised without high clearance. Roads may also be impassable after heavy rain. Do not leave anything of value in your car.
Amenities
Restrooms: None
Dining: There are no restaurants or food stalls along the beach in the ecological corridor that we came across. We also didn't see any vendors walking along the beach. So, it is best to bring along a cooler with any snacks and drinks you may want if you're planning on relaxing here for the day.
Rentals: There are no options to rent umbrellas, chairs, or other beach gear here.
6. Seven Seas Beach
About the Beach
First, we'll note that Seven Seas Beach isn't in Luquillo. But, it's only about a 20-30 minute drive away and is worth mentioning since it is a popular choice among those visiting this region of Puerto Rico. Like Luquillo Beach, Seven Seas Beach is government run and offers various facilities. The beach has lifeguards, restrooms and showers, and picnic and campsites available to reserve for an extra cost.
Seven Seas Beach is one of the more popular beaches in the Fajardo area, but there is ample space to set up along the crescent shaped stretch of sand. Lining the shore are tall palms and other conifer-like trees that provide a lot of shade. The beach sits in Bahía Las Cabezas which offers calmer waters. There are sandy areas to swim in here, but much of the area at the waterline is rocky and there are some reefs further out. There were some people snorkeling off the shore. The calm waters also make it a popular spot to kayak and paddle board. We rented paddle boards from Pirate Snorkeling Shack just down the road.
Seven Seas Beach is a popular starting point for those wanting to hike along the bay to Playa Escondida, Playa Colora, and some of the viewpoints along the west side of the bay.
Hours
Seven Seas Beach is accessible any time, but lifeguards, parking, and other facilities are generally only available Wednesday through Sunday from 9 a.m. until 5 p.m. during off-season months of September through April and daily from 8:30 a.m. until 6 p.m. during the summer months of May through August. Facilities are not available on some public holidays.
Parking
There is a large parking area right near Seven Seas Beach. It costs just over $5 per day. Note that it is only open per the above hours.
If you visit outside of operating hours or don't want to pay to park in the lot, there are spaces to parallel park along the nearby streets. We circled and found one just around the corner on the main road – Carretera Cabezas de San Juan.
Amenities
Restrooms: Yes – $1 per day.
Dining: There is a little restaurant/stall near the beach where you can grab some drinks, pastelillos, seafood dishes, and more. Otherwise, there are other restaurants within walking distance in the area.
There are occasional vendors selling ice cream, water, etc., though not as many as at Luquillo Beach.
Rentals: We didn't see any options to rent chairs or umbrellas during our visit.
We also didn't see options to rent equipment right from Seven Seas Beach, but as mentioned above, Pirate Snorkeling Shack and other small stands just a couple-minute walk down the road have kayaks, paddle boards, life jackets, snorkeling gear, etc.
Extra Notes on Visiting Luquillo Beaches
Ocean Conditions
The sea around Luquillo can be very rough at times and currents can be strong, though it is known to be better for swimming than the areas around San Juan. Many of the beaches will have flags set up indicating the conditions. If a red flag is up, swimming is strongly not recommended. As always, know your abilities and use your best judgement.
Leave No Trace
Please do your part to keep these public beaches clean. Pack out your trash and pick up any you see lying around. Some of the beaches have trash cans along them.
Turtles
This area of Puerto Rico is a popular turtle nesting area! Please do not disturb laying turtles or nests. Many nests in are marked, but some may not be yet, so keep an eye out when exploring the beaches and along the treeline.
Purchases
If you are looking to rent gear, buy snacks from vendors, use the facilities, etc., bring cash. Some of the kiosks and food trucks around the beaches don't always accept card either, so it's a good idea to have some cash on hand.
There are so many beaches in this region that we didn't have the chance to explore. Let us know if there's any we should add to the list for our next visit!
Like this Post? Pin it!