Great surf, cute beach houses, and long stretches of sand make Punta Del Diablo a great place to kick back while in Uruguay. This little corner of the country is more laid back than busy Montevideo or the lively beach scene in Punta Del Este, but the town is still a popular spot, especially among Brazilian and Argentinian travelers in the summer. During our fall visit, we quite enjoyed the near-empty beaches and quiet streets.
Because Punta Del Diablo is fairly small, visiting and planning activities here are pretty straightforward. But here is a simple guide with all you need to know before visiting this Uruguayan town.
Getting to and from Punta Del Diablo
There is no airport in Punta Del Diablo, so the most common way to get there is by bus. There are frequent buses from Punta Del Este, Montevideo, and Colonia Del Sacramento. If coming from Brazil, there are also bus options that will take you across the border. Buses in Uruguay are easy to book online beforehand.
There is a single bus terminal in the town just off of Bulevar Santa Teresa. It is best to print your tickets ahead of your bus trip if the company requires it as the inside of the terminal isn't always open when the buses come and go. The terminal was closed when we were leaving Punta Del Diablo early in the morning, so we just waited on the benches outside.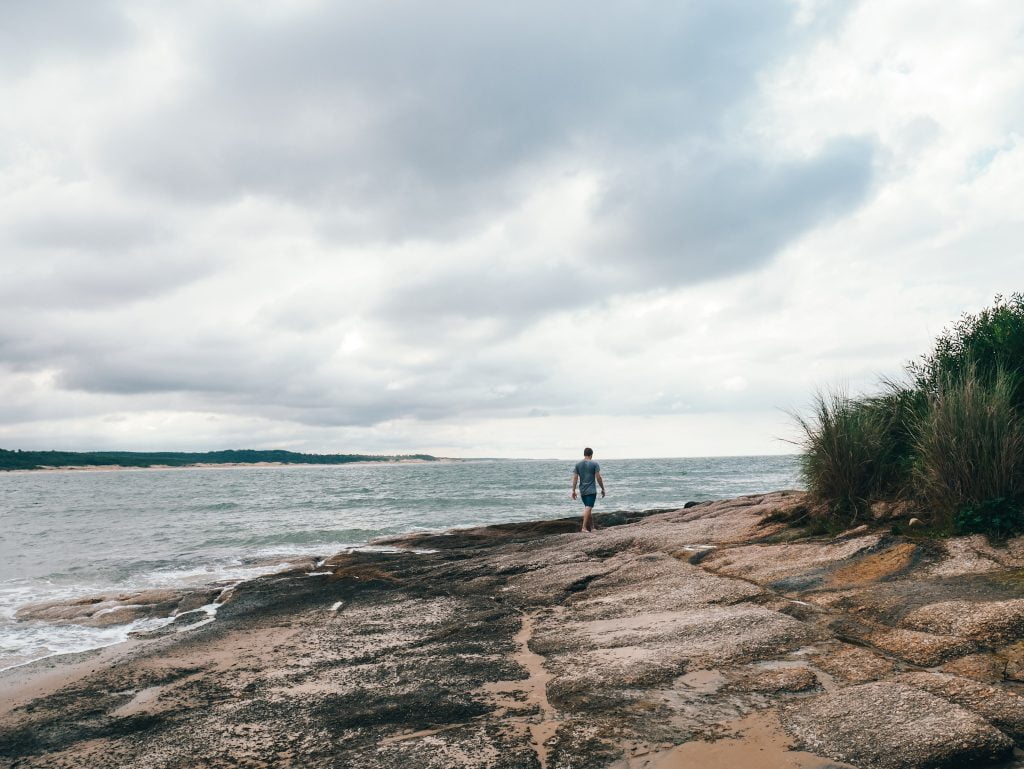 Getting Around Town
Punta Del Diablo is very walkable because most hostels, restaurants, beaches, etc. are concentrated around the center of town. Most of the surrounding areas are residential. We didn't see a single taxi while there, but you can always hitchhike or catch a bus if going further.
During peak times of year, there are bike rental companies. You can rent bikes for a few hours or a day for pretty cheap if you want to bike to the nearby national park or along the coast.
Where to Stay in Punta Del Diablo
Though Punta Del Diablo was once a quiet fishing town, it is an up and coming place that is continuously being developed. There aren't huge resorts like in Punta Del Este, but there are quite a few hostel options and beach houses to stay at. There are many great cabañas for a range of travelers, whether you are a backpacker on a budget or a traveler looking for a little luxury. There is also Airbnb availability at some of Punta Del Diablo's modern beach houses.
Following are some great hotel options:
Budget:
La Joya del Diablo: Private cabana with equipped kitchen. We stayed here. It was a great little spot not too far from Playa Grande. It was quiet, had a nice outdoor space, a private kitchen, and the owner was very kind. He even picked us up at the bus station!
Glass: Private bungalow with equipped kitchen.
El Bodegón Hostal Boutique: Double rooms with private bathrooms and some booking options including breakfast
Mid-Range:
High-End:
Where to Eat in Punta Del Diablo
There are quite a few restaurant options around the center of town. However, many close up or reduce their hours outside of peak season. So, we resorted to the small grocery in town, cooking many of our meals in our cabaña. There are a few supermercados and tiendas in Punta Del Diablo selling wine, seafood, other meats, bread, water, snacks, and more.
Many of the bars and restaurants can be found around Playa de los Pescadores and Playa del Rivero. This is where most of the nightlife action is too. Some good dining options include Resto Pub 70 for seafood and Italian dishes, Bona Ona for a variety of seafood, Raíz for vegan and vegetarian options, and Franca for pasta, milanesa, and more seafood. Seafood is quite popular here!
Walking around town during peak season, you'll see tons of signs advertising for chivitos, ice cream, tacos, and more. There are many little hole-in-the-wall places to try!
Tours
Most things to do in Punta Del Diablo can be done without a tour. The national park is within walking distance, but there are horseback tours you can take into the park and along the beach. There are also surfing lessons that can be booked in town, but if you want to go out on your own, you can rent a board at some shops and hostels.
These activities can easily be booked or organized when you arrive in town. If you want to take a horseback tour or day tour to neighboring cities and are in Punta Del Diablo during peak season, it may be best to book at least a day or two in advance.
Money
There is one RedBrou ATM near Punta Del Diablo. We were told that it is not in service during quieter times of the year, so we made sure to get cash in Montevideo beforehand. Because this is a smaller town and we found that ATMs often ran low on cash, we recommend getting some cash beforehand as well.
The supermarkets and many restaurants take card, but it is a good idea to have some smaller bills on hand for souvenirs, food vendors, and other miscellaneous activities.
Note: This post contains affiliate links that help us keep the blog running. When used, we may earn a small commission at no additional cost to you. Learn more in our Terms of Service. Thank you for your support!
Like this Post? Pin it!