Montevideo is a popular place to visit among travelers to Uruguay. The country's capital city has a lot to offer between its rich culture, tasty food, and variety of activities. Whether you are in Uruguay for a while or just making a quick trip from Argentina or Brazil, Montevideo is a great place to spend some time. In this Montevideo city guide, we'll lay out the need-to-know basics for your visit.
Getting to and from Montevideo
If flying in or out of Uruguay, you'll most likely go through Carrasco International Airport in Montevideo. Taxis frequent the airport and a bus route runs right outside of it. Some accommodations also offer transport services to and from the airport.
More frequently, people arrive in Montevideo by ferry, bus, or a combo of the two. If coming from Buenos Aires, check out our post on taking the ferry for more detailed information. If you aren't taking the direct ferry, chances are you'll be connecting by bus with one of Uruguay's larger bus companies, such as COT, Colonia Express, or Turil. Many of the buses traveling between Uruguay's cities connect through the Tres Cruces station. This station is easy to navigate and contains food and shopping options.
Getting Around Montevideo
Montevideo is very walkable. However, taxis and buses are a good option if you have bags or want to visit the city's outskirts. Uber is also available in Montevideo and often charges less than a taxi. When outside the touristy areas at night, it is better to take organized transport than walk, especially if alone. Montevideo is pretty safe, but as with any large city, muggings and other crimes can happen.
Renting a bike is also a popular option for transport, especially if you plan to travel along La Rambla. This path can get pretty crowded in spots, so just be aware of other pedestrians and traffic.
Where to stay in Montevideo
There are many great neighborhoods to stay in in Montevideo. To choose the best option for your time here, consider the activities you plan do and the area in which they are located.
If you are looking for a hopping beach scene, plenty of restaurants, and upscale shopping, the Pocitos area has plenty of hotel options. The area around Ciudad Vieja may be a better option if you want to see more of the city. There are many museums and other attractions around here, and there are restaurants and accommodations for a range of budgets.
In comparison to Bolivia and Peru, accommodation in Montevideo was more expensive. Airbnbs can be a cheaper alternative to hotels/hostels. We stayed in them throughout our time in Uruguay (minus a night in a hostel in Colonia). Our Montevideo Airbnb was a cute apartment near Parque Rodó, which is a little further from the center of town. Still, we were in walking distance of Plaza Independencia, were near the beach, and enjoyed the museums and nightlife in the area.
Where to Eat in Montevideo
Montevideo has quite the range of eateries, from common fast food chains and small cafés to breweries and food markets. Groceries and eating out in Montevideo are also a little more expensive than in some of the other places we wandered in South America. But the delicious seafood dishes, parrilla, wines, and other local dishes are worth a try!
For a quick breakfast, hit one of Montevideo's many bakeries and cafés, like Club del Pan or Doña Inés Dulces Tentaciones. Other great breakfast/brunch spots include Café Gourmand and Café Nómade.
There are also many trendy lunch and dinner spots, like Demorondanga for simple tapas and drinks. For a more laid back sit-down meal, try Jacinto for an array of café eats and Italian-inspired cuisine or Es Mercat for some of the city's best seafood plates.
We could create very long list of delicious restaurants in this Montevideo city guide and we sure wished we had more time to cover all the places recommended to us in the city. But in our short time there, we were glad that we also found some more local and traditional Uruguayan spots. For some classic parrilla, visit La Pulperia or one of the restaurants in Mercado Del Puerto. There are quite a few 'mercados' (more like covered food courts than a traditional market) around the city that contain multiple restaurants offering pasta dishes, empanadas, seafood, desserts, and more.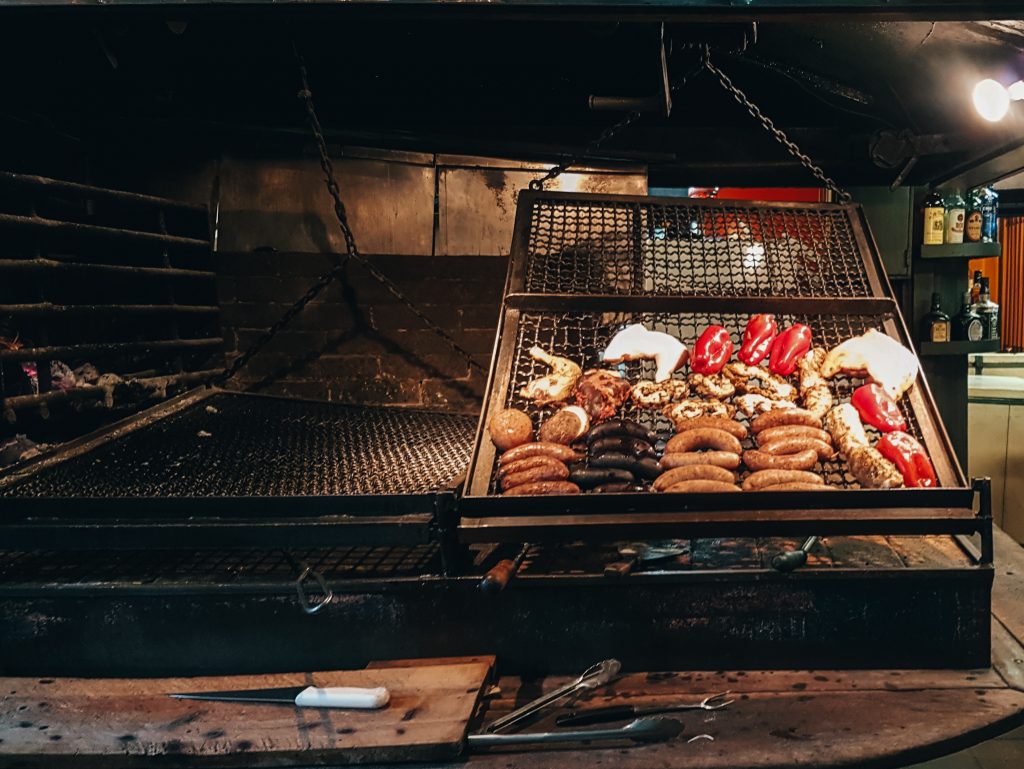 Tours
We experienced Montevideo without taking any tours. The museums, markets, theaters, and beaches can be reached and enjoyed without one. However, if you don't speak much Spanish and plan to visit some museums, you may consider a tour to learn more about the exhibits because many display the information in Spanish.
There are tours offering food excursions, stops at the city's highlights, and trips into the countryside for wine tasting. If you want to experience Uruguay's other coastal cities, there are also day trip tours to Colonia Del Sacramento and Punta Del Este.
You can find and book tours at some of the offices in the city. But there are also options that can be arranged in advance on sites like Get Your Guide and Viator.
Money
Many restaurants, attractions, hotels, and shops accept credit cards in Montevideo. This was our preferred payment method as we didn't want to take out/exchange a lot of money into Uruguayan pesos and the ATMs have high withdrawal fees. For our bank, fees associated with card use were less than the withdrawal fees or loss on the exchange rate.
Cards are more widely accepted in Montevideo than places we had recently come from in Bolivia and Peru. Still be prepared to find places that only accept cash or certain cards. If going to smaller shops or restaurants, doing activities that require tipping, or planning a trip to a smaller city, it is a good idea to have some cash on hand in smaller bills.
Like in Argentina, Uruguayan ATMs have been known to be troublesome. Though there are plenty of ATMs around Montevideo, they occasionally run out of money, have low maximum withdrawals, or only dispense high bills. We did not have any issues for the one withdrawal we made, but talk to your bank or a teller inside a Montevideo bank if you have any concerns.
Note: This post contains affiliate links that help us keep the blog running. When used, we may earn a small commission at no additional cost to you. Learn more in our Terms of Service. Thank you for your support!
Like this Post? Pin it!