Summer is a busy time up the Poudre Canyon because of the picturesque mountain views, many lakes to relax by, and abundance of activities. Chambers Lake offers all of these things, as well as camping options at both developed campgrounds and primitive spots. Whether you want to fish, swim, hike, or just relax in the Colorado mountains, Chambers Lake is an awesome spot to set up camp. Here, we'll give you our best Chambers Lake camping tips!
Getting to Chambers Lake
The most common way to get to Chambers Lake is from Fort Collins. Head up Highway 287 and turn on Poudre Canyon Road (Highway 14). From the Shell gas station where Poudre Canyon Road begins off Highway 287, it is about 50 miles to the Hohnholz Lakes Road (CO 103) turnoff for Chambers Lake. It should take just over an hour to reach this spot from the gas station.
You can also reach Chambers Lake from Walden over Cameron Pass. From the Shell gas station in Walden, drive down Highway 14 through Gould and into Roosevelt National Forest. From this direction, it is about 37 miles to the Hohnholz Lakes Road turnoff, taking around 40 minutes.
There are a couple turnoffs for Chambers Lake, which we will talk a bit more about below. Whichever way you are coming from, we recommend getting gas before heading down Highway 14. There is a gas station in Rustic, but the prices can be pretty ridiculous.
Chambers Lake Camping Options
Developed Camp Ground
There is a developed camp ground on the shores of Chambers Lake with both tent and RV sites. Here, you'll find picnic tables, fire pits, and parking at each site. There are vault toilets and water access for drinking and cooking, but there are no hookups at any of the sites.
There are 51 spots in total, but this place is very busy in the summer months, so there are options to reserve ahead during most parts of the year that the campground is open. Otherwise, it is first come, first serve. Prices for campground access begin at $24 per night. Due to the large volume of snow this area gets, the campground is generally only open between June and the end of September.
To get to the campground from Fort Collins, pass Hohnholz Lakes Road and take the one of the next two turnoffs on the right . These roads will take you directly to the Chambers Lake campground.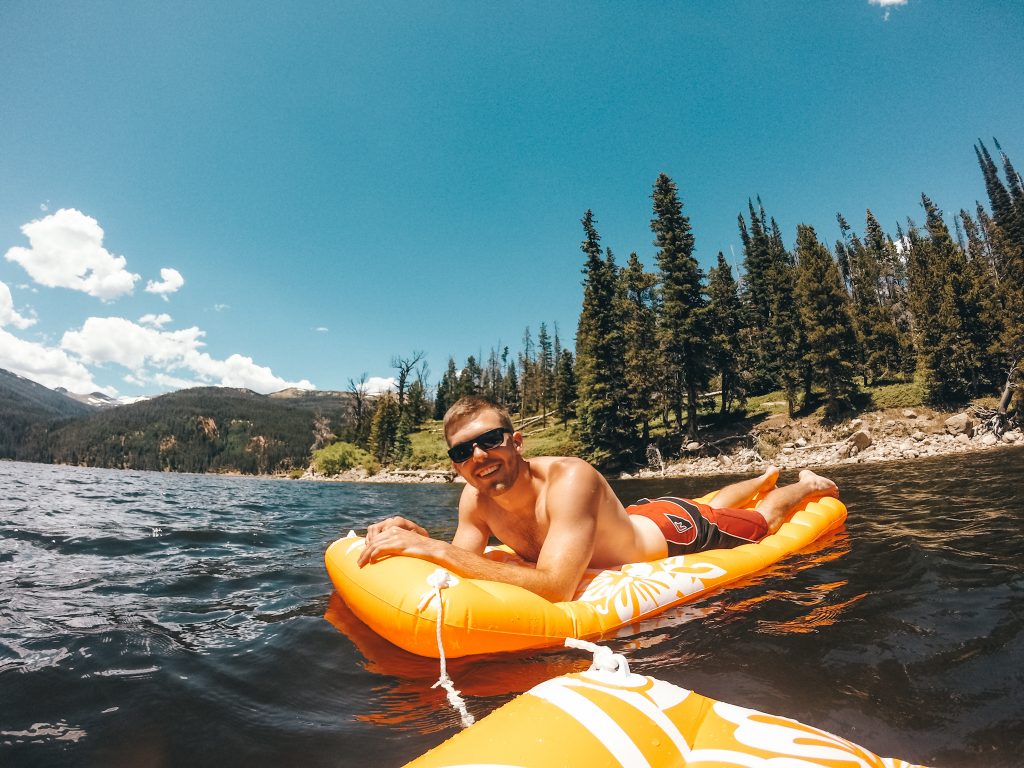 Primitive Camping
If you prefer a more peaceful space away from the hustle and bustle of the campground, you're in luck! You can camp for free in certain primitive camping areas around Chambers Lake. This is what we opted for, as we don't particularly enjoy campgrounds.
Hohnholz Lakes Road (CO 103), runs along Chambers Lake and continues past it, turning into Laramie River Road. This is a dirt road that is closed December through June. You can camp anywhere along here, though Leave No Trace policy encourages you to use spots that have been camped at before. These can often be defined by a fire ring. Some of the spots drop steeply off the side of the road, so if you plan to park on the road, make sure you park in a spot that has enough space to pull off to the side because the road is narrow and there are some blind curves.
Be aware that, even though this isn't a campground, these areas can fill up quickly and are only available on a first come, first serve basis.
Camping Tips
This is bear country! Keep yourself, your food, and the animals in the area safe by putting your food away in sealed containers in a car when you are not at camp and when you sleep. Avoid cooking meals or gutting fish near your tent. At the campground, there are bear containers for tent spots.
Many of the primitive spots sit on a steep hill. It is better to arrive early in the day to claim a spot with at least a small flat space for your tent. It is often windy here, so stake down your tent and secure items that may be blown away by the strong gusts. In addition to the wind, it can drop below freezing at night during the summer. Bring plenty of layers and wood for a fire if you want to have one.
Chambers Lake Recreation
Chambers Lake is a popular fishing spot. If you are fishing, you need a Colorado fishing license. Know the current National Forest fishing regulations before you go. There is a boat ramp near the campground if you want to head offshore to fish or just enjoy the lake. Note that Chambers Lake is a no-wake zone.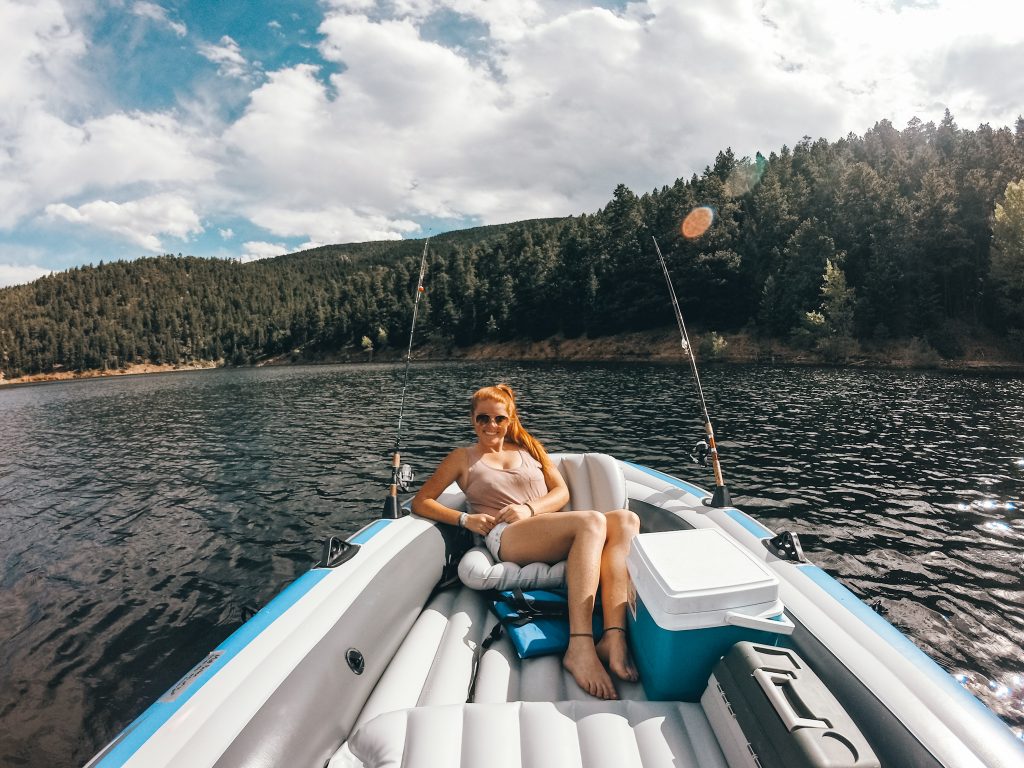 If fishing isn't your thing or you don't have a boat, there is plenty else to do to keep you busy. There are a few trails that lead around the lake for hiking. You can also access the many other trails along Poudre Canyon Road. When out hiking, keep an eye out for wildlife, including bears, coyotes, and moose.
Swimming is allowed at Chambers Lake, though the water is pretty chilly year-round. Near the campground, there are picnic spots and a playground. Overall, the lake is a wonderful spot to get out and enjoy nature in Colorado.
The Poudre Canyon also offers amazing camping during the winter! Check out our winter camping post for more information!
Like this Post? Pin it!