Yes, summer camping is great. But who says the fun has to end when the snow falls? If you know how to prepare, winter camping can be a blast because the frosty views are stunning, there are ample new activities, and you will often have nature to yourself. For a couple winters during our time in Colorado, we have packed up the car and headed up the Poudre Canyon just outside of Fort Collins for some fun winter camping experiences.
Finding Camp up Poudre Canyon
These chilly mornings in January begin with an early breakfast on the road to ensure that we find the perfect spot and have plenty of time to build an igloo. After a quick stop at the grocery store for food, we meandered our way up the canyon, headed towards Cameron pass. Along the almost two-hour drive from Fort Collins, the snow has generally been sparse, which led us to think that we were going to have to set up the tent for lack of snow to build the igloo. Boy were we wrong.
We had wanted to go up Long Draw Road, but there was no way we were making it up there without a snowmobile. However, we found great spots at Joe Wright Reservoir and across the street from the Long Draw Road Winter Trailhead. We camped a ways off the main road, but not too far from the car because trudging through the waist deep snow with all of the camping gear isn't a ton of fun. After lugging the gear to the desired spot, it was time to build the igloo.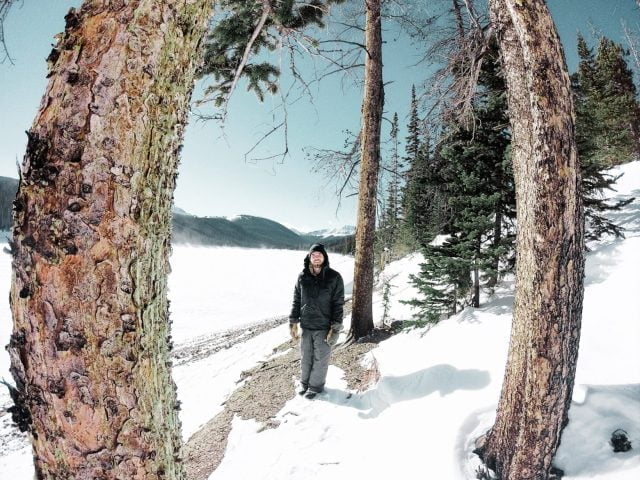 Igloo Construction
Saying that we struggled to build an igloo each time would be an understatement. It's not that we don't know how to build an igloo, we have just happened to build them over a rock under the snow or have had snow that is too dry and fluffy to pack well. We tried the old-fashioned method where you pack a mound and dig it out, and we have used an igloo maker borrowed from a friend. Both are valid methods and will provide you with a secure place to sleep.
For the igloos, we started off trampling down a flat spot to build on. Building the igloo always ends up taking us way longer than we thought (and hoped) it would, and we often had to finish building as it got dark. We guess that's all just part of the adventure.
With our second igloo, we couldn't get the snow to pack well towards the top, and we couldn't finish it as the igloo blocks kept breaking. It was dark outside at this point, so we decided to dig out an entrance and find some pine branches to use as a makeshift roof for the night. Though not ideal, we did have a beautiful view of the stars!
Winter Camping Activities
Camping in the winter allows for a whole new set of activities that can't be done in the summer. During our winter adventures, we made a sledding hill and even brought our skis along for some backcountry action. You can also bring your pole along for some ice fishing or grab your snowshoes or cross country skis to enjoy the winter wonderland. And of course, no camping trip is complete without a fire. With the freezing temperatures, we definitely spent our fair share of time lounging around one.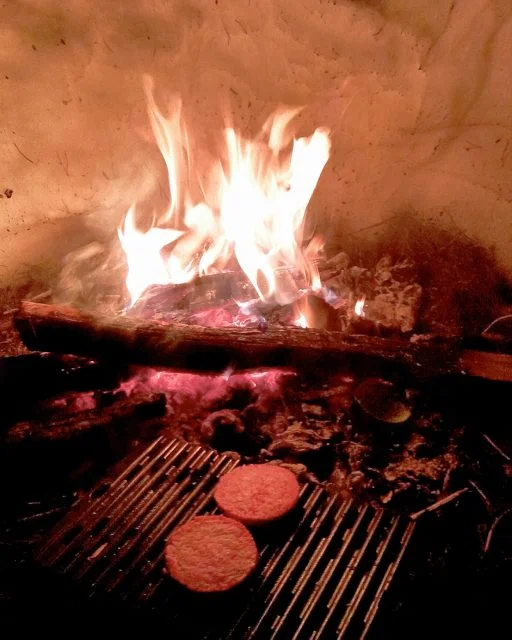 This area up the Poudre Canyon is beautiful, and we spent a few hours each trip hiking around in the snow to admire it. In both spots, we found unique beauty, and white fields and snow-glazed pines surrounded us. Overlooking the iced-over reservoir was also a sight to see. The best part of it all was that there was never a soul in sight.
Tips on Winter Camping
Winter camping can offer some of the best adventures as long as you're properly prepared. The sun may warm the days, but the nights become frigid, so it's always better to be overly prepared in the colder seasons. The weather can change over the course of a day here, so layers are a must.
As with any trip, make sure to bring enough water. It's easy to get dehydrated running around in the snow, and the higher altitude can affect you too. Bringing a few extra sets of clothing, gloves, and other gear is a good idea. Because no matter how hard you try, it's impossible to stay dry when you spend every second in the snow.
Besides warm clothes, one of the best ways to stay warm is by sitting around the fire. Previously in this area, fires were permitted as long as they are 200 feet away from any water source. With the fires and strict fire bans in recent years, be sure to check with the Forest Service regarding any restrictions.
If you are permitted to have a fire, bring wood because much of the wood will be soaked due to the snow. Also, make sure not to camp in any avalanche-prone areas. This tip shouldn't need too much explaining.
Make sure that you fill up your tank before you start up into Poudre Canyon. After getting into the canyon, gas stations are sparse and the prices are generally expensive.
Like this Post? Pin it!