The North Rim of the Grand Canyon has beautiful hikes and views every way you look. You can't really go wrong with your choice of hikes and sightseeing activities, but hiking to Cape Final is definitely one we recommend fitting into your schedule. This hike isn't too long or strenuous, we had the whole viewpoint to ourselves, and the views along the way were incredible!
Getting to Cape Final Trailhead
We were camping up in the National Forest near Jacob Lake, so we took Grand Canyon Highway (Highway 67) south from Jacob Lake. Note that most of the road leading into the park is only open from May until October.
You'll pass the fee station where you'll have to either pay the $35 fee for a seven-day pass, or present another pass. We had our America the Beautiful pass which covered the entrance and can also be purchased at the toll. See here for more pass and pricing info.
In just under 10 miles from the fee station, you'll turn left up Fuller Canyon. Continue down this road until you reach a fork/triangle in the road. Take a right onto Cape Royal Road and continue a ways past Roosevelt Point Overlook. You'll eventually come to a pull-off on the left side of the road. This pull-off isn't as well marked as many of the others and it somewhat dips off the side of the road into a dirt parking area.
The trailhead is marked on Google Maps, so download the area beforehand as the service in the area is spotty. We also made sure to fill up on gas in Jacob Lake because we had several stops to make that day and gas is more expensive in the park.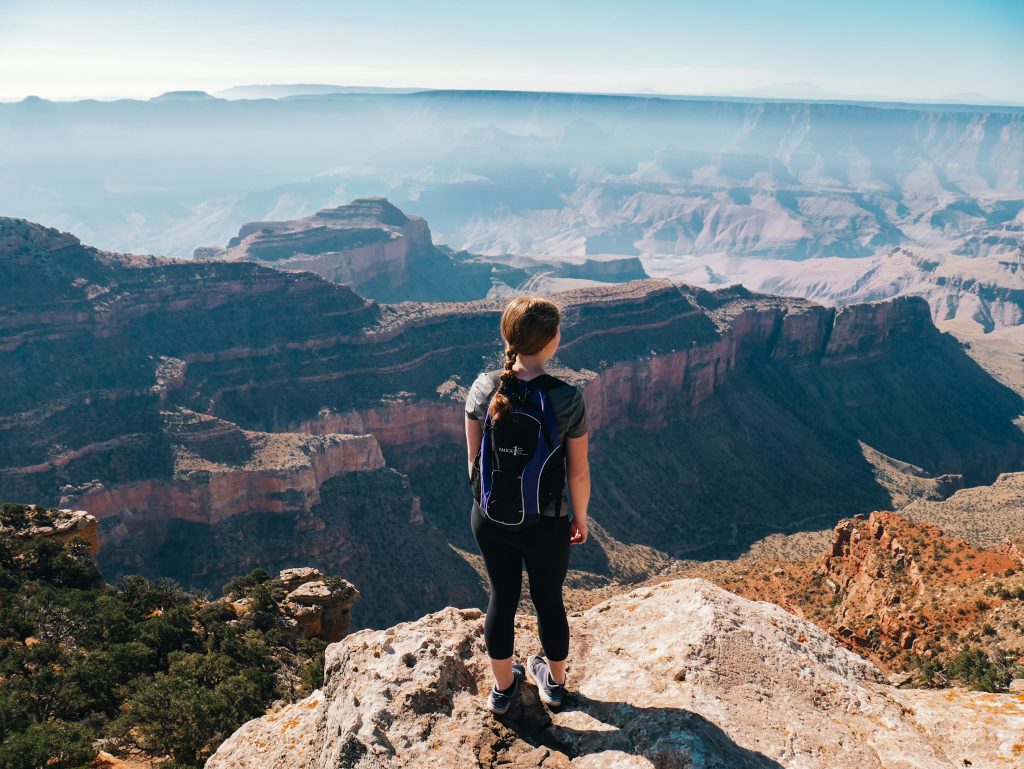 Hiking to Cape Final
Hike Overview
Hike Type: Easy out and back
Distance: 4.2 miles roundtrip (6.8 kilometers)
Duration: 1.5-2 hours
Fees: $35 Grand Canyon National Park Fee or approved other pass.
Restrictions: Dogs and drones are not allowed, overnight camping by permit only.
What to Bring: Hiking shoes, water, camera, snacks, credit card for entrance fee if needed, extra layers if hiking in the early morning or evening, first aid kit.
The Hike
We arrived at the trailhead just after sunrise and there was only one other car there. As we started our hike, the owners of the other car were just leaving from camping overnight along the rim at the reservable backcountry site. Lucky them! We wanted to camp along the Cape Final trail, but did not plan our trip far enough in advance. We'll talk more about camping here below.
The hike starts in a pine forest, slightly inclining towards the rim. Some of the paths along the Grand Canyon are paved, but this one is dirt and rock, so wear proper shoes. As we skirted along the rim, there were a couple pretty viewpoints to check out just off the trail.
After just over two miles of easy hiking, we made it to Cape Final. The end of the trail slightly climbs up onto some rocks where you'll be rewarded with absolutely stunning views. The fires that plagued Arizona that summer made the early morning view pretty hazy, but the steep canyons, cool formations, and unobscured panorama vantage point were still incredible. And best of all, we had the whole place to ourselves.
We took in the views for a while before realizing that we had to hurry back to meet Matt's grandpa at some other viewpoints. As we jogged back down the trail, there were two other groups beginning the hike. Getting to the park early is worth it!
Camping
There is one backcountry campsite at Cape Final. Dispersed camping is not permitted. This makes it hard to get a permit as advanced planning and a little flexibility are required. For the best chance to secure the spot, submit your permit application up to four months in advance of your desired trip. Permits cost $10 plus an additional $4 per person per night for camping above the rim. They must be mailed, faxed, or handed in at one of the Backcountry Information centers.
For more information on permits and camping, click here.
Update: For permit dates starting in 2024, Grand Canyon National Park will be moving its permit reservation and lottery system to Recreation.gov. Click here to see upcoming lottery dates, updates, and additional info.
Like this Post? Pin it!