Enormous granite towers jut upward from a bright teal lake. People travel from all over the world to stand at Mirador las Torres and take in this famous view. If you plan to visit Patagonia, this hike should absolutely be on your list. Seeing the towers had been on Lia's bucket list for a while, and standing below them is something we'll never forget. Let's get into the details of hiking to Mirador las Torres as a day hike!
Getting to the Trailhead
Most people visiting Torres del Paine come from Puerto Natales. The outskirts of the national park are about an hour away from the city and there are multiple options to reach it, including tour, car rental, or public bus. We were there in the winter when buses weren't running, so we took a tour. We'll talk more about visiting Torres del Paine in the winter in another post. To the trailhead, it took just under 2 hours in our tour van.
If you go by tour, your transport will take you to the trailhead. If you go by bus from Puerto Natales, you'll need to hop on a separate shuttle to the trailhead when you get to the park entrance near Laguna Amarga. It will take you to the trailhead for a small additional cost of a few thousand Chilean pesos one way.
If driving on your own, continue on Route 9 past the park entrance. Take a left on Y-150, then stay right at the fork onto Y-156. Pass Laguna Amarga and Y-166, then take a right across the river towards Hotel Las Torres. This area has a welcome center, eco camp, and lodge. Continue all the way to Hotel Las Torres to park and begin your hike. The trail begins heading southwest from the lot. If you are going on your own, it's always a good idea to download the area on Google Maps beforehand just in case you need to reference it.
Fees
Whether you go by bus, tour, or private car, you'll have to stop at the entrance to the park to pay the entrance fee. The Las Torres website mentions that you can purchase your ticket at the bus station in Puerto Natales; however, we have seen some information stating that this office is now closed.
The fee for foreigners is about $35 US dollars, or around CLP 27,700. When we visited in the winter, the day ticket cost was halved to about $17 US dollars, or CLP 13,500*. The price and exchange rate have fluctuated a bit recently, so check the Torres website for up to date info on pricing. This ticket covers 3 days in the park. Bring your passport because it is required upon ticket purchase at the park.
Update: Since the pandemic, tickets must be purchased online in advance from the CONAF webpage. Additionally, we don't think the park offers the winter discount anymore.
Hiking to Mirador las Torres
The hike to Mirador las Torres can be done as a day hike or as part of the longer W and O treks through Torres del Paine.
Hike Overview
Hike Type: Moderate out-and-back trail
Elevation Gain: About 3,000 feet (900 meters)
Distance: 11 miles (18 kilometers) round trip
Duration: About 10 hour tour (including drive time) and 5-6 hours hiking
Cost: $55 USD per person for the tour plus the entrance fees mentioned above
Restrictions: Pets and drones are not permitted. Camp only in designated areas. Guides may be required depending on the time of year you visit.
Our Hike
Our tour group began the hike to Mirador las Torres with our guide instructing us to all stay together. The trail began to ascend slightly at the beginning, leading over a river and through the valley. The pace was pretty slow and as soon as the trail steepened, a couple in our group had already turned back without letting our guide know. Understandably, he wasn't too happy. At that point, the guide noted that it was taking a long time to make progress and made the decision to let some of us continue at our own pace while he stayed in the back.
We continued on up the trail with a guy we met from England. The hike was beautiful with remaining fall colors brightening the forest, rugged peaks, and views over the lakes in the valley behind us. Being winter, many spots on the trail were pretty muddy.
The last section of the hike is the toughest. In a short distance, you will steeply ascend the hillside through a rocky field. Recent snow made some of the sections icy, though we never felt the need to take out the crampons that we rented the night before by recommendation. We took our time and grew increasingly excited as we saw the granite towers peek over the hill as we climbed.
To say the view is worth it is an understatement! Luckily the sun was out, illuminating the towers and brightening the blue hue of the lake. We were thrilled to be there in the winter when there were only a couple of other people up there with us. We didn't encounter many people outside of our tour on the trail.
After standing in complete awe of the view and snapping some photos, we found a nice spot to eat our packed lunch. A few more people trickled in as we began to pack up and head down, taking our time as we strolled down the hill. Our guide was still making his way up with some of the group and told us that the van would be down there waiting for us if we wanted to wait inside it. To complete an awesome day, we saw a female puma before heading back to Puerto Natales!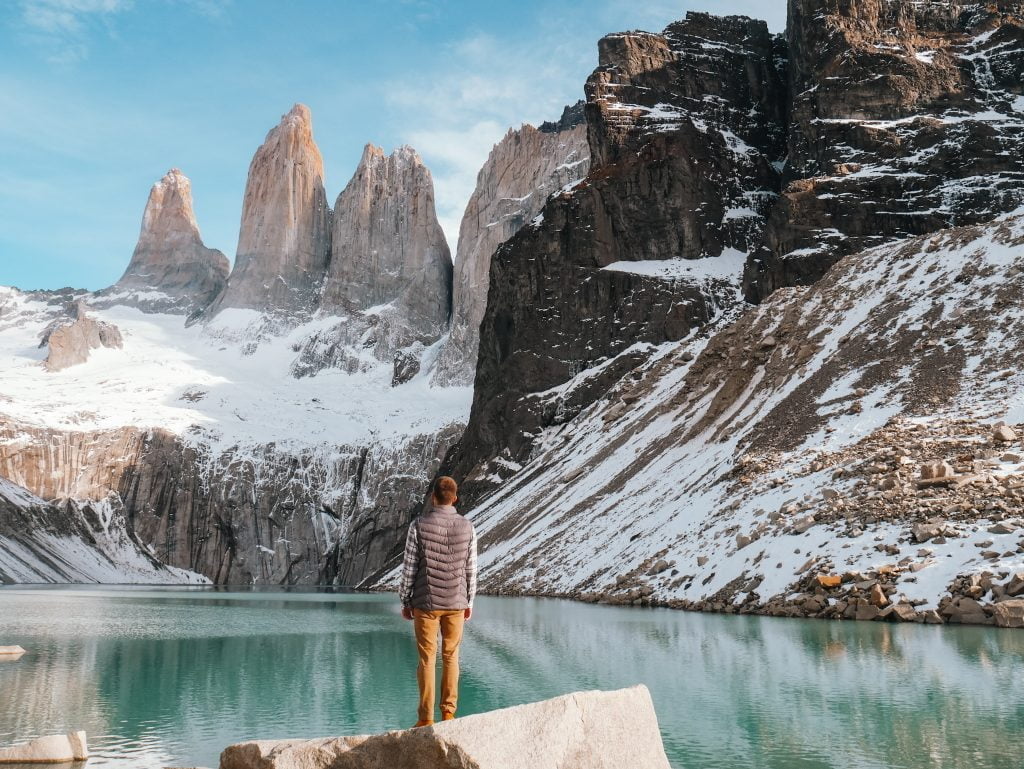 Notes on Taking a Tour to Mirador las Torres
While exploring South America, we generally did not take tours when it was reasonable to go on our own. Due to the buses not running in the winter and the cost of renting a car, we resorted to a tour for this adventure.
Additionally, a guide may required for various winter activities in the park depending on conditions. This includes the day hike to Mirador las Torres. The guide requirement generally begins in May and continues through August. But check the latest guide requirements for trails here.
Our guide was great and we were picked up and dropped off at our hotel, which was really convenient. Though more expensive than if we had been able to take the bus, it was reasonably priced, especially as it was winter when prices are often lower.
While many beginner hikers do successfully complete this trail, our guide said that people would have to turn back before reaching the lake if they do not make it in time to return before dark. Your hours are restricted by daylight (more of an issue in the winter) and controlled by when the tour arrives and chooses to leave.
On the flip side, some of us were waiting for around an hour for the rest of the group to return to the van. We really didn't mind this much because we had ample time to hang out at Mirador las Torres, walked the area near the lodge, and even saw a puma nearby as we waited.
If you want more flexibility to come and go when desired, consider a car rental or private tour.
What to Bring
Passport: You may need to present identification at the entrance station.
Ticket: Don't forget your pre-purchased park ticket.
Sturdy Shoes: The trail is steep, rocky, and can be muddy and icy. The guy we were hiking with rented shoes from a shop in Puerto Natales, but they absolutely tore up his feet, so we recommend bringing your own if you are able.
Crampons: If you are there in the winter, many companies recommend crampons for the steep, icy sections. We didn't end up needing them, but wanted to have them in case.
Mini First Aid Kit: Another just-in-case item we always like to have.
Camera: While no picture we've ever seen does this place justice, it's always fun to capture the memories!
Water: This is a long hike, so bring plenty of water. Our guide mentioned Patagonia's pure water, so we were able to refill our water from the river without purification.
Food: We brought a packed lunch (sandwiches and snacks) to enjoy by the lake. If you don't bring a full lunch, definitely bring a few snacks for fuel.
Layers: Even in the summer, it can be chilly, especially with those notorious Patagonia winds. In the winter, we were in heavier jackets that we only took off briefly when hiking a steep uphill section. A beanie and gloves are good to pack in the winter as well.
Sun Protection: There is no shade at the lake and at some points along the trail, so pack sunscreen, a hat, and/or sunglasses.
Like this Post? Pin it!