Utah draws in swarms of people year round, and for good reason. With the extensive beauty of the vibrant orange desert landscape that meets various lakes, pine forests, and even snow-capped mountains, it's hard to go wrong with sight seeing here. One of the main factors that lead us to Escalante was the desire to avoid the throngs of people and find solitude in nature.
For Spring Break one year, we headed out to the Grand Staircase-Escalante National Monument to spend a week wandering around some of the most beautiful desert landscape in Utah. We've been coming back ever since. This place is often overlooked, as there are popular areas such as Capitol Reef, Zion, and Bryce Canyon nearby. Escalante covers over a million acres of deep slot canyons, natural arches, and rugged cliffs. We could spend a lifetime in the monument and never see all of the things we want to see.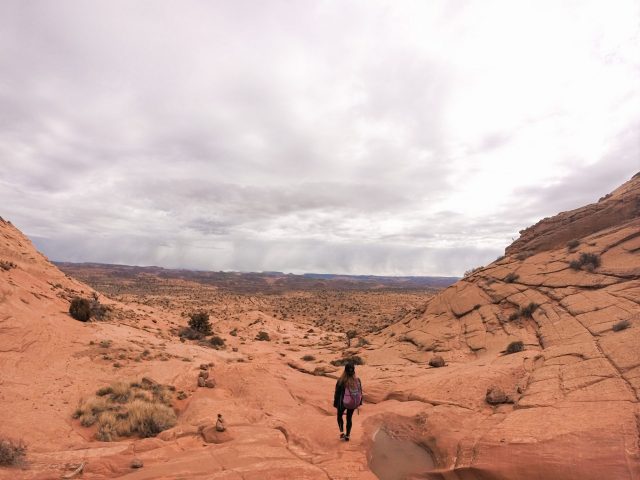 Though we've only just touched the surface of possible adventures in the area, we wanted to share a few great day hikes in Escalante that can be found down Hole-in-the-Rock Road.
Devil's Garden
Some of Mother Nature's most creative works can be found amongst the arches, hoodoos, and other unusual rock formations in the Devil's Garden. The trailhead can be found 12.0 miles down Hole-in-the-Rock Road, and the picnic tables and grills there make it the perfect spot to enjoy some lunch.
The trail is mostly a path of your choice, and you can wind through the river bed and rocks freely. It's as more of a stroll than a hike, and we stopped often to take pictures and scramble around the formations.
It was the perfect hike for our first day here because we had already been driving for several hours and wanted to scope out a camping spot before sunset. All of the most stunning formations are in close proximity to one another within a mile of the trailhead. So, it's really up to you as to how much time you spend here, but it's unquestionably worth the stop.
Slot Canyon Hikes in Escalante: Dry Fork, Peek-A-Boo, and Spooky Slots
Escalante is home to many deep cracks and crevices that provide some out-of-this-world experiences below the desert surface. While there are plenty slot canyon adventures that may require training and a full set of canyoneering gear, Dry Fork, Peek-A-Boo, and Spooky slot canyons are more family friendly and can all be combined for an approximately 3.5-mile day hike. Turn left off Hole-in-the-Rock Road at mile 26.6. Then, stay left to reach Dry Fork trailhead where all three slots can be reached.
Each slot canyon has its own level of difficulty and there is some rock scrambling involved. Despite their close proximity, each provides a completely unique scene and experience. We wrote a more detailed description of our adventures in the slots and navigating them that you can find here.
Neon Canyon to the Golden Cathedral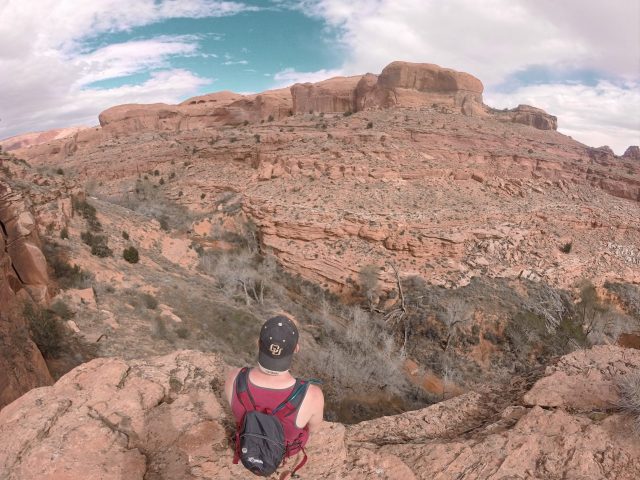 The hike to the Golden Cathedral is nothing short of breathtaking. This moderately difficult 11(ish)-mile round trip hike via Fence Canyon descends rapidly on a slick rock trail marked by cairns. It leads to a path deep in the canyon that follows the Escalante River to the mouth of Neon Canyon.
Prepare for some rock-scrambling, waist-deep river crossings, and endless beauty on this thrilling hike. The turnoff for the hike is located 17.2 miles from the start of Hole-in-the-Rock Road. After nine miles on this bumpy road, you will find yourself at the Egypt trailhead. The parking lot overlooks a vast expanse of rock where Neon Canyon is tucked away. The Golden Cathedral that awaits at the end of Neon Canyon sure is an incredible sight to see. Read more about this hike here!
There are so many incredible day hikes in Escalante that it can be hard to pick which ones to do if you have limited time. But take our word for it, these three hikes are all mind blowing in their beauty and provide varying activities and scenery for a fun-filled few days. Take a look at our guide for preparing a camping trip to Escalante. You can also stop at the visitor center in town for maps and information on other great hikes in the area.
…
If you visit Escalante and go on any awesome escapades, let us know! We're always looking for new adventures.
Like this Post? Pin it!