Rocky Mountain National Park is absolutely breathtaking. There is an abundance of alpine lakes, peaceful fields, jagged peaks, and spots to enjoy the beauty of Colorado's Rocky Mountains. However, with all of its beauty come the flocks of tourists who travel here from all around the world. Whether we visit in the summer when many take time to vacation or in the fall when outdoor enthusiasts come from near and far to see the elk and changing leaves, we have found it hard to find solitude in the park.
But don't let the crowds deter you from visiting this Colorado gem. There are ways to enjoy your time here without being surrounded by other visitors. Our unplanned hike to Cub Lake offered all the beauty of this renowned area without the crowds.
Getting to Cub Lake Trailhead
From Estes Park, take US 36 (Park Entrance Road) towards Rocky Mountain National Park. Once you pass the fee booth, take a left onto Bear Lake Road. Then, turn right onto Moraine Park Campground road and stay to the left of the upcoming fork to continue past Moraine Park Campground onto Fern Lake Road.
Cub Lake can either be reached from the Cub Lake Trailhead along Fern Lake Road or the Fern Lake Trailhead, which sits at the end of Fern Lake Road. The trailheads are about a mile apart, so if you want to make this hike a loop, you can start at one trailhead and finish at the other, walking or hitchhiking the mile in between to return to the trailhead you started at.
Most roads and trailheads in the park are very well marked, so it is pretty easy to find your destination. We recommend getting to the trailhead early. While this hike is not as popular as others nearby, it is still well-trafficked and parking is limited.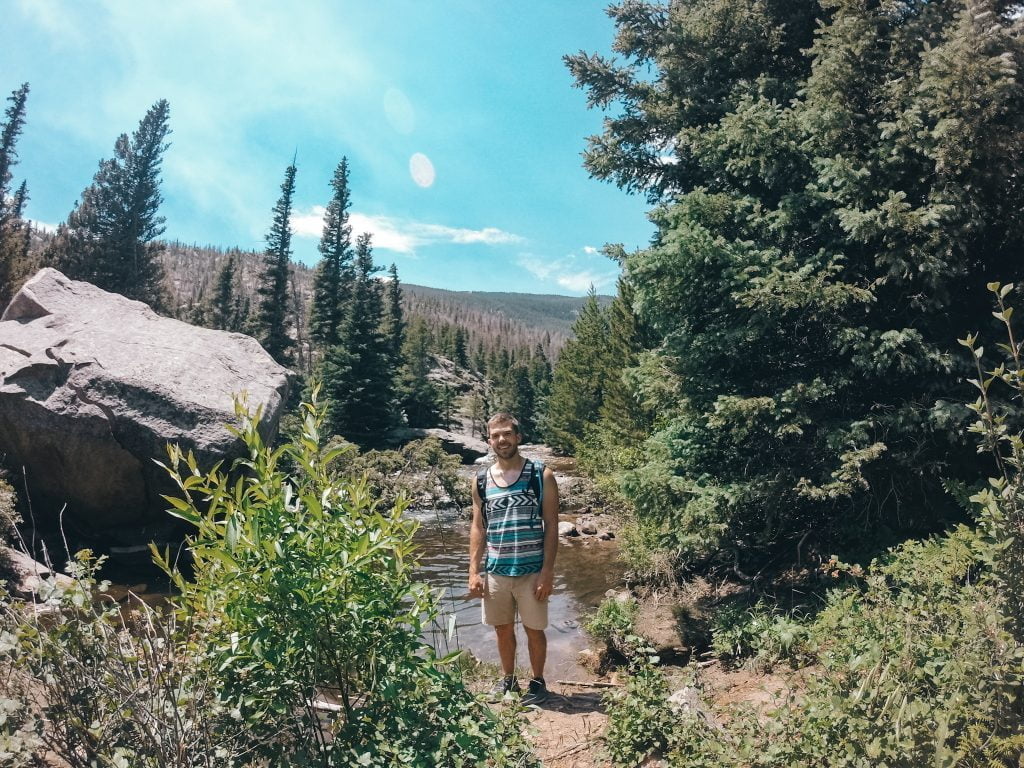 The Hike to Cub Lake
We started at Fern Lake Trailhead after failing to find parking at the trailhead for Emerald Lake and Cub Lake Trailhead. Fern Lake Trail began among the tall pines. It was cool in the shade of the trees, and the river made the area feel serene despite this part of the trail being fairly busy. Many people frequent this portion of Fern Lake Trail to see wildlife, fish in Big Thompson River, hike just a portion of the trail, or climb some of the large boulders just off the path.
As we hiked further, we saw fewer people. At about 1.7 miles, we reached The Pool, marking where Cub Lake Trail and Fern Lake Trail meet. This is a pretty waterfall overlook and a good spot to take a breather before leaving the shade of the trees and making the ascent up to the lake.
The next part of the hike was somewhat steep. We admired the mountains in the distance as we hiked among large boulders and the burnt remains of trees that charred in a fire several years ago. Upon reaching the top of the hill, we saw Cub Lake down below. The dense, green lily pads on the surface almost disguised the lake, making it look more like a field.
When we reached the lake, we found a secluded rock to enjoy our packed lunch on. There weren't many people around, but there sure was a ton of chipmunks! After relaxing at the lake a while, we descended back the way we came. However, you can continue along the edge of Cub Lake and descend towards the Cub Lake Trailhead if you want to make this a loop.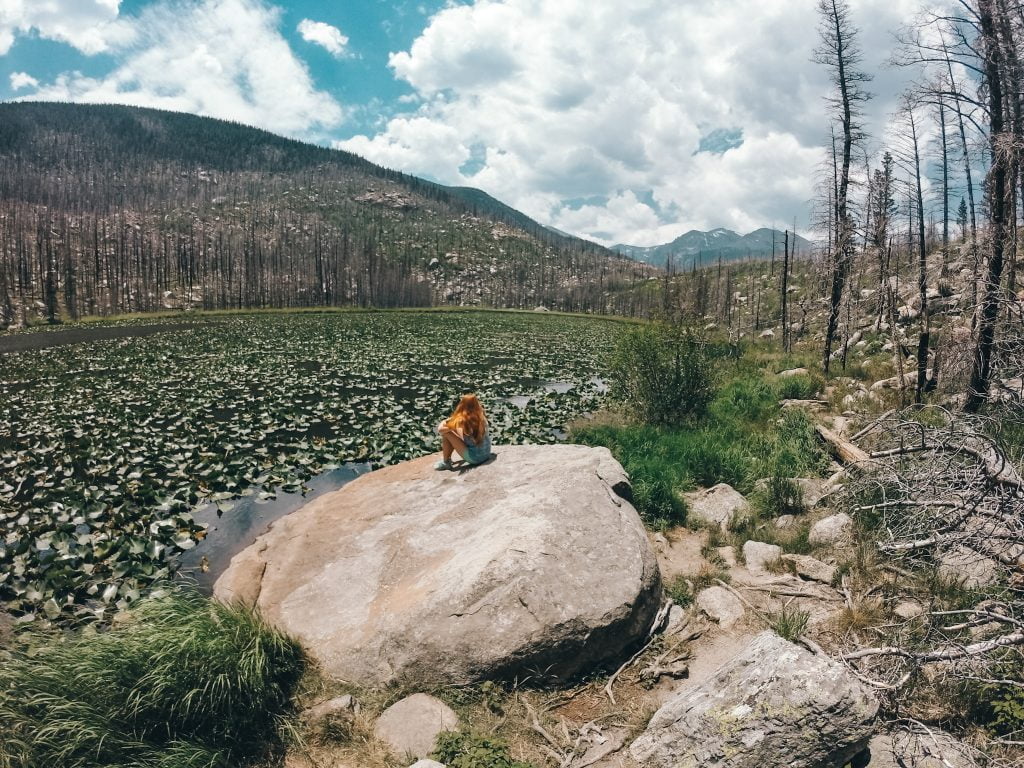 Cub Lake Hike Details
Hike Type: Out-And-Back or Loop
Hike Distance:
Cub Lake Trailhead to Cub Lake and back: 4.4 miles (7.1 kilometers)
Fern Lake Trailhead to Cub Lake and back: 5.8 miles (9.3 kilometers)
Cub Lake Loop (including distance between trailheads): 6 miles (9.7 kilometers)
Hike Duration: 2-4 hours, depending on route, hiking speed, and time spent on lake
Cost: $25 entrance into Rocky Mountain National Park. Click here to see other fee options
General Info: Dogs are not allowed; No parking outside of designated lots – there is a shuttle from town if you cannot find parking
What to Bring: Sturdy shoes, bug spray, layers and rain jacket, camera, snacks or lunch
If you are planning to hike to Cub Lake in the winter, always check park road conditions and closures. You may also need cross-country skis or snowshoes, depending on snow conditions.
What are some of your favorite Colorado hikes?
Like this Post? Pin it!