The Unites States has an incredible array of national parks, each offering its own unique experience. From red rock deserts and breathtaking canyons to beaches and rugged peaks, there are so many stunning landscapes to see and various ways to get out and enjoy them. Whether you're taking a trip to a single park or planning to explore as many as you can, this post will provide general tips for visiting the U.S. National Parks.
Before we dive into it, we want to note that because each park is so different, specific tips and details vary from park to park. So, when planning an excursion, be sure to look into the regulations and other notable details for the park you intend to visit. Check the blog to see if we have covered the specific park or visit the U.S. National Parks page and search for the park for more info.
When to Visit
Season
Weather is probably the biggest factor people consider when planning trips to U.S. National Parks. With blistering summer heat in spots like Death Valley to frigid temps and huge amounts of snow in places like Yellowstone, the weather is an important detail to keep in mind.
Some desert areas and parks in hotter states may be better visited in the fall, winter, or spring whereas more mountainous regions may have more ideal conditions in the summer months. The activities you want to do will play a role in when you visit. Some parks offer great winter activities, such as cross-country skiing and snowshoeing. But climbing and hiking in alpine areas are better saved for the summer.
An important factor to note is that some parks close certain roads and trails seasonally, which may limit accessibility to some areas of the park. Always check current conditions on the park website before your visit.
Crowds
Many of the U.S. National Parks are busiest in the summer, which is why some reservation systems have been put in place during these months. During peak months, it is very important to plan ahead to secure accommodation and permits, get an understanding of the parking situation and shuttles at spots you intend to visit, etc.
While holidays, summer vacation, and events likely play a role in how busy the national parks are, we would guess that the crowds are more correlated to weather. During our extensive time exploring Arizona, Utah, and Nevada, we have found that outdoor spaces definitely became busy during holidays and summer break. But the extreme heat in the summer months thinned crowds a bit in comparison to spring and fall. Alternatively, summer in mountainous areas like Glacier, Olympic, and Rocky Mountain National Parks are extremely busy, but they're much quieter when the snow settles in for the winter.
While visiting outside of peak times may provide its challenges, it is worth considering to experience the park with less of the crowds. Accommodation and amenities in and around the park are often cheaper outside of peak times and you may be able to avoid the reservation tickets needed to visit some parks. We'll talk more about that below.
Other Variables
Some parks have events or phenomena that make them desirable to visit in a specific window of time. Examples include the elk rut in Rocky Mountain National Park, desert bloom in Saguaro National Park, or the amazing Firefall in Yosemite.
Check with the park you want to visit to see if there are any unique events that may make your visit extra special or plan ahead to coordinate your visit around these events.
U.S. National Parks Passes
Single Park Passes
Most National Parks require a pass to access the land. There are various passes available for vehicles, motorcycles, or those entering by bicycle, foot, etc. Most 7-day vehicle and motorcycle passes and annual passes for that specific park are available to buy on Recreation.gov.
Visitors can also buy park passes upon arriving at a park at certain visitor's centers and entrance stations. Most parks only accept card payment. If you plan to buy a pass upon arrival, check the webpage for that specific park to see which entrances have them available for purchase.
Annual Passes
If you are planning to do a lot of exploring around the United States, it is definitely worth considering the annual America the Beautiful Pass. This pass costs $80 USD and covers entrance to all National Parks and Federal Recreational Lands for 12 months. You can purchase one online or at certain recreation area entrances and visitor's centers. Many toll stations only accept card as a payment method if purchasing one upon arrival.
We buy one every year and it is always worth it because it saves us a good chunk of money. The individual park fees add up quickly! For example, on one trip, we visited the North Rim of Grand Canyon National Park ($35), Glen Canyon Recreation Area ($30), and Wupatki National Monument ($25). So the purchase of an annual pass was worth it for a single week of adventures. It is also just convenient to have with us to easily display or present when we enter areas that require a pass.
Discounts
Discounts may be available for volunteers, those with disabilities, military, and seniors. There is also an Every Kid Outdoors program providing free access to parks for 4th graders. Learn more here.
Check for Free Days
The U.S. National Parks offer fee-free days several times per year, such as on Veterans Day, anniversary of the Great American Outdoors Act, and during National Park Week. Check the webpage for updates and specific dates.
Reservations
More and more people have been flocking to U.S. National Parks in recent years. To manage crowds, some national parks have put a reservation system in place in addition to the required parks pass. Note that timed/ticketed entry may be only required for a specific trail or for an entire portion of the park. Visitors may also only need a reservation during peak seasons or certain times of day. Additionally, some entry tickets may be waived if you have already obtained a backcountry permit or other permit.
Visitors must purchase entry tickets online in advance from Recreation.gov unless otherwise stated. Some parks may allow booking over the phone too. Tickets generally cannot be bought upon arrival at the park. Planning ahead for areas requiring reservations is important because parks release tickets at varying times in advance. These releases range from a few months to a couple weeks before visits. Parks may also release a small number of tickets within a couple days of entrance. Regardless of the release time, tickets generally sell out very quickly.
The U.S. National Parks that currently have timed entry systems in place as of early 2023 are Arches, Zion, Glacier, Rocky Mountain, Shenandoah, Acadia, Haleakalā, Carlsbad Caverns, Grand Canyon, and Yosemite. Other national monuments, conservation areas, national forests, and wildlife refuges beyond these national parks may also have timed entry requirements.
Regulations
Each park may have its own specific regulations in place for the safety of visitors and preservation of the area. Before your visit, check with the specific park to understand the regulations for that park.
Pets
Most parks have regulations when it comes to your furry friend. Pets are often not permitted on trails and are only allowed in campgrounds, parking areas, and other certain public spaces on leash. Additionally, you cannot leave them unattended in a vehicle when heat may pose a threat and they may not be left tied to trees or other objects. Always clean up after your pet and dispose of waste properly. There are different regulations for service animals.
Learn more about the specific regulations for the park you want to visit here.
Photography
There was a brief moment there in late 2022 where casual photography and filming in national parks became more regulated for hobbyists. Luckily, the National Park Service has returned to their previous regulations. So, permits are generally only required for commercial filming and photography. Most photography and filming for personal use will not require a permit. To find out if you fall into a category where a permit is necessary or to learn about applying for a permit, click here.
Drones are not permitted in national parks. You may be able to request permission and a permit, but the NPS banned drones after incidents of wildlife harassment, noise complaints, airspace issues, and people crashing their drones in various parks across the country.
Food Storage
Some parks have certain food storage regulations for your safety and the safety of wildlife. Olympic, Grand Teton, Denali, and other national parks require approved bear-proof food storage methods. Some campgrounds will provide food lockers, but if heading into the backcountry, you might have to show proof of an appropriate container.
Whether there are stated regulations in place or not, it's always a good idea to store your food properly and clean up after yourself to avoid drawing wildlife to trails, roads, or campsites.
Leave No Trace
Leave No Trace principles are a good set of rules to follow when visiting any of the national parks. The seven principles strive to minimize our impact when exploring, create an enjoyable environment for all who head outdoors, and help preserve these beloved natural spaces for the generations to come.
Planning Your Route
Maps
Service can be spotty when you're far out in nature. Before venturing out, we always download Google Maps for the area and star the trailheads and other notable spots we want to visit. When spending a lot of time in the backcountry, we know many people that invest in a GPS system.
Sometimes, the park website will also provide maps to help you plan your adventure. If you'd like a physical copy, most visitor's centers have park maps to purchase. You may occasionally be able to find printed maps at trailheads.
Overall, we have found that most popular hikes we have done in national parks have ample signage to guide hikers.
Amenities
While some national parks have multiple visitor's centers, restrooms at many trailheads, dining options, and more, others are less developed. Some of these more remote spots may have limited access to fuel, dining, etc., so a little planning could help save you money and prevent any frustrating situations.
It may be helpful to take note of your gas mileage and nearby gas stations to ensure you have enough fuel for your excursion. Apps like Gas Buddy can help you avoid the remote gas stations that are much more expensive than it may be in neighboring towns or cities.
Noting other amenities can also help you determine if you need to pack additional food or buy propane, ice, or other camping supplies before camping in certain parks or areas.
Shuttles
Some parks utilize a shuttle system that transports visitors between trailheads, to and from additional parking areas, and/or between neighboring towns and the park. Shuttles may be a helpful resource during busy times of year to access places with limited parking, if you don't have your own transport, or if you do a one-way hike and want to return to your vehicle without backtracking.
Not all parks have an extensive shuttle system. If you don't have your own car or a rental, consider hiring private transport or taking a tour.
Even if you don't plan to utilize shuttles, it's worth briefly looking into them if they're available to understand how they work in case you show up and there's no parking or you encounter some other unforeseen circumstance.
Checking Conditions & Closures
Before heading into a park, always check the alerts, conditions, and closures posted on the specific national park webpage. There, you'll see any seasonal and construction closures, hazardous weather updates, and other important notices that may impact your trip. Some park webpages provide live webcams so you can analyze current conditions and plan accordingly.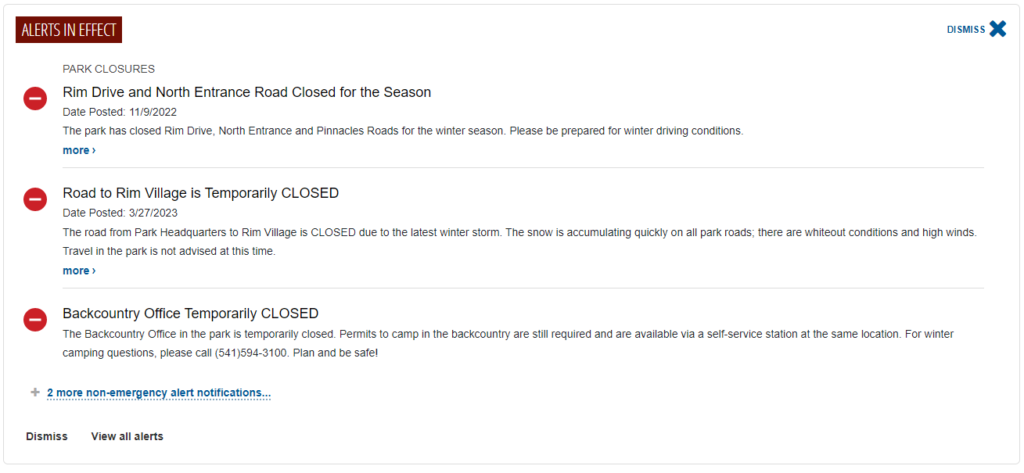 Accommodation
Staying in a park offers a way to see the area and more wildlife during quieter hours and may be a great option if you want to experience sunrise and sunset. It's also an ideal option for hitting the trails before the crowds arrive. If you plan to camp or stay in or right around a national park, book in advance! Options often sell out quickly, especially during peak months.
Camping
Many park campgrounds require an additional fee and can be reserved online in advance by phone or through Recreation.gov. Prices can range from $5-$30 per site per night. They can depend on the season and the amenities offered at the campground. Those with electric and showers might cost more than less developed campgrounds. For popular parks, like Yosemite and Glacier, you may want to reserve months in advance if you want to secure a spot before they sell out.
Camping outside designated sites is generally not permitted in the frontcountry. For backcountry camping, some parks allow dispersed camping, while others still have designated backcountry camp spots. Note that many parks require a backcountry or wilderness permit. While some allow you to walk up and obtain a permit, others might require some planning in advance, such as submitting a permit application to a lottery system. Backcountry permits often cost money but are generally cheaper than fees at developed campgrounds.
In parks where the seasons are more drastic, campgrounds may close in the late fall until the early spring. Others may switch to a first-come first-served system outside of peak months.
The permit system, campground options, facilities, etc. vary from park to park. So, again, it's very important to check details with the specific park and plan ahead.
We don't particularly enjoy campgrounds and often take spontaneous trips by which time campgrounds are usually sold out. So, we generally try to find free dispersed camp spots just outside the park. Various parks, like Joshua Tree, Glacier, Grand Canyon, and many more, have BLM or national forest lands right around them where dispersed camping is free. There are also sometimes developed campgrounds in these areas that are often cheaper than those inside the park. When dispersed camping, always try to camp at previously disturbed spots and check the fire restrictions and other regulations for the land you're on.
Lodging
If you aren't too keen on camping or it isn't an option, various parks have lodging within the park boundaries. Some of the amenities these lodges or hotels offer are quite extensive. Many provide dining options, tours, and other unique perks, such as trail rides, amazing views, hot spring access, equipment rentals, and more. You can find lodging information directly on the page for the indicated national park.
Whether you opt for lodging in the park or choose to stay at a hotel, VRBO, Airbnb, or other option nearby, we recommend booking in advance.
Packing
As we've probably mentioned quite a bit in this post, the national parks vary highly in their landscapes and climate. While you may have your go-to goods you bring on every day hike or your select essentials for camping, it's a good idea to consider the specifics of the park you intend to visit.
For example, extra items might include water shoes for hikes with river crossings or exploring coastal tide pools, bear canisters and spray, larger water containers for places where water filtration isn't an option, or approved bags in areas where packing out human waste is required.
We recommend checking the park websites to note any things you need to bring and searching for packing lists online provided by those who have experienced the park you want to visit.
Wildlife
Visiting U.S. National Parks provides the opportunity to see the wide variety of species that call these natural spaces home. From grizzlies in Glacier and panthers in the Everglades to island foxes of the Channel Islands and elk of the Smoky Mountains, there is so much incredible wildlife to see and learn about.
That being said, when observing wildlife, keep a respectable distance for your safety and the safety of the animals. You don't want to be one of the tourists that ends up on the news for being injured after getting a little too close to the bison. Also keep an eye out for the smaller critters you might not want a close encounter with, such as scorpions, snakes, and stinging insects.
Please don't feed the wildlife. Many human foods are bad for them and can result in them relying on this source of food. Pack out and properly dispose of food waste and wrappers to avoid drawing animals to you, your campsite, trails, etc.
Other Tips for Visiting U.S. National Parks
Have a Backup Plan
As with many travels, things don't always go as planned. Whether there's a trail closure, parking is full at the trailhead you planned to park at, campsites are full, or some unfavorable weather rolls in, it's always good to have a backup plan. Have alternative trails, other activities, different campsites, etc. in mind just in case.
Know Your Limitations
When rock climbing, hiking, cross-country skiing, or doing any other outdoor activity, know your limitations and the limitations of your group. This will ensure that you have an enjoyable adventure and avoid unsafe situations.
Rescue missions take place in many national parks every year and deaths and injuries do occur. Plan ahead to know whether you are capable of hiking a certain trail or climbing a route. Extreme heat and cold, terrain, etc. may factor into your abilities on a given day. Preparedness can limit dangerous situations.
Visitor Centers
While blogs and the park website can be great sources of information and provide many tips for visiting U.S. National Parks, visitor centers are also great resources. The rangers are usually very friendly and willing to provide information on the park, trail tips, and more. You can also pick up specific maps and get details on current park conditions there.
Visitor centers sometimes provide some unique displays that highlight the history, wildlife, geography and other park information that might be of interest. So, they may be worth the visit when you get to the park!
If you have any additional helpful tips, leave a comment below!
Like this Post? Pin it!