Lithuania is quite a small country, making it easy to experience the many gems this place has to offer, even in a limited time. Before our visit, we had read multiple things stating that getting around Lithuania is more difficult than in western European countries. It may be because we are from the U.S. where public transport is very lacking, but we found the transport options in Lithuania to be quite extensive, from public city buses to trains and various car rental services. Furthermore, many of the options are more affordable than transport in western Europe and the systems were fairly easy to navigate.
Below, we'll provide more details on some of the transport options we used and encountered and transportation tips to help you make the most of your time in Lithuania.
General Tips for Getting Around Lithuania
Plan Ahead
If you don't know much Lithuanian or Russian, we recommend planning ahead. English signage isn't as prevalent here and we found that some bus drivers, ticket office staff, and other staff working the transport systems didn't speak much English. Our terrible Lithuanian pronunciation also made things more difficult.
Luckily, many schedules, routes, and ticket information, are available online where you are able to translate pages. This makes it easy to book tickets online and plan out your route. If you do buy tickets at the train or bus station, the ticket kiosks had the option to translate to a few other languages.
Learn Some Lithuanian Phrases
Whether you are planning to rent a car or take public transport, try learning some Lithuanian phrases that involve asking for directions, asking if somebody speaks your language, thanking people for their help, and reading road signage if you're driving.
Planning our tickets and routes ahead of time definitely limited our need for some of these phrases, but we recommend learning some beforehand just in case.
Booking Ahead
Many tickets are available online to book in advance. You'll generally receive an e-ticket after purchase to present upon boarding. During the busier summer months, consider booking tickets at least a day or two in advance to secure your seat. For city buses, booking the day of should be fine.
Tickets don't sell out as far in advance as more popular destinations, like regions around Paris and Amsterdam, but if you don't have the time to have a flexible schedule, it may be a good idea to book ahead of the day of your excursion.
We visited during a quieter month (October) and had no issues booking our tickets the night before or day of. All the buses and trains we took between cities during our few weeks in Lithuania had plenty of open seating.
Mobile Data
If you plan to use city transport, we found it very helpful to have the ability to use mobile data while roaming. You can also purchase SIM cards once abroad. Some of the transport systems utilize an app for the purchase and display of tickets.
With the pandemic, many of the buses we took were not accepting cash payments, so using an app was the best option for us. But as of mid-2022, we have seen that many bus systems have discontinued these measures, allowing you to purchase tickets directly from the driver in cash. As mentioned above, this is where some Lithuanian may be handy.
We found it easiest and more convenient to be able to purchase rides and tickets and activate them on our phones while out and about.
Download Maps
Whether you plan to take public transport, drive yourself, or are exploring on foot, we recommend downloading Google Maps for this region before your trip to ensure that you can use your GPS system when you aren't connected to wi-fi and service is a bit spotty.
Getting Around Lithuania
Bus
Getting around Lithuania by bus is cheap and convenient whether you're using local city buses or taking a bus between cities.
Lithuania has a convenient bus system website that allows travelers to view routes and schedules and purchase tickets for travel between cities around the country. You can also use this website to find tickets and info on travel between select cities in Lithuania and international locations, like Riga and Warsaw.
Not all tickets can be purchased online and the site will inform you of this. In that case, just plan your route, then head to the designated station to buy your ticket at the ticket machines or counter.
Many of Lithuania's cities also have a city bus system. We found that the routes in larger cities, like Vilnius and Kaunas, were available online with detailed info on stops, timetables, and ticket information. While out and about, route information is also often displayed at the bus stops.
Apps that we found helpful while navigating larger cities were Žiogas, for Kaunas transport, and Trafi for traveling around Klaipėda, Šiauliai, Kaunas, Vilnius, and Panevėžys. These apps have info on routes, stops, and timetables and also allow you to buy tickets. You can put your card information into the apps, buy your ticket, and present it upon boarding.
Some of the city buses have screens aboard, displaying the route or stop so you know when to get off. Otherwise, we recommend using the app and/or Google Maps to make sure you're headed to the right spot.
Train
As with the bus system, the train system in Lithuania is pretty affordable and convenient. We also found that the trains were cleaner, less crowded, and easier to navigate than many we have experienced in western Europe.
Lithuania has a great rail website where you can find plenty of info on traveling by train in the country, find routes and timetables, and purchase tickets. You can also purchase tickets at the ticket kiosks or counters at various stations if you don't buy them online beforehand.
Trains between larger cities run multiple times per day, whereas options to smaller cities and international locations are less frequent.
If you're planning to travel by train frequently or plan to visit multiple countries in Europe, it's worth considering the Eurail Pass. We did not utilize this on this trip because the individual trains we did book did not amount to the same price as the pass would have cost.
Rideshare & Taxi
There are rideshare services available in Lithuania. While this is a more expensive option, it can be helpful if traveling with luggage, if you have a group, want the convenience, etc. We had a very early flight leaving Vilnius and had a large bag, so we opted to schedule an Uber the night prior.
Uber is only available in Vilnius, but there are other rideshare and taxi options, like Bolt, eTaksi, Taxi.lt, and more. Some offer the option to schedule and call rides via an app, but otherwise, your accommodation and some restaurants and attractions may be willing to call a taxi and schedule one for you.
Rentals
The option that offers the most flexibility is car rental. There are various car rental agencies around major cities and road tripping through the Baltic countries is a common way to see the region. You may be required to obtain an International Driver's Permit and the rental agency may require third-party insurance in addition to the coverage they offer.
Always understand the regulations before hitting the road. If you plan to drive, take a look at some of the ins and outs of driving in Lithuania here.
Another option is to consider Citybee, BEAST, or Spark, which are carsharing services. You can pick up and drop off these vehicles at designated lots around some larger cities and use them for a specified amount of time and distance.
Bolt and Citybee also offer scooter rentals in Vilnius if you're looking for a quick and easy way to zip around the city.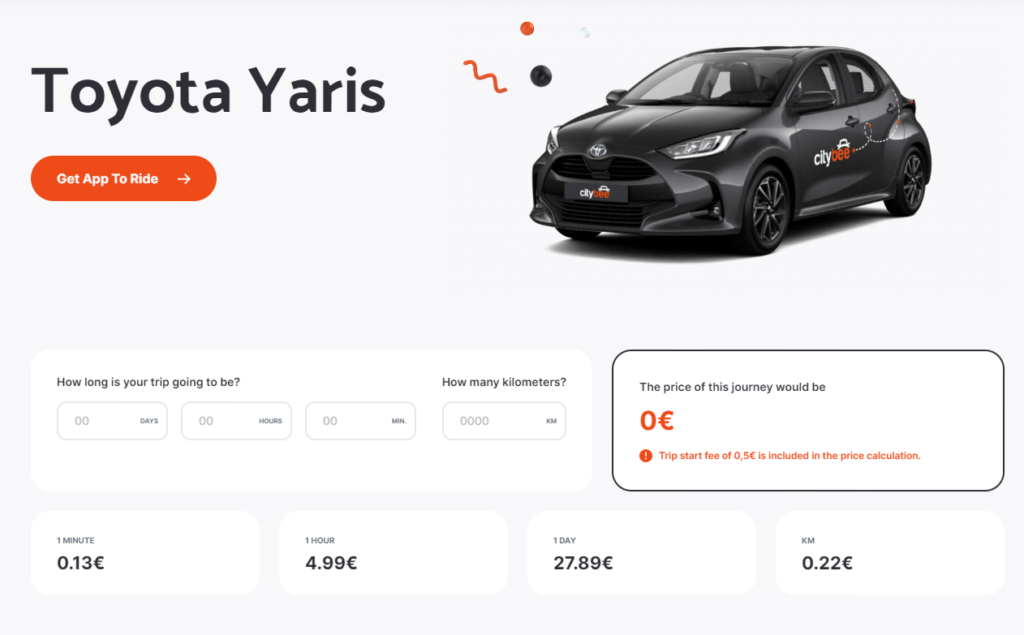 Tours
Since Lithuania is so small, you can explore far parts of the country in a day trip tour. For example, there are quite a few day tour options to the Curonian Spit and Hill of Crosses from Vilnius and Kaunas with transport included. We don't think this is the most ideal option for far activities because a good part of the day will consist of driving and these full-day tours are more expensive than other tours beginning near the attraction. But, it's still something to consider if you have limited time.
If you don't have your own vehicle, taking a tour can also be a good option to reach some attractions that aren't as easily accessed by public transport, such as Anykščiai Park.
There are various tour operators in cities around the country, but you can also find many itineraries on Get Your Guide and Viator.
Like this Post? Pin it!